Two Newly Opened Courses Enhance Oahu's Allure
By: George Fuller
Golfing on Oahu, Hawaii, has always been tough for visitors. The few municipal courses are mostly jammed with locals, the daily-fee facilities are generally not on great land, and there are only three resort courses: Ko Olina, Hawaii Prince Golf Club and Turtle Bay. But up above Pearl Harbor, some 20 minutes from Diamond Head and the beaches of Waikiki, there is now open a gem of a golf course that had been under wraps for almost a decade.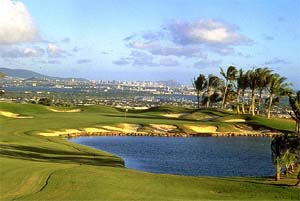 Set in the foothills of the Waianae Mountains, the Robin Nelson design called Royal Kunia Golf Club was pretty much a ghost course until this year. Built in 1994, for years Royal Kunia was a much-talked-about, "must-play-if you-possibly-can" course, but very few actually got on. Now, daily-fee golfers finally have the opportunity to see what the fuss was all about.

As commanding a view as a golf course boasts on Oahu, Royal Kunia got caught in a weird Hawaiian snafu that makes for a good story but bad business. The original developers submitted plans for development in the early 1990s, at a time when Hawaii's economy was rosy. Honolulu's then-mayor, Frank Fasi, a used car salesman-cum-politician, was gouging golf course developers on behalf of the city huge sums of money for the privilege of building their courses on Hawaii's busiest island. In the case of Royal Kunia, the "development fee" was $25 million, cash.
The owners paid half – $12 million – but as the second half became due, the bottom fell out of the state's economy. The course was finished, but was refused an operating license by the city of Honolulu. No settlement could be reached, and the course sat – always in impeccable shape – but seeing only three or four foursomes a week (including members of that same Honolulu city council that refused to permit them!), in seemingly perpetual limbo.
Designer Nelson called it his masterpiece. Those who were lucky or connected enough to play came away telling tales about the hidden jewel of Honolulu. Experienced golfers babbled like they had just snuck onto Cypress Point Club. The PGA Tour gave serious consideration to using it as the site of the Hawaiian Open, but did not select it due to the litigation that was then ongoing.
Now, nine years later, the course's new owners have hammered out a settlement with the city, and this demanding, beautiful design is open for its long-waiting guests.
What they find up here is a view plane that looks out over all of West Loch, Pearl Harbor and downtown Honolulu, with Waikiki and Diamond Head in the distance. It's a vantage point you really don't get to experience except maybe on approach to Honolulu International.
The design demands accuracy and intelligence. You can swing away and usually find the golf course – although several holes feature native brush, lakes and water hazards. But better scores are found only from the correct approach angles, and mostly from below the hole.
A splashing waterfall is found to the right of No. 18, but perhaps the most memorable hole is No. 9, a 621-yard par-five that plays downhill, downwind, with all of the view spread out before you, and a green tucked behind a large lake.
Same advise as ever: Play Royal Kunia when in Hawaii . . . now that you can!

Another Oahu golf resort that has seen its bad days turn to good is Turtle Bay Resort. This property on the North Shore of Oahu was first opened almost 30 years ago. The original golf course here was a George Fazio design, and was well thought of for its geniality and beauty.

But when a new Arnold Palmer course called The Links at Kuilima was constructed in 1992, the Fazio course was closed and eventually went fallow. The Turtle Bay Hotel also badly needed some loving care and attention.

The good news is that that period of Turtle Bay's history is over. The Fazio Course has been fully restored, the (now-named) Palmer Course is still going strong, and the hotel itself has seen extraordinary renovation.

The Palmer Course is the more challenging of the two, leading golfers around a large wildlife preserve and down to the ocean at No. 17, before heading back inland for an 18th hole which is a tough par-five. The putting surface is tucked behind a lake and three strong shots are required to get there.

Many higher-handicappers and beginning golfers love the Fazio Course because there is less trouble to get into and many putting surfaces are open at the front, helping those who do not play a strong aerial game.

The hotel has been almost completely renovated, with a new lobby which opens up the view of the Pacific just behind the hotel, new restaurants and updated rooms. Other amenities include a very popular pool, tennis courts and access to the nearby beaches of the surf-famous North Shore of Oahu: Sunset Beach, Pipeline and Haleiwa. There are also a number of other fun options including exploring old sugar towns and discovering the pleasures of local cuisine. If you're lucky, you might get invited to an authentic luau in someone's backyard.

With all that has taken place here at Turtle Bay Resort, golfers and every member of the family is guaranteed a great time.


Photographer and writer George Fuller has been covering golf and adventure travel for more than 15 years. His assignments have taken him throughout the United States, Asia, Polynesia, Europe and Mexico.

As an author, he has eight books to his credit, the two most recent being "California Golf – The Complete Guide" (11th edition, 2004, Avalon Travel Publishing) and "Discover Hawaii's Best Golf" (second edition December 2001, Island Heritage Publishing). Others include "Hawaii: Adventures In Nature," (October 1999, John Muir Publishing).

A former editor of "LINKS – The Best of Golf," he has contributed stories to many newspapers and magazines, including TIME, San Francisco Chronicle, Coastal Living, GOLF Magazine, Travel & Leisure Golf and others. Based in Marina Del Rey, Calif., George is a monthly travel correspondent for the PGA Tour (pgatour.com), and a Contributing Editor to The Golfer.