Two Outstanding Colorado Courses a Mountain Pass Apart
By: Steve Habel
Mountains and the high altitude affect on golf balls are huge selling points for the game in Colorado, a state known for its craggy peaks and the verdant valleys and high plateaus created by the snow runoff.

Telluride S&GC
There is no finer mountain golf experience in the Centennial State than Telluride Ski & Golf Club, a track set at 9,500 feet above sea level and surrounded by the highest concentration of 14,000-foot mountains in the United States. But there's also great golf in the flatlands between the Rockies, where even playing on level ground - such as in the Four Corners town of Cortez - is still more than a mile high.

It's just an hour-and-a-half drive south and west from Telluride to the relative flatlands of Cortez and one of the nation's top municipal tracks - Conquistador Golf Course. The drive between the two courses on part of the stunning San Juan Skyway takes one first through the Uncompahgre National Forest and then San Juan National Forest, across Lizard Head Pass and past a series of snow-capped crags.

Though the two courses could not be more different, both are indicative of the variety of golf experiences found in Colorado.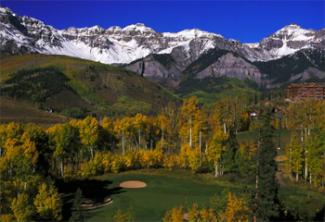 The 17th at Telluride Golf Club
Heads in the Clouds at Telluride S&GC

If you're used to sea-level altitude, just walking up the stairs to the pro shop at Telluride S&GC is enough to take your breath away. Once on the course you'll be amazed by the continual elevation changes up and down the mountainside as well as the vistas that make this resort one of the most picturesque on the continent.

The course, routed by a representative of the resort and opened for play in 1992, has matured into a destination for summer fun at one of the Rockies' great places for winter skiing. The course is in Mountain Village, surrounded by the Uncompahgre National Forest and up the mountain from the village of Telluride, which sits in the valley below.

Telluride's course is commonly referred to as "the most beautiful place you'll ever tee." Rolling past stands of evergreens and aspens the par-70 layout is carded at just 6,574 yards from the tips, where it carries a rating of 70.3 and a Slope of 129. The course is ringed by a peak-studded horizon from its perch atop Turkey Creek Mesa.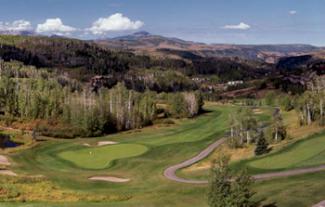 The Closing Hole at Telluride Ski & Golf Club
As with most high-elevation courses, Telluride has its share of holes longer than usual to address the thin air and added distance. There are three par-4s 443 yards or longer - including the 486-yard downhill 15th, and Telluride has the obligatory monster three-shotter, the 635-yard eighth.

But the round is much more about course management than it is bombing and gouging. The front side plays to a par 36 and features a 3-3-3 routing of par-3s, -4s and -5s. The par-34 inward half contains three par-3s and only one par-5; it is easily two strokes harder than the front because of forced carries, uphill shots and the need to move the ball both left and right.

Telluride has back-to-back par-3s at Nos. 2 and 3 (the later at 233 yards) and then a downhill-then-uphill par-4 of 463 yards at the fourth. Then comes one of the coolest stretches of golf anywhere: Nos. 5 (539 yards) and 6 (534 yards) are consecutive par-5s than play like long par-4s and are followed by the 254-yard par-4 seventh, which can be reached with a good 3-wood but only if it finds a tiny, sloping green fronted by water and guarded by sand on three sides. Next is the whopping eighth, which moves past a clump of multi-million-dollar homes on the right before arriving at a well-guarded, triangular putting surface.

The 524-yard, par-5 12th is one of the most difficult holes here, mostly because of an all-or-nothing uphill forced carry of about 250 yards off the tee. No. 13 is a picturesque, 443-yard gem that moves right to left through a narrow, hilly corridor to a perched green protected left by sand.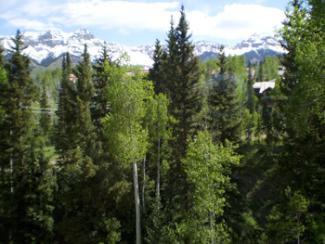 Looking out Window at Mountain Lodge Resort
At 486 yards, the par-4 15th has another lengthy forced carry and then moves rightward around a series of mounds (moguls?) to a long and narrow putting surface. The 137-yard par-3 17th is the shortest hole at Telluride, but it's not a pushover by any means. After climbing the 92 steps from the cart-parking area to the back tee, you'll need a few minutes to catch your breath; spend that time to glimpse the drop-dead gorgeous mountain views in the near distance. Once ready, the shot is all carry to a tiny green ringed by bunkers.

Keeping your eye on the ball and off the towering peaks around Telluride S&GC may be the golfer's toughest challenge. But the course's routing and a need to know when to go and when to say no demands focus. For more information, visit www.tellurideskiresort.com/TellSki/info/summer/golf.aspx.

Getting to Telluride is at least half the fun, and the accommodations and amenities on tap at this mountain paradise beckon you to return. Our lodging in a luxury condo at Mountain Lodge Telluride (www.mountainlodgetelluride.com), ideally located midway up Telluride Mountain, was superb. The resort features three log-and-stone buildings and a main lodge, whose lobby is warmed by a massive river-rock fireplace. And it's just a short walk to a gondola ride that ferries you through the community to the top of the mountain and beyond.

View from 2nd Tee at Conquistador GC
Municipal Finery at Conquistador

Something needs to be said about city-owned golf courses that have the right formula. That's what you get at Cortez's Conquistador Golf Course, a Press Maxwell-designed jewel that's kept in flawless condition.

Golfers can view La Plata Peak, Mesa Verde and Sleeping Ute Mountain from virtually everywhere on the par-72, 7,152-yard course as long as you're not in the Ponderosa pine and piņon trees lining the fairways. Conquistador has it all: plenty of well-positioned sand traps, water hazards or lakes on eight of the 18 holes, and smallish greens that are undulating but roll true.

Opened in 1962 and expanded over the years to accommodate better players, Conquistador is mostly flat. Tall trees pinch fairways, demanding accuracy, and some prowess is needed on the greens of the course, which carries a rating of 72.6 and a 131 Slope from the back set of its four tees.

Conquistador's 16th Green
The course is still a thousand feet farther into the sky than Denver's mile-high elevation, so the ball travels far here. That helps on Conquistador's four longest par-4s, the toughest of which is either the 469-yard sixth (which moves left to right and goes uphill) or the 453-yard 18th.

The best test is likely the 415-yard par-4 fifth, which sports a sharp dogleg-left fairway with trees on both sides and entails an accurate approach to a green with the course's wildest undulations.

Three of the four par-3s are 197 yards or longer (the 224-yard third over water being the most dangerous), but there are places to make up a shot or two, such as the 499-yard first and the 507-yard 10th, side-by-side par-5s.

While Conquistador doesn't have the flash and dramatics of its rollercoaster-like sister in Telluride, it asks for your best shots. Some of the top players in southwest Colorado - including the course's head PGA pro, Micah Rudosky - have honed their games here and are successful taking those skills anywhere.

For more information, see www.fourcornersgolf.com.
Steve Habel is one of Cybergolf's world correspondents, contributing news stories, features, equipment and book reviews and personality profiles from his base in Central Texas. He is also works as a contributing editor for Horns Illustrated magazine, a publication focusing on University of Texas sports, covers the Longhorns for CBS Sports, is regional editor for Texas Golfer magazine and files stories for Golf Oklahoma magazine, Texas Links magazines and Golfers Guide. Habel's main blog (www.shotoverthegreen.blogspot.com) features news on golf and the Longhorns, and another (www.checkinginandplayingthrough.blogspot.com)chronicles his many travels, on which he has played more than 350 golf courses since 2009. Habel is a member of the Golf Writers Association of America and the Texas Golf Writers Association.