Two Private Gems at Kiawah Island Club
By: John Torsiello
I had heard plenty of buzz about Cassique, a magnificent Tom Watson design - one of the two members-only courses at The Kiawah Island Club on John's Island, S.C. - being perhaps the best layout on an island noted for its outstanding golf.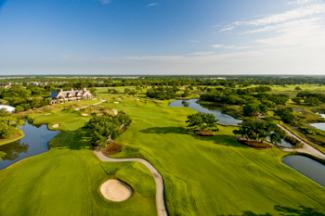 Aerial View of Cassique's 9th & 18th Holes
So I was thrilled when a former publisher boss of mine, Bob Nitkewicz, invited me to play Cassique during a recent trip to the Charleston area. Bob's wife, Carol Preisinger, is director of instruction at the club, and I had the opportunity to meet her in the sprawling clubhouse before teeing off on an ideal winter day in the Lowcountry.

A word about the clubhouse at Cassique: Let's just say it's awesome. Reminiscent of a 19th-century English country manor with stone-surrounded windows, copper guttering and slate roofing, the structure offers commanding views of the golf course and Kiawah River tidelands. After our round, Bob - now into real estate in Charleston - and I sat in one of the dining areas and looked out over portions of the course and the surrounding tidal marshes and river. What a 19th hole.

After warming up at Cassique's range, we headed out for our round, accompanied by a caddie who toted both of our golf bags, allowing Bob and I to catch up on our lives and careers and letting Bob give me a hole-by-hole description of the course.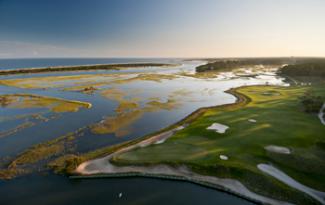 No. 15 on Cassique
Watson imbued Cassique with a definitive Scottish flair. The course subtly ambles amid rolling dunes and marsh savannas. It is said that the eight-time major winner designed holes at Cassique, which opened in 2000, after some of the favorites he's played at the British Open, which he won five times. Indeed, there's a strong semblance of links golf at Cassique, with deep bunkering on fairways and around greens, some blind shots, and putting surfaces that you can bounce approach shots into. The wind, when it blows hard off the nearby Atlantic, also factors heavily into the shot-making.

The second hole is a superb par-5 that plays 535 yards from the tips. The drive is over a marsh and the second must be precisely placed to avoid fairway bunkers and set up a third shot into a green that is somewhat raised and sloped back to front, protected by bunkers, and fronted by a small creek.

Bob explained that, starting on No. 4, Watson injected a little "whimsy" into Cassique, building holes which can be played differently, depending upon the weather and skill set of the golfer. On the fourth, one can play to either a lower green fronted by bunkers or an upper green on a plateau. Two fairways intersected by a dune ridge lead to each of the targets.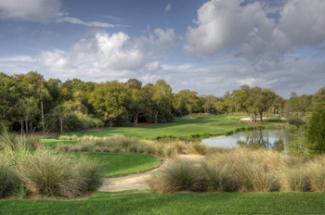 No. 3 on the RiverCourse
No. 5, a par-3, is another hole that can be played to two greens. From its elevated tee the view is delicious. Though the hole is short at only 150 yards, the flag on our day was tucked into the left side of the putting surface and somewhat hidden by a small hill. Bob said that pin location yielded multiple holes-in-one on the same day not too long ago, which I found hard to believe. But Bob is an honest man, and there are a lot of really good "sticks" at Cassique.

Once again paying homage to Open Championship venues, Watson modeled the spectacle bunkers on the par-5 sixth (another hole with two separate greens) after those at Carnoustie's 14th. The traps must be cleared if one is to play the hole aggressively and try to reach in two.

One of my favorite tests here is the 430-yard par-4 17th, which bends rather sharply rightward around a marsh. This is a real pretty hole, with Lowcountry wildlife and beauty all around.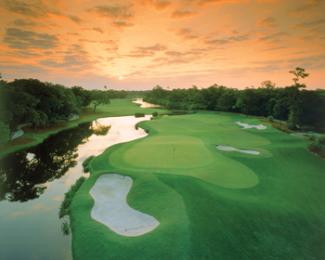 13th Hole on River Course
The finisher is a solid 435-yard par-4 that ascends to a green fronted by water. Again, the safe play is to bail out right on the approach, which Bob did nicely. But he was left with a tricky putt that slid downhill toward a cup tucked near the water. He told me his somewhat bold approach putt would have rolled off the green and into the hazard in warmer weather when the greens run fast.

The club's other 18-hole layout, the River Course, was designed by Tom Fazio and opened in 1995. It's more traditional for the region and not as visually stunning as Cassique, but it houses plenty of water and boasts some bite and splendid scenery. Portions of the track wind alongside the Kiawah River, while other junctures are near marsh savannas and maritime forest.

The par-3s at River are strong and some of the area's best and all are aesthetically pleasing and intimidating. The 207-yard third features a lagoon along the right and a large bunker left of the green, encouraging players to stay left toward a large collection area, where par may be difficult but bogey is fairly simple to attain.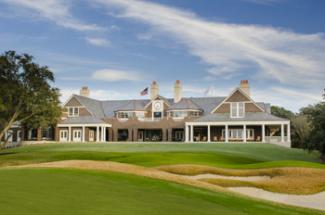 River Course's Clubhouse
The River's fifth is an example of a great short par-4. Measuring only 343 yards from the tips, it contains a pond lurking at the left and flash bunkers near the green that provide a strong visual target on the approach. You can go after it here with a driver but will pay a price if you don't hit it straight. Or, lay up with a long-iron or fairway wood and come in with a wedge. That's the hallmark of a well-designed, short two-shotter.

Again, the home half contains two of the best par-3s on the island. The 12th is a 202-yarder with a lagoon in front and right of the green, so you've got to favor the left side or be extremely accurate with your tee ball to find a safe haven.

The 17th is a 213-yard par-3 with a stunning backdrop of the Kiawah River. From the back tees it's a long carry over the tidal marsh and steep-faced waste area protecting the putting surface. You can make a satisfying par here, maybe birdie, or wind up with a big number, depending upon whether or not you can avoid the impending hazards.
While not as outwardly impressive as Cassique's clubhouse, River's dark cedar-shingled clubhouse sits on a bluff overlooking the Kiawah River to the north and Bass Pond to the southeast. It's a wonderful venue to unwind with a drink following a round in this special part of the U.S.

While it might not be as awe-inspiring and challenging as Kiawah Resort's Ocean Course, Cassique is definitely a very special layout. And its sister the River Course isn't far behind.
For more information, visit www.kiawahislandclub.com.
John Torsiello is an editor/writer living in Connecticut. He has written extensively about all aspects of the golf industry for a number of national and regional publications. He is a regular contributor to "Golf Course Industry," "Lawn and Landscape," "Golfing" and "Fairway Living" magazines as well as various online publications. He has strong, ongoing relationships with industry professionals and has worked closely with course owners, architects, developers, course superintendents and general managers around the country. He has won a number of awards for his writing, including first place from the Turf and Ornamental Communicators Association for a piece that appeared in "Golf Course Industry" magazine.