U. S. Open in a New York State of Mind
By: Jay Flemma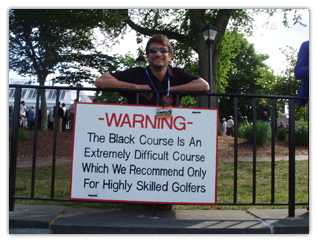 Jay on First Tee at Bethpage Black
Frank Lloyd Wright once wrote, "Tip the world over on its side and everything loose will land in Los Angeles." What the man who became famous for designing Marge Simpson's hair didn't tell you was that if you tip the world over on its other side, everything loose lands at Bethpage State Park for the U.S. Open.
Although it's been a dismal and dreary spring in New York City, not even three months of lead-slate skies, dark and oppressive clouds, and rain, rain, rain can dampen the buoyant hearts of the region's proud sports fans. So, for this week, all the whoop and crash, pomp and circumstance, and history and regalia that is America's national golf championship will crackle further with bursts of static electricity only New York City fans can bring.
"I have never played in front of an atmosphere that loud for all 18 holes," said a visibly impressed Tiger Woods, his eyes widening with sincerity at the recollection of his Open victory in 2002, the first time the major was held at this municipal facility. "Everyone was so excited to have it out here on their golf course, and it seemed like every golfer here has played this course."
Indeed, the Black is the "People's Country Club," and the locals are rightfully proud. Every New York State resident who has ever picked up a club and can scrape together $60 - a paltry sum compared to greens fees at similar courses, anybody can come and play a major championship venue designed by A.W. Tillinghast, the same man who designed masterpieces like Winged Foot and Baltusrol, and return home the envy of their golf friends with stories that last a lifetime.
"It's the course, it's the fans, and it's the city," explained Kenny Perry. "New Yorkers have a pride and energy, and they reflect it in everything they do. That combination makes New York just a special place to come and play golf, let alone host a major. You can't help but be moved by it."
"It really is the city that never sleeps," added Paul Casey energetically as he signed autographs during Tuesday's practice round. The Englishman had to pause for a moment as the remark brought loud cheers from a huge gaggle of autograph seekers. "The fans here tell you what they're thinking, they'll let you know they're for you, they'll let you know they're against you, and if you don't take yourself too seriously and have a laugh with them, they'll get behind you."
That brought another rousing cheer. But Casey wasn't done. "My friend from the Nike truck who lives here told me to go to B.K. Sweeney's," he said within earshot of the fans [Author's Note: this is a favorite local Irish pub in Bethpage]. But they weren't open for breakfast so we hit the coffee shop across the street."
That brought more cheers. Everyone here loves it when the players praise the local spots. Then a fan jumped into the conversation. "Hey, Paul!" he shouted, "I've eaten there."
An unsuspecting Casey took the bait. "What did you think?" he asked innocently.

"Breakfast was cold, but the waitress was hot. My mind was on her hips, I'm sure I over-tipped."

That did it! One-upped, Casey just smiled, capped his Sharpie and waved his arms in the air, imploring the crowd to cheer his witty new friend.

Casey walked away to thunderous applause and a scene only New York could create. Yet Casey's appraisal was, as they say in England, spot-on. Drink deeply from the Well of Life, party till dawn, sleep through the light, wake up to a subway roar, spend money with reckless abandon, live life like a kamikaze: that's the New York City way.

That also seems to be the spirit of Rocco Mediate, last year's gallant, swashbuckling runner-up who looked more like Rocky than Rocco while going 91 holes with Woods. At his media center interview the night before the playoff Mediate was downright hyper. He couldn't wait for his shot at the title. If you'd have given him a rake, an Easter egg and a pack of matches for light he'd have taken on Woods right then and there.

"These fans say whatever they feel, and they don't care who's listening," Mediate stated. "That's what I like about it - they let you have it. They're with you or against you." Since New York sports fans admire courage and pluck, fearlessness and daring, Mediate is close to the top of the list as a local favorite. Large crowds have materialized around him, cheering him on, and he returns with energetic gratitude. This week, his galleries will be just as vibrant as Phil Mickelson's, who still seems to be New York's favorite son even after the spirit-crushing disaster at Winged Foot in 2006.

Isn't that perhaps the strangest sports love affair in recent memory? Maybe ever? New York City usually likes its sports heroes to be brash, rash and full of flash. Arrogant, colorful, troublesome and larger-than-life figures not only thrive but dominate the sports landscape here: Babe Ruth, Joe Namath, Darryl Strawberry, Dwight Gooden, Lawrence Taylor, Mark Messier, Willis Reed . . . stop me anytime.

Then along comes Mickelson: dopey-grinning, chubby and waddling, honest to a fault, feelings-on-his-sleeve family man, whose open-book life is more like a Lands End catalog than a salacious gossip column. Yet Mickelson is golf's approachable, affable, admirable everyman. It's not just NYC that loves Phil, but so do true golf fans around the country. Tiger has the casual fan but Phil has the base, the beating heart. That love affair first peaked here in 2002, at purely-public Bethpage, the everyman's country club . . . and the vibe just gained momentum from there. That's why this strange attraction makes perfect sense.

Then he won the Masters of the decade - maybe longer - and wrote himself forever in golf lore. He followed that with a major win in New York (the PGA at Baltusrol in '05) and another Masters win. With a full head of steam Mickelson barreled into Winged Foot, charged to a dominant late lead, and then shockingly, unbelievably, collapsed, breaking a whole city's heart as well as his own in becoming another horror story in the Gothic golf history of Winged Foot, another well-decorated golf legend condemned to grim internment in the Graveyard of Champions that is Winged Foot West.

Now he returns to New York, but not like Buckner walking back into Shea Stadium. "Phil-mania" still reverberates across galleries nationwide. Yet it should be especially supportive here and now, at public-access Bethpage and during one of Phil's darkest hours: the uncertainty of his wife Amy's cancer like a pall.

With all that as the backdrop, now is the time for Woods-Mickelson. That's always the easy, lowest-common-denominator "buzz" at every major, a buzz that always fizzles because, inevitably, one plays well while the other struggles. But here, this week, under these circumstances and in this atmosphere - every bit as rough and tumble as the Roman Coliseum itself, we could see the stuff of legends.

It's the right time and the right place. This is a venue, town, and fan base like no other. New York City is so vibrant that players actually go out and see the sights, do the town, even though they're competing in a major. Jim Furyk went to last Saturday's Yankees' game and David Toms, Stephen Ames, Steve Stricker and Adam Scott are hoping to visit the Bronx Bombers' new digs after the tournament. Angel Cabrera and Eduardo Romero will sample the regions outstanding Argentine parillas. Cabrera went to a Buenos Aires restaurant in Huntington, and may try Forest Hills's Pampas Grill later in the week.

It's a venue with a fan base so outspoken that a portly fan can yell out to Camilo Villegas during his practice round, "People say I have the body of Camilo Villegas. If you knew what I was doing to it, you'd be madder than hell."

He got an autograph.

Sure, there will be some lug-nuts running around in drunken bravado, and please don't encourage them. You know the type. They'll heckle players they don't like. They'll boast, "I partied hard with Tiger, but the photo didn't save." They'll brag about their prowess on the Black. Well, there are two items of news for them. First, as my pal MC Lars says, beating Wii golf doesn't make you Tiger.

Second, remember the dire warnings I gave you in Tuesday's Cybergolf piece about how behavior will be monitored more closely than in 2002? The police presence at the Open is huge and ubiquitous, almost ominous. While most police have stopped "teaching people a lesson on general principal" for some time, on Long Island they still relish the heavy work. In no state prison are the inmates more closely watched. Cross the line and you'll be gone in a New York minute.

Still, the crowds at Bethpage - supporting and respectful fans - are representative of one important golf virtue: egalitarianism. Golf still is - at its roots - totally disconnected from social advantage. The game does not discriminate on the basis of birth or wealth, of upbringing or homeland. It is, instead, excepting chess, the most clinical test of personal merit the sports world has yet devised. As such, perhaps there is no greater poetry done by the USGA than to honor the public roots that grew so deeply at Bethpage with our national championship.

What a setting for a battle between our generation's greatest golf titans. We may see a touch of destiny.

So get ready, the Open starts Thursday at the People's Country Club. And as they say on Delta flights, please keep your seat belts fastened as we may experience turbulence.


Since launching his first golf writing website in 2004, http://www.jayflemma.thegolfspace.com, Jay Flemma's comparative analysis of golf designs and knowledge of golf course architecture and golf travel have garnered wide industry respect. In researching his book on America's great public golf courses (and whether they're worth the money), Jay, an associate editor of Cybergolf, has played over 220 nationally ranked public golf courses in 37 different states. Jay has played about 1,649,000 yards of golf - or roughly 938 miles. His pieces on travel and architecture appear in Golf Observer (www.golfobserver.com), Cybergolf and other print magazines. When not researching golf courses for design, value and excitement, Jay is an entertainment, copyright, Internet and trademark lawyer and an Entertainment and Internet Law professor in Manhattan. His clients have been nominated for Grammy and Emmy awards, won a Sundance Film Festival Best Director award, performed on stage and screen, and designed pop art for museums and collectors. Jay lives in Forest Hills, N.Y., and is fiercely loyal to his alma maters, Deerfield Academy in Massachusetts and Trinity College in Connecticut.