Unbe-wie-vable!
By: Tony Dear
Thirteen-year-old Michelle Wie has been making headlines in the States this summer by out-driving the longest hitters in women's golf and even some of the men. And make no bones; she could beat you with her eyes closed.
On the Monday before each PGA Tour event in America, an 18-hole competition is held to fill the four remaining spots in the field. One hundred or so hopefuls tee it up at a nearby course for a chance to play with the big boys of world golf and, believe me, only very good golfers need show up. Slugging it out are local professionals, amateurs with plus handicaps and the odd regular tour player who for whatever reason doesn't have an automatic entry for that week's tournament. And, in the case of this year's Sony Open in Hawaii, a 13-year-old schoolgirl.
Fair enough. She was obviously planted by the tournament organizers in a cheap bid to boost attendances and secure some much-needed publicity. Or maybe a children's charity stood to benefit. No? Then surely she's some rich kid whose well-connected Daddy had brown-nosed the tournament committee and bought her way in.
Not a bit of it. This girl was as deadly serious about grabbing one of those last four places as any of her competitors. And, but for a couple of bogies late in her round, she could have made it. She finished with a one-over par 73 at the 6,787-yard Pearl Country Club and in a tie for 47th.
I don't know about you, but a 73 at an 18-hole pitch and putt seems pretty reasonable to me. This girl scored that on a course not much shorter than those used for important professional events alongside big ugly men, some of whom probably felt like spitting their smokeless tobacco on the ground as she walked by.
Her list of achievements is so long I'm not going to bother you with it; suffice to say her mum probably has a tough time sweeping up all the loose trophies lying around on the floor.
There are a few you should know about, though.
At the age of 10 she shot a 64 on a course measuring five and a half thousand yards. A year later she won Hawaii's most prestigious women's amateur tournament by nine shots. She estimates she has won about 98% of the local junior events she has ever entered. Last year at the Hawaiian State Open (for big boys and girls) she won the women's division by 13 shots, beating a shocked and embarrassed former LPGA player into second place.
Earlier this year she fired a 66 in the third round of the Nabisco Championship, one of the four majors on the LPGA Tour, tying the lowest score ever by an amateur in that event. And in July she made the cut and finished tied for 39th at the US Women's Open, the biggest tournament the ladies play.

No wonder she has already appeared on the cover of Golf World and ESPN Magazine, been interviewed by People and received an invitation to appear on the "Jay Leno Show" (which her father turned down).

My favorite of her accomplishments is the 328-yard drive she belted down the 4th hole in the first round of the Women's Open. It's my favorite because I saw it. That's to say, I saw the ball take off. I couldn't actually see it land because my tired old eyes just can't see that far. The ball fizzed through the air as if Woods or Els had hit it. Her playing partners, 37-year-old Danielle Ammaccapane and 31-year-old Tracy Hanson, played their second shots from 80 and 60 yards behind her, respectively.

She's a big girl, 6 feet tall with long, lean legs, powerful arms and a gymnast's flexibility. And equipment nowadays is making these ridiculous distances increasingly accessible to more and more players. But she's 13 for heaven's sake! I mean, come on.

Fred Couples, felt much the same when he saw her hit balls in Hawaii earlier this year. "You can read about her all you want," he said. "You hear everything there is to be heard, but when you see her swing, when you see her hit a golf ball, there's nothing that prepares you for it. It's just the scariest thing you've ever seen."

Vijay Singh, not noted for his fondness of women's golf, was also impressed. "You watch her hit the ball and think, 'that's normal.' But then you realize she's 13. And that's . . . that's incredible."

Even Jack Nicklaus has noted her progress and expressed a desire to go and watch her.

The only child of Korean-born parents – Byung Wook and Hyun Kyong (or BJ and Bo to those who struggle with their real names) – Michelle Sung Wie was born in Honolulu on October 11, 1989. At 4 she started playing golf and at 8 was beating her parents – nothing special if your mum and dad are a fat pair of bloaters who've never picked up a golf club. But pretty damn impressive if your dad's a 2-handicapper and your mum a former Korean Women's Amateur champion, which BJ and Bo were.

"When Michelle was 7, we could beat her," says BJ. "But then she started beating us. She would shoot like 4-over from the ladies tees with no mulligans."

Possessing a talent as freakish as this is all very well, but it does have its problems of course. By 16 it's possible she might have won every tournament she can enter, even the U.S. Women's Open, and be left with nothing to play for. She will be the best lady golfer in the world and the game will have become boring, even before she's old enough to turn professional.

At 17 and 18 her peers will be faking IDs and getting drunk at all-night parties while she's practicing her putting. To most parents, that probably sounds like a good thing. But surely every teenager should end up nine sheets to the wind and tied naked to a lamp post at least once in their life. She could do a Jennifer Capriati and turn out to be a nose-ringed, shoplifting junkie by 15, unable to function in the chaotic celebrity world she'd created for herself.

And there's always the danger of becoming an insufferable little madame who believes the Earth revolves around her – like Morgan Pressel, for instance. At the age of 12, Pressel qualified for the 2001 U.S. Women's Open (she was 13 by the time of the tournament), where she continuously walked on the putting line of her playing partners, Heather Daly-Donofrio and Ashli Bunch. At one point, Daly-Donofrio tried having a quiet word with the youngster about her conduct, to which Pressel apparently replied, "Whatever." Classy kid.

Wie did in fact get in a little scrape of her own with the notoriously short-tempered Ammaccapane over a breach of etiquette during this year's Open. Like Pressel, Wie had been guilty of walking in the player's line of vision on the greens. An unfortunate exchange of words in the scorer's hut resulted, after which Wie suggested Ammaccapanne was not a terribly nice person.

But besides this rather regrettable incident, the signs for young Wie are very encouraging. Despite attending an expensive private school and racking up $50,000 worth of golf expenses a year, her family's relatively humble background and strong Korean work ethic should help prevent their daughter from getting ideas above her station.

Her father, who often caddies for Michelle, has a doctorate and is a professor of transportation at the University of Hawaii. Uncle Bong also has a PhD, and her grandfather, Sang Kyu, was a visiting professor at Stanford before retiring from Seoul National University.

So Wie should appreciate the value of a good education. Indeed, her recent series of "A" grades at Punahou School suggest that, as well as being a bit of a square, she isn't focusing exclusively on golf. Wie has hopes of completing a PhD of her own one day in either business or finance and is already thinking about which university to go to.

"She knows the world has more to offer than just golf," says her father. "She doesn't really know what she wants to do with her life yet. It's possible she might want to be a teacher, a financial analyst or even a makeup artist. It changes every week."

Also in her favor is that she seems extremely well-adjusted. On the golf course she's all business, lining up putts, reading her yardage book and testing for wind conditions with the best of them. Away from it though, she listens to Eminem, Missy Elliott and Aalyah and finds time to hang out with friends who call her the 'golfing geek'. She's becoming ever more comfortable in the press tent, but still fidgets and blushes occasionally in front of the TV cameras – just like a coy, 13-year-old should.

Wie's awareness of the trouble other teenage prodigies have gotten themselves into will also be to her advantage in helping her sidestep the very real threat of teenage burn-out. "Athletes should go to college before turning pro because they're not mature enough," she says. 'Teenagers are easily influenced into drugs and bad business deals. They can't even make dinner for themselves, and they're not educated enough. Ty Tryon made a lot of money after turning pro, but he might not have been ready. I don't want to make a lot of money for a couple of months and then not be ready."

So what next for the girl Tom Lehman dubbed the "Big Wiesy" (alluding to Ernie Els' nickname, "The Big Easy")? In August she went up against the men on the Canadian Tour in the Bay Mill Open (not qualifying for the weekend). In September she played with America's second-division male pros at the Boise Open (same result), and in October she'll compete in her seventh and final event on this year's LPGA Tour, the CJ Nine Bridges Classic. Eventually, she'll make it back to school where she'll appear on the girl's golf team, even though she'll probably be two or three shots better and 20 yards longer than anyone on the boy's team.

A few years down the line, she hopes to play on the men's PGA Tour full-time and even qualify for the Masters. But who knows, next year she might meet a boy, start dating and eventually wind up a homemaker with two kids by the time she's 20. I, for one, really hope she doesn't. If she carries on at this rate she could be the first woman to not only play at the Masters but hit a 400-yard drive. And I want to be there when she does.

The above article first appeared in the September 2003 edition of Bogey Magazine.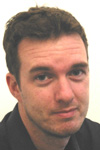 Tony Dear has been writing about golf for 11 years. A former assistant club pro from Sussex, England, Tony started out as a freelancer in 1992 before taking a staff writer's job at Fore!, a magazine based in Peterborough. As the magazine's chief instruction writer, it was Tony's job to compose instructional articles aimed at a youngish readership whose letters to the editor suggested they often got confused by technical jargon and theory. Tony bought his simple approach to teaching golf to the magazine, helping boost sales by 10,000 issues. As a result, he was nominated within the company and nationally for Young Writer of the Year awards.

From there, Tony moved 20 yards across the Emap UK office to join Today's Golfer. There, he was soon promoted to a senior editorial position, focusing on equipment, and became a significant part of a team that saw sales figures double within the magazine's first 12 months.

After three years at Emap UK, Tony was dragged kicking and screaming across the Atlantic by his American wife ('not really, I love it over here') and, after short spells in Phoenix and Denver, wound up in Seattle in May 2003. He recently moved to Bellingham in the far northwest corner of the far Northwest of the U.S. and became a father to a son on whom he has already staked £5 for the 2029 Open Championship. At present, he is freelancing for a number of print and online publications back in England including Today's Golfer, Golf World, Bogey, The Open Championship Magazine and Casino.com. He is also a contributing editor for Denver-based Colorado AvidGolfer. Recent features include a look at Colorado's self proclaimed 'links' courses, an interview with Suzy Whaley, with whom he played nine holes ('and got soundly thrashed') and a 64-page instruction supplement for Today's Golfer.

Tony has authored three books in the last five years and been nominated for several specialist and young writers awards. "Although I've never actually won one," he admits. He is a member of the Northwest Golf Media Association and the Golf Travel Writers Association based in London.