Unique Junior Golf Facility Underway in Dundee Township, Ill.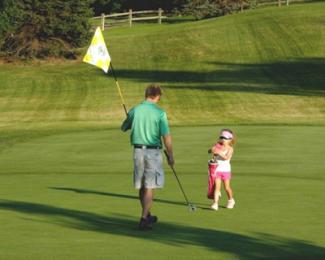 Making golf accessible for non-traditional players is the primary goal of the first-ever Links Across America project, a universally accessible short course and golf practice facility scheduled to open in Dundee Township, Ill., next summer.
The Links Across America initiative creates new and affordable short courses (from three to nine holes) to provide golfing opportunities to young people, families and adult beginners of all ethnic backgrounds, in addition to individuals with disabilities or injuries.
The Wadsworth Golf Charities Foundation (WGCF), philanthropic arm of Wadsworth Golf Construction, funded development of The Links Learning Center at Randall Oaks here in Dundee Township, Ill. Lohmann Golf Designs (LGD) was the course designer and The Bruce Co. the course builder. Following the Links Across America model, both donated large portions of their services to the project's realization. Construction is complete and grow-in will continue through a summer 2010 grand opening.
"Links Across America took the lead on this, supplying funding and organizational expertise," said Todd Quitno, senior project architect for Marengo, Ill.-based LGD. "We donated a portion of our design services and schematic drawings, and we discounted the construction drawings. We were happy to be involved because of our long history at Randall Oaks. But this is our way, the company's way, to give something back to these long-time clients and the game."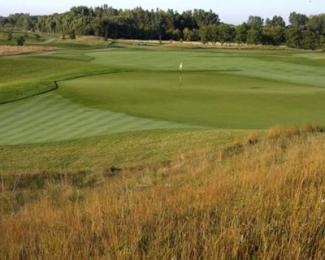 "The Links Across America project will give us four holes plus a short-game practice area that is accessible to people with disabilities, and we are committed to making this a truly accessible facility," added Randall Oaks superintendent Mike Sprouse. "We brought people in from disability groups during construction to make sure everything was accessible. We are creating a chance for people who might never get involved with the game to finally have that opportunity."
Dundee Township is a member of the Northern Illinois Special Recreation Association (NISRA), whose 13 member agencies and townships direct individuals with special needs into recreational programs and other activities, according to Tom Mammoser, executive director of the Dundee Township Park District. Golfers with disabilities are one such special needs group.
Randall Oaks expects other non-traditional groups to use the new facility. The township has a longstanding relationship with the local Boys' and Girls' clubs, which have a combined membership of 1,100 based out of nearby Carpentersville. "We see the Links course as a way to tie in with those clubs and expose the kids to golf," Mammoser said. "The clubs are 60 percent Hispanic and 26 percent African-American. The Links Course will expose those youngsters to the game, as well, in a comfortable environment that is strong on teaching."
NISRA has worked closely with groups like Revelation Golf, a local association that has worked with cancer patients and wounded veterans of the Iraq and Afghanistan wars. "Golf is a sport that benefits them physically and emotionally," Mammoser said. "The golf industry is changing and becoming more focused on non-traditional customers."
The facility's design, thanks to LGD, is fancifully non-traditional in its own right. Quitno and his colleagues created a short-game area that includes an 8,500-square-foot putting green, a bunker complex and chipping areas. "Nothing unique about that, but within those components we did create special areas where you can teach 8-10 people," Quitno explained. "The four-hole routing has no tees. It's all fairway, so they can create the routing any way they want - they can set it up for little kids, so they never have to play over bunkers; or for more advanced players where all the approaches are forced carries. You can turn it around and play it backwards, and you can play to the chipping green to form a fifth hole.

"As a practice area, it's pretty amazing what you can do out there in terms of options. In fact, this area used to be the driving range but we didn't eliminate its use as a driving range. It's not full-length but when it's cleared of kids, it can double as a fine teaching range for young players."

Mammoser sees tremendous potential for the new Randall Oaks facility to help grow the game in general. For example, about 70 percent of the children in Dundee play soccer and a majority basketball and baseball. Only 14 percent play golf.

"Our goal is to make golf a more typical activity, like soccer, and get that participation rate up to 25, 30 percent or more," Mammoser said. "At Randall Oaks we can help people move along a learning path in golf from the Links Course to the Acorn Course [a three-hole, par-3 routing] to the 18-hole championship course. They can do it at their own pace and not be intimidated by existing players on the 18-hole course before they are ready to play alongside them. We have a facility correctly sized for new players that can help them learn a lifetime sport like golf.

"It will also give the experienced golfer another place to come practice. This was a win-win for everyone. We could not have moved forward with the project without the Wadsworth Charitable Foundation. We were delighted to receive their grant to develop this facility."

Links Across America is an ambitious program with national aspirations. In addition to Randall Oaks, the organization has projects in planning or under discussion in Georgia, Arkansas and Wisconsin.

But The Links Learning Center at Randall Oaks is the first facility built under Links Across America auspices. "It has been a learning experience," said LGD's Quitno, whose company drew up a master plan roughly 25 years ago for Randall Oaks, and has overseen some type of construction project almost annually at the suburban Chicago course ever since. "Many of the things we learn here should help with the construction process at future Links Across America facilities."

The interest and willingness of golf companies to collaborate on similar projects has been phenomenal, according to Links Across America spokesman Leon McNair. LGD is among 10 architects that have offered to donate and/or significantly discount their services. Nine course builders have done the same.

"Lohmann Golf Designs and the Bruce Co. understand the need for and believe in what we are doing," McNair said. "Companies like John Deere, Club Car, Fore Reservations Systems and Wittek Golf have offered to get involved at very low prices. They all want to help provide affordable playing opportunities for youngsters, families and those with disabilities."

Sprouse said he is honored to be part of a project with such positive and potentially long-reaching effects: "It is exciting to be committed to the philosophy of inclusion. We look forward to helping other facilities build similar projects."
For more information on Links Across America, contact the Wadsworth Charitable Foundation at 513/424-3701 or visit www.wadsworthgolffoundation.org.