Up & Down the Lost Pines of Central Texas
By: Steve Habel
Early in Texas history, the anything-but-sleepy town of Bastrop - the original colony granted Stephen F. Austin by the Mexican government - nearly became the capital of the Lone Star State, later losing out on that honor to the nearby city of Waterloo (which would be renamed "Austin") by a few votes.
These days, Bastrop, located 30 minutes east of Austin, is known as the center of the tourist-friendly Lost Pines region of Central Texas, for its spectacular Hyatt Regency resort on its western border and its vibrant downtown area, which features the nation's first historic district. Located on a bend of the Colorado River, Bastrop boasts tree-lined streets and more than 130 historic homes and buildings, earning the town of some 7,000 people the title of "Most Historic Small Town in Texas."

Part of the town's appeal is its famous "lost pines," but access to great golf is a key component as well. Aside from the fabulous Wolfdancer Golf Club at the Hyatt Lost Pines Resort (profiled in http://www.cybergolf.com/golf_news/hyatt_lost_pines_resorts_wolfdancer_demands_attention), Bastrop offers two challenging 18-hole tracks - Pine Forest Golf Club and the Lost Pines Golf Course at Bastrop State Park.

Each of these courses has their own tests and charms, none more prevalent on your play than the ever-present impact of the pines.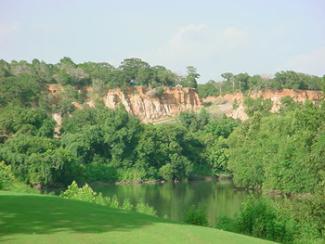 Cliffs are Viewed from the 7th Tee at Pine Forest
Pine Forest takes a Toll

Anyone who has ever played Pine Forest remembers it for a long time because of the course's uniqueness. This is a true test of target golf, reminiscent of the mountains and pines surrounding Ruidoso, New Mexico - and that's a good thing.

Designed by Texan golf legend Don January and Billy Martindale, Pine Forest opened in 1979 and has been updated several times through the years due to the course's proximity to the Colorado River.

Carded at 6,569 yards from the back tees and playing to a par of 72, Pine Forest is an adventure through the Lost Pines that also involves red-hued cliffs, major elevation changes and sometimes disorienting and claustrophobic jaunts through hills. There are times when you swear you have no idea where you are in reference to the clubhouse, the river or - because of the overhanging pine trees - even the sun.

Pine Forest has three blind tee shots, three sensational downhill par-3s and five scenic holes which are played along the banks of the Colorado. Other holes bend blindly around red-dirt bluffs and through pines, pecans, oaks draped in Spanish moss, cedars, wild grapevines and pampas grass.

No. 12 Green at Pine Forest
The 170-yard par-3 third is Pine Forest's signature offering. It runs downhill and a red cliff frames the landscape in back. Get ready for more (and longer) downhill par-3s: Nos. 12 and 16 will challenge even the best players.

The fifth is a short (338-yard) par-4 with a fairway that heads up a small crest to a green located slightly left behind a corner of rock outcropping. Playing this hole prepares you for the short but tricky 350-yard dogleg-left par-4 sixth, where you have to play to the right side of the fairway to keep from having a blind second shot over a cliff. The two-tiered sixth green slopes to the Colorado and is a tough two-putt.

When you arrive at the par-3 seventh, a 200-yarder on the river, stop and enjoy the scenery. The green is slightly elevated and - with the road to the clubhouse tight on the right side of the fairway and green - your shot cannot stray in that direction. The front nine ends with a 530-yard, dogleg-right par-5, which features trees lining both sides of the fairway and a smallish two-tiered green guarded by a bunker front and right.

Another par-5 greets you as you begin the back nine, this time a 539-yard straight hole with a green in a bowl created by trees, hills and a bunker. No. 10 is the second longest hole on the course but not the most difficult, as - for my money - that designation goes to the 11th. A forced carry of 170 yards over water deep below you in a ravine defines this 350-yard par-4, which doglegs left. Once at the postage stamp-sized 11th green, you are at the highest point of the course; stop and enjoy the panorama.

No. 12 is another downhill par-3. It stretches 180 yards with a green that slopes severely front to back. Leave it under the hole or face the indignation of a three-putt. The 13th hole (called "Pog Mo Thon") is - at 569 yards - the longest hole on the course. The par-5 has the course's most undulating fairway, and the approach is to a smallish green that is wider than it is deep.

Pine Forest gives you a bit of a break on No. 14, a 354-yard downhill par-4 reachable by long hitters. The 15th hole is a lot like its predecessor, except its green is uphill (thus its name: "One More Club") and on the diminutive side. Make your move here, as this duo of holes is the most forgiving on the course.
The 17th returns to the Colorado River with a 220-yard, par-3. This hole sits hard beside the road - which is, again, out of bounds - and boasts a tough three-tiered green. The Road Hole, as No. 17 is named, is rated the track's fourth-hardest. The finishing hole is a 530-yard, par-5 with mounding left and a bending fairway to a near blind shot to the green. The putting surface is tiny and hidden around a corner.

We enjoyed Pine Forest, and felt we would have scored better if we could play it again. The course is fair and testy; just bring your best game (and a few extra balls) and be patient.

For additional information or a tee time, visit www.pineforestgolfclub.com.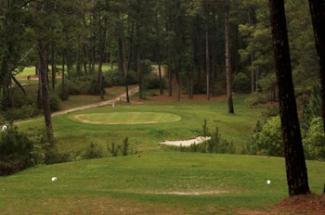 The 16th Green at Lost Pines
Lost Pines has its Highlights

Closer to the center of town is Lost Pines Golf Course in Bastrop State Park. Designed by Leon Howard and opened as a nine-hole track in 1973, it was later expanded to 18 holes in 1997. The par-71 layout plays to just 6,172 yards from the tips. The back nine at LPGC are arranged in a 3-3-3 configuration, with equal numbers of par-3s, -4s and -5s.

A ball hit off line here will likely find a permanent home among the pines as the densely arrayed trees are close to the fairways. The best holes are likely its opener - a 430-yard, par-4 to a tiny round green - and its closer, which (at 387 yards) turns hard left off the tee before running uphill to a putting surface ringed by bunkers.

Other great holes are the 392-yard eighth (where your approach must cross a small lake to a pitched green); the back-to-back par-5s at Nos. 13 and 14; and the cool, tree-shaded 168-yard par-3 17th, an island amongst the pines.

Lost Pines is where many of the area's best golfers learned to play, and many of the locals embrace the facility, which has been hit pretty hard by the country's recent economic downturn, close to their hearts.

For more information, visit www.lostpinesgolfclub.com.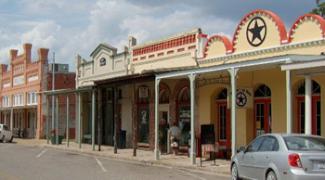 Bastrop's Main Street
After Golf in Bastrop

Bastrop is a growing community with a rich heritage, the aforementioned pines, prairies and a beautiful river valley. It's also home to the beautiful state park and one of the oldest opera houses in Texas. Gift and antique stores and restaurants adorn Main Street, and local parks add to the family fun with a walking trail from Fisherman's Park to the other end of downtown. Bed-and-breakfast inns along with hotels and motels provide ample visitor accommodations.

We were lucky enough to spend the night at the gorgeous Pecan Street Inn, a lovely place in the heart of downtown. From our lodgings we were able to easily walk to three great restaurants: the first night for hand-rubbed steaks and seafood at the new Hasler Brothers Steakhouse; lunch of salad and light, crispy pizza the next afternoon at the cool Green Chai Café; and, finally, dinner at Baxter's on Main, which offers steaks and seafood and drinks aplenty at its quaint street-side bar.

With the combination of Texas hospitality, great attractions, wonderful restaurants and challenging golf, a trip to Bastrop is a must for those traveling in Central Texas.
Steve Habel is one of Cybergolf's national correspondents, contributing news stories, features, equipment and book reviews and personality profiles from his base in Central Texas. He is also the managing editor for Business District magazine in Austin and works as a contributing editor for Horns Illustrated magazine, a publication focusing on University of Texas sports. He also writes a blog (www.shotoverthegreen.blogspot.com), which features news on golf and the Longhorns.