Upgrades Underway at this Year's Ryder Cup Venue
By: Tony Dear
A freak late-winter storm that dumped 10 inches of snow on Kentucky's Valhalla Golf Club in the second week of March may have delayed preparations for this September's Ryder Cup matches slightly but was, according to superintendent Mark Wilson, a blessing in disguise. "The reduced traffic won't hurt," he said two days after the unseasonal depression hit, "and to be honest, I've always regarded snow as the poor man's fertilizer."
Wilson, a native of Ohio and a 1976 graduate of Eastern Kentucky University, will celebrate 20 years at the Jack Nicklaus-designed course, 19 miles east of downtown Louisville, this November and has been on Ryder Cup mode since late 2005. "We've been going 28 months on this and have six more to go," he says, the excitement of hosting another big-time golf event (two PGA Championships and a Senior PGA Championship have been played here in the last 12 years) and the exhaustion that comes from working seven days a week for four straight months as he did last summer, clearly evident in his voice. "The snow may have slowed us down a little and condensed our schedule, but we've really only got a couple more projects to complete so the course should be in perfect shape come September."
Work at Valhalla has focused on four key areas, principal among them changes to the course which, like Augusta National, seems to be a constant work in progress. "The PGA of America, which owns Valhalla (the organization purchased the 486-acre property from founder Dwight Gahm following the 2000 PGA Championship) invited Nicklaus back to make the necessary alterations," says Wilson. "He worked on virtually every hole, making significant changes to 13 of them including building new greens at the 6th, 8th, 11th and 16th holes." Bunkers were also added at the 1st, 5th, 12th, 15th, 16th and 17th, and the course lengthened some 329 yards, taking it just four yards shy of 7,500.
"To challenge the players of today we needed to add some length," said Nicklaus at a press conference in summer 2006. "We needed to add a little bit more spice to it. We actually softened some of the greens to give more cupping area, but at others we added more interest and challenge with some general rolls."
Three of the rebuilt greens were actually modified again late last year when Nicklaus and Kerry Haigh, Managing Director of Tournaments at the PGA, took out some of the slopes to add to the choice of pin placements.
As well as alterations to the course's actual design, the greens, rough and grassed sections outside the playing areas were re-turfed. Penncross bentgrass on the greens was replaced by a Penn A-1/A-4 blend and the rough was seeded using a blend of Barenbrug Turf Saver with RTF mix. Wilson chose it for the turf quality and its excellent performance in the transition zone. Turf Blue, meanwhile, was used for the intermediate rough and selected, says Wilson, not only for the turf quality but also its rapid establishment. For no-mow areas and shade, Turf Sense, a Barenbrug blend that Wilson and Barenbrug salesman Roger Crenshaw christened "Valhalla Dunes Mix" was chosen. It was slow to establish, Wilson adds, but since taking hold it has required very little maintenance. It also requires little or no fertilizer and can tolerate poor soils.
Next on the "To Do" list was ways to enhance the spectator experience. Viewing areas were opened up especially on the 14th, 15th and 16th holes, trees were cleared, ditches covered, sloping areas leveled and cart paths moved in an effort not only to provide more vantage points from which to observe the action but also ensure gallery safety and improve the flow of people around the course.
Making space for corporate areas and the TV compound were major considerations too. 22 acres were set aside for corporate hospitality tenting, 60,000 square feet behind the 11th tee and 15th green were cleared for NBC and space was found for 20 extra bus-parking bays, bringing the total number of slots up to 46.
Wilson's fourth and final task was to improve the venue's aesthetics, a matter of some importance given that 45,000 spectators will be on-site every day and over 500 million viewers from around the world (TV coverage will be available in 177 countries) are expected to tune in at some stage. "We damned the valley at the 7th to bring the water hazard all the way up to the putting surface," says Wilson. "And we added a little waterfall at the 13th and constructed numerous rock walls."

Upgrading spectator facilities, finding room for corporations to schmooze their clients and beautifying the course for the benefit of TV viewers are all important in their own way, but none were of any interest to U.S. Team Captain Paul Azinger when he visited in October last year and met with Wilson to discuss plans for the set-up of the course.

"Paul's actually been a couple of times and is coming back in May around the time of the Derby I believe," says Wilson. "We haven't talked about it in too much detail but he doesn't want the U.S. team to lose their length advantage, so I doubt you'll see anything to deter the Americans from hitting their driver off the tee."

In January, Azinger alluded to the course set-up but made no predictions. "Maybe if everybody hits it as straight as Jim Furyk . . . I don't know if I can narrow the fairways, but I can sure have the rough deep," he said. "But if I have Bubba Watson, J.B. Holmes, Pat Perez, Phil Mickelson, guys that crank it and bomb it, maybe there won't be any rough. I don't know yet. We'll see."

Excitement over the 37th playing of the Ryder Cup is building steadily and, in order to get his course ready for 24 of the world's best golfers, Wilson will soon revert to those seven-day weeks. After completing construction of a new service road and laying some communication lines, he and his staff of 36 (normally 20, but soon he will take on seven part-time retirees he has worked with in the past and nine interns, including two from Europe) will be able to focus entirely on the golf course and be in a position to implement Captain Azinger's demands.

Really, it should be fairly plain-sailing for Wilson now, assuming, of course, the summer heat isn't too intense and no more of those unexpected snow storms pass through.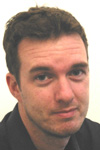 Tony Dear has been writing about golf for 11 years. A former assistant club pro from Sussex, England, Tony started out as a freelancer in 1992 before taking a staff writer's job at Fore!, a magazine based in Peterborough. As the magazine's chief instruction writer, it was Tony's job to compose instructional articles aimed at a youngish readership whose letters to the editor suggested they often got confused by technical jargon and theory. Tony brought his simple approach to teaching golf to the magazine, helping boost sales by 10,000 issues. As a result, he was nominated within the company and nationally for Young Writer of the Year awards.

From there, Tony moved 20 yards across the Emap UK office to join Today's Golfer. There, he was soon promoted to a senior editorial position, focusing on equipment, and became a significant part of a team that saw sales figures double within the magazine's first 12 months.

After three years at Emap UK, Tony was dragged kicking and screaming across the Atlantic by his American wife ("not really, I love it over here") and, after short spells in Phoenix and Denver, wound up in Seattle in May 2003. He recently moved to Bellingham in the far northwest corner of the far Northwest of the U.S. and became a father to a son on whom he has already staked for the 2029 Open Championship. At present, he is freelancing for a number of print and online publications back in England including Today's Golfer, Golf World, Bogey, The Open Championship Magazine and Casino.com. He is also a contributing editor for Denver-based Colorado AvidGolfer.

Recent features include a look at Colorado's self proclaimed 'links' courses, an interview with Suzy Whaley, with whom he played nine holes ("and got soundly thrashed") and a 64-page instruction supplement for Today's Golfer.

Tony has authored three books in the last five years and been nominated for several specialist and young writers awards. "Although I've never actually won one," he admits. He is a member of the Northwest Golf Media Association and the Golf Travel Writers Association based in London.