Upper Montclair Country Club 110 Years Young
By: Jay Flemma
For a club that's 110 years old, Upper Montclair in Clifton, N.J., still has the vitality of a 20-something. It's the only club in America to host professional events from all three U.S. tours (PGA, LPGA and Champions). It has 27 holes of Robert Trent Jones, Sr. golf over a routing laid out mostly by A.W. Tillinghast. The club just finished a $6.2 million renovation spearheaded by a John Harvey master plan. And it just celebrated the wonderful career of Steve Kozak, a 90-year-old caddie who has served the club for 41 years continuously.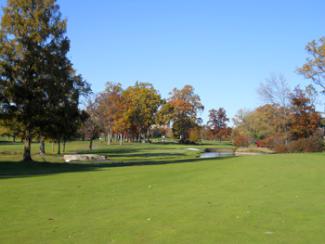 The Great Par-4 at 3 South
"It's a wonderful club I remember well from my youth," beamed no less a personage than Robert Trent Jones, Jr., himself a world-class architect and the son of the man who redesigned the 27 holes. "One of my favorite memories was playing in the N.J. State Amateur as a junior and I had to play Martin Standovic, the great golf gambler from Atlantic City, and he was a little worried not only because he had to play me in a high-pressure situation, but he had to play me at my dad's course, and we were playing for honor, not money!" he recalls. Jones put up a great fight, losing 2 & 1 to one of the greatest high-stakes players of that generation.

In truth, any tournament is a daunting prospect at Upper Montclair. The South and the West nines form a tournament venue that has beguiled the likes of iconic pros Arnold Palmer, Jerome Travers and Jack Nicklaus, and celebrities Jackie Gleason, Babe Ruth and Annie Oakley.

"You have to hit the ball straight, and you need to work the ball both ways," explained former club champion Claudio Kawecki. "You're going to take penalties, and you have to play smart so as to minimize mistakes. Fairways are narrow and bunkers pinch the landing areas and greens. This is a shot-maker's course. That probably explains why so many great names like Arnold Palmer and Nancy Lopez have won here."

"The other great aspect of the course is the greens," added club president John "Jack" Voynick. "They have both micro- and macro-movement," he explained, referring to not only large, easily seen breaks from the visible contours but also the subtle shifts caused by the nature of the terrain.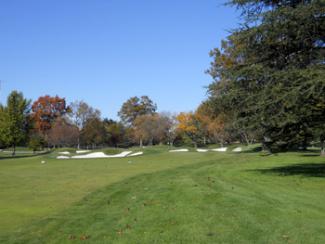 The Cross-bunker at 7 West is Like a Great Tillie Hazard
Indeed, the course is a stern test, not from overbearing length but from narrow tree-lined fairways, deep penal bunkers and the cunning greens. The West is the most difficult nine, featuring the smallest, most heavily guarded greens and the narrowest tree-flanked fairways. It's typical Jones penal architecture on a parkland site. Some Tillinghast features remain, like the excellent "Great Hazard" bunker on the par-5 seventh, a broad and deep cross-bunker about 70 yards short of the green, though the course is certainly features more of the hallmarks of Jones's work.

In fact, while all the par-5s are showstoppers and constitute the best holes on all three nines, the two on the West are the centerpieces. They are not only the best two holes on that side but the best three-shotters of all six par-5s at Upper Montclair. The par-5 fourth ole is a sharp dogleg featuring a drive over water that must fade or run through the fairway. Then the hole plays through a chute of trees and along one border of the property to a green fronted by water.

The South nine features the most varied terrain and interesting holes. Your author's favorite is the par-4 third, also the No. 1 handicap hole at Upper Montclair. As a long dogleg left, the best bet is to aim for the gorgeous Japanese maple tree in the distance and hit a big draw around the corner. Then play the second from about 180 yards to a green open on the left but guarded by sand and water right.

"That's also the hole that features the most options," added A Walk In The Park [the author's website] photographer and technical advisor Bruce Moulton. "That's a brilliant hole."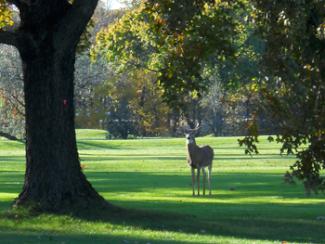 A Visitor at Upper Montclair CC
South also has the best par-3, the idyllic sixth, which is shorter than most par-3s at the club but features an approach over water to a green bunkered left.

The par-3s present a dilemma as they all play around the same distance (for example, 165-195 yards from the tees most men play from, 180-210 yards from the tips). There isn't a single outstanding short par-3, and most of them not only play similarly but look roughly the same, No. 6 South being the lone exception.

Additionally, one wishes for a little more variety in terms of a good "half-par" hole, such as an interesting and drive-able par-4 or reachable and tempting but dangerous par-5. But again, Jones, Sr. not only created excellent holes for a preeminent private club but also produced a course that could host a tournament and test the game's best players. Moreover, such half-par holes were simply (and sadly) not in vogue during Jones's heyday.

"It's a period piece," said Bob Jones, Jr. "But it's an excellent tournament venue and competition course. It's like the Old Testament proverb about getting into heaven - 'straight through the gate, narrow is the way (as in fairway) and few there are that will make par.' "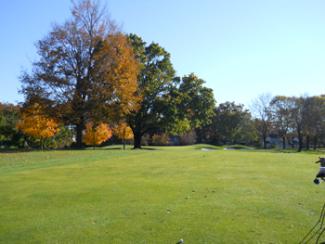 The Impending Trees on South's No. 4
Finally, the club could prune a few of the trees. No. 4 on South is a delightful and short par-4, but half the fairway is blocked out by an enormous tree, effectively cutting the route in half and punishing a good drive. The tree is so huge and so low, you cannot shape a short-iron around it, so you are completely snookered even though you hit the fairway. Not everyone has the driving precision of a tour player, and it seems fairer to punish a player who hits a good drive to the fairway from 240-260 yards away with, instead, a poorer angle to the green or perhaps a deeper bunker.

South closes with a terrific, show-stopping par-5, with a thrilling approach up to the clubhouse and the green guarded by water right and bunkers left. It's a wonderful hole to complete the day.

East is the most charming nine, and feels the most pastoral. Once again, the doctrine of symmetry was employed - two par-5s and two par-3s, but the fairways are wide and the green contours more subtle. It had the homespun, rustic feel of the back nine of another Tillinghast masterpiece, Philadelphia Cricket Club.

Montclair CC is a great place for a local to hang their hat, especially if they are a talented golfer looking for a challenging place to prepare for tournaments. There are many fine players at the club. Kawecki, for example, recently beat out 23,000 other applicants to become Davis Love III's caddie at a recent Fall Series event. Moreover, the greens are excellent, rolling perfectly true and with interesting contours. An excellent caddie, such as Kozak or Kevin Baker, will be a great help as there are frequently double-breakers. Baker was especially sharp all day long with his reads.
Steve Kozak: In His Own Words

He's 90 years young, been a 41-year veteran of the club and has served his country twice, during World War II and Korea. Humble, sincere and dedicated, Steve Kozak is the gold standard of caddies and has served the club through five different decades.

On Upper Montclair:

"It's a great club with great members and great friend of mine among the caddies. It's a nice place to work."

On holes-in-one:

"I've seen two - one on 5 East and one on 8 West. That's a tough hole to get one, too."

On serving his country:

"I'm very proud to serve my country. I was at Iwo Jima and that was the scariest moment, but also the one that I remember most and that was the most important."

On the most important duty of a caddy:

"Don't lose your player's ball."

On the funniest thing he's seen in his 41 years:

"Some guy trying to hit a ball out of six inches of water. Good luck."

On the wonderful party they threw to celebrate his turning 90 years old and his 41 years of caddying:

"Thank you so much. I just so grateful and glad you like me."

Jack Voynick in response:

"No Steve - we love you."
Since launching his first golf writing website in 2004, http://jayflemma.thegolfspace.com, Jay Flemma 's comparative analysis of golf designs and knowledge of golf course architecture and golf travel have garnered wide industry respect. In researching his book on America's great public golf courses (and whether they're worth the money), Jay, an associate editor of Cybergolf, has played over 420 nationally ranked public golf courses in 40 different states, and covered seven U.S. Opens and six PGA Championships, along with one trip to the Masters. A four-time award-winning sportswriter, Jay was called the best sports poet alive by both Sports Illustrated and NBC Sports writers and broadcasters. Jay has played about 3 million yards of golf - or close to 2,000 miles. His pieces on travel and architecture appear in Golf Observer (www.golfobserver.com), Cybergolf, PGA.com, Golf Magazine and other print magazines. When not researching golf courses for design, value and excitement, Jay is an entertainment, copyright, Internet and trademark lawyer and an Entertainment and Internet Law professor in Manhattan. His clients have been nominated for Grammy and Emmy awards, won a Sundance Film Festival Best Director award, performed on stage and screen, and designed pop art for museums and collectors. Jay lives in Forest Hills, N.Y., and is fiercely loyal to his alma maters, Deerfield Academy in Massachusetts and Trinity College in Connecticut.