U.S. Amateur Champion Fitzpatrick & Brother-Caddie Elicit Ouimet Flashbacks at The Country Club
By: Rob Duca
The main challenge for Matt Fitzpatrick at the 2013 U.S. Amateur might have been getting past security and onto the historic grounds of The Country Club in Brookline, Mass.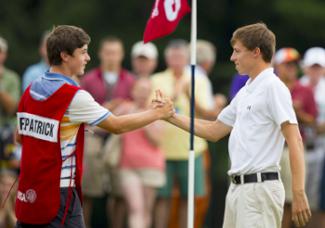 Caddie Alex & 2013 U.S. Amateur Champion
Matt Fitzpatrick Congratulate Each Other
The slender 5-foot-9, 130-pound Fitzpatrick, who is 18 but looks around 15, was asked to display his credentials on a daily basis by guards who found it difficult to believe he was one of the competitors.

He had no such problem convincing his vanquished opponents. With Sunday's resounding 4-and-3 triumph over Australia's Oliver Goss - his fifth 4-and-3 win in six matches - Fitzpatrick became the first Englishman to hoist the Havemeyer Trophy since Harold Hilton in 1911.

It was oddly fitting that on the 100th anniversary of Francis Ouimet's epic victory in the 1913 U.S. Open at The Country Club - accomplished with a plucky, self-assured 10-year-old Eddie Lowery toting his bag - that the gangly Fitzpatrick would stroll to victory alongside his 14-year-old brother, Alex, who projected a similarly cocky, carefree personality.

"It was quite strange having my little brother on the bag. Some people have told me it reminds them of Ouimet," Fitzpatrick said. "We're both really small, although my brother is almost bigger than me, so maybe I should be the caddie."
There was a moment of tension between the teen siblings during Saturday's semifinal when Alex left Matt's 58-degree wedge next to a greenside bunker on the first hole. It was discovered at the second green when Matt requested the club. After an oops! moment, the wedge was quickly retrieved in time to be used for the shot, and all was good again.

The brothers were quite the pair all week, smiling and winking at each other as Matt hit one solid shot after another, finding fairways and greens with such apparent ease that it seemed like he was playing a casual round at his home club instead of tackling a beast of a course that featured thick rough, small, quick greens, and monster par-4s.

"I was quite focused walking down the 15th fairway [in the afternoon round] and he was laughing and joking away," Matt said. "Maybe he was a bit nervous and that's why he was trying to be funny."
Fitzpatrick, the low amateur at this year's British Open and the No. 2 player in the World Amateur Golf rankings, now has earned spots in next year's Masters and U.S. Open. He'll enter Northwestern in the fall, following in the footsteps of countryman Luke Donald. He said his next step is to return to England and "chill out," and then begin preparations for college. "I'm quite a bit behind in the process," he noted.

Sunday morning's round went back-and-forth, leaving Fitzpatrick with a 1-up edge after a dramatic 18th hole that saw Fitzpatrick drain a 24-foot putt and Goss respond by chipping in from 16 feet, both for par.

Goss moved to all-square in the afternoon by winning the first hole (the 19th of the day) with a par. But he doubled the 193-yard second and bogeyed the 447-yard third to fall 2-down. A rare Fitzpatrick misstep at the ninth (27th) gave the hole to Goss with a par and sliced the deficit in half. But Fitzpatrick quickly recovered, winning the 10th with par to restore his 2-up cushion.
He then made pars the rest of the way, putting the pressure on Goss to come up with something magical. When Goss failed to get up-and-down at 14 and 15, Fitzpatrick closed him out.

"When I got to 2-up, I wouldn't say I sort of felt like I had control, but I felt that there was a bit of a buffer zone," Fitzpatrick said. "If I could just carry on making pars, it would hopefully win me holes. And if I did stick it close, then I might be able to make a putt. But I'd probably say, as daft as it sounds, on 14, I think me getting up-and-down there and Ollie didn't get up-and-down, I think to go 3-up was the big swing."

In the end, the only aspect of this U.S. Amateur that included the United States was in the title. For the first time in history no American advanced to the semifinals.

And 100 years after Ouimet upset Great Britain's Harry Vardon and Ted Ray at this historic golf course, an Englishman tasted victory at The Country Club.
Rob Duca is an award-winning sports columnist who wrote for the Cape Cod Times for 25 years, covering golf, the Boston Red Sox, the Boston Celtics and the Boston Bruins. He is now managing editor of Golf & Leisure Cape Cod magazine and has written for a variety of other publications, including Sports Illustrated, the Boston Globe, Yankee magazine and Cape Cod Life.