U.S. Amateur Getting Down to Nitty Gritty at The Country Club
By: Rob Duca
A field of 312 teed it up at The Country Club on Monday in the U.S. Amateur, with 64 qualifying for match play, which began Wednesday. Every player has a story to tell, from 16-year-old Sean Yu to 30-year-old Jason Anthony.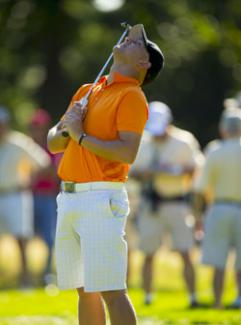 Jason Anthony
The field of mostly 20-somethings arrived this week in Brookline, Mass., from all over the world, the U.S. Amateur no longer the province of strictly American studs. Yu, the youngest competitor in the championship, is from Taiwan, while others hail from Denmark, Mexico, Canada, England, Australia, Portugal, Malaysia, Finland, Wales, Austria and Korea.

Only one player older than 30 advanced to match play, and he did so in remarkable fashion. Anthony, of Fairfield, Calif., was part of a 17-man playoff for 15 spots to make it into match play. The playoff began at 7 a.m. Wednesday morning at the demanding (what hole here isn't demanding?) 508-yard, par-4 14th. After recording a triple-bogey, he had to wait, disconsolate, nearly one hour to see what the others did . . . just in case.

When two other players made triple, Anthony was in another playoff for the final spot, which he secured with a par on the 15th. Unfortunately, the Cinderella story struck midnight that afternoon in a match-up of "old men" when Anthony was beaten by England's 27-year-old Neil Raymond, the stroke play co-medalist.

"I've never had so much fun losing," he said afterward. "Obviously I would have loved to be playing [Thursday], but it's been such a great experience."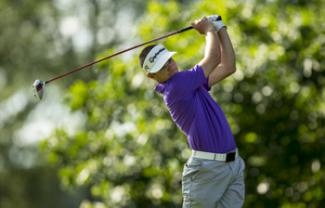 Chelso Barrett
Yu was also ousted in the opening round, but 18-year-old Chelso Barrett advanced to Thursday. Barrett was the closest the championship had left of a local hero heading into the second day of match play. It's not exactly Francis Ouimet, who famously grew up across the street from the course and won the 1913 U.S. Open as an amateur, so it had to suffice.

The native of Keene, N.H., whose family operates a public golf course, outlasted the formidable Jim Liu of Smithtown, N.Y., in the first round. The 18-year-old Liu, the 2010 U.S. Junior Amateur champion, has a long list of accomplishments. He's competed in 10 previous USGA championships, has a 15-4 match play record in five U.S. Junior Amateurs, was once the No. 1-ranked junior player in the world and, earlier this summer, reached the semifinals of the British Amateur.

Barrett dusted Liu 3 and 2 on Wednesday, then won his morning match on Thursday before being sent home Thursday afternoon, losing 6 and 5 to Adam Ball of Richmond, Va.

Of course, the true star of this championship is the iconic golf course, which has now hosted six U.S. Amateurs, three U.S. Opens, three U.S. Women Amateurs, two Walker Cups and a Ryder Cup. Competitors describe the course with words like brutal and demanding. "It's a beast," Barrett said.
Scott Wolfes of St. Simons Island, Ga. - who lost in the Round of 32 - added, "This course is unbelievable. Every hole out here. It's one of the best courses I've ever seen. One of toughest also, for sure. I'm glad we're not playing stroke play."

It's not the same course that hosted the 1999 Ryder Cup; it's tougher. With Rio Olympic course architect Gil Hanse in charge, holes have been lengthened, with the 505-yard ninth and the aforementioned 14th being converted into par-4s, turning the layout into a par 70. The inward nine measures a daunting 3,962 yards, which led defending champion Steven Fox to joke at last month's media day, "I think breaking 80 sounds like a pretty good score."

No hole is more historic than the 371-yard 17th, the site where Justin Leonard clinched the '99 Ryder Cup and where Ouimet made pivotal birdies in the final round and playoff of the Open a century ago.

USGA officials placed the pin in the back-left corner for Wednesday's first round of match play, not quite the same as 17's back-right location during the final day of the Ryder Cup, but pretty close. More than a few players failed to get their approach shots up the slope, instead cringing as they watched the ball spin back toward the front of the green, leaving a treacherous uphill putt.
Matt Pinizzotto of Salinas, Calif., was 1-up in his match against Brandon Mathews of Dupont, Pa., when he came to 17. Faced with a Leonard-sized putt from the front of the green, he left it eight feet short, then left the next putt inches shy, losing the hole and eventually the match.

Wolfes had better luck. Ahead by two at 17, he also left his uphill putt woefully short, but drained the next one to win his match over Mario Clemens of Mexico.

"You can't help but think about the history of this hole a little bit as you're playing it," Wolfes said. "I always remember Leonard's putt from down below. He hit it much firmer than I hit my putt. I got it about halfway there. I had downhill putts all day and I could not get myself to hit it hard enough. I'm lucky it stayed on top of the hill. But it's a great hole."

And so it went, as players repeatedly attempted, in vain, to land their approaches over the slope to the back-pin location on a hole that appears deceptively easy.
But competitors here have quickly learned that nothing about this monster of a course is easy, from the gnarly rough to the deep bunkers to the postage-stamp greens, which are so small one might say the competitors must take turns standing on them.

As the U.S. Amateur heads to its 36-hole finale on Sunday, this worthy course will undoubtedly crown a deserving champion who will, to paraphrase the old John Houseman commercial, have earned the right to hold aloft the Havemeyer Trophy.
Rob Duca is an award-winning sports columnist who wrote for the Cape Cod Times for 25 years, covering golf, the Boston Red Sox, the Boston Celtics and the Boston Bruins. He is now managing editor of Golf & Leisure Cape Cod magazine and has written for a variety of other publications, including Sports Illustrated, the Boston Globe, Yankee magazine and Cape Cod Life.