U.S. Open Preview: The Emerald, Sapphire & Gold of Pebble Beach
By: Jay Flemma
Years ago, when the USGA announced that each 10 years they would celebrate the U.S. Open with a party of special magnificence - a decennial return to Pebble Beach, elated cheers rang throughout the golf world. Beautiful, rugged Pebble has been a national treasure and a crown jewel in the American golf diadem for nine decades. Indeed, when the sun shines over Monterey, the peninsula gleams like an iridescent gem: an emerald by a sapphire sea, bathed in gold.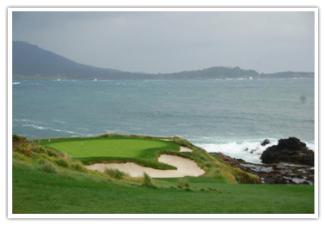 From the 7th tee at Pebble Beach
"This place is the Louvre," gushed Bing Crosby years ago. Then he corrected himself. "It isn't just the Louvre, it's everything that's in the Louvre too, with all of the artists gathered round."

Most golfers agree with Crosby. With its exhilarating stretches of holes atop craggy cliffs, it is perhaps the most recognizable and beloved course in American golf. But Pebble Beach is far more than just an idyllic course by the sea. For decades, Pebble Beach was the only public-access major championship venue and, therefore, the stuff of legends. Well-traveled (and well-heeled) golfers who made the trek to Monterey found their reminiscences in great demand when they returned home to envious friends.

Moreover, on a great course where epic major championships have been held, history comes alive with every step, every shot and, indeed, Pebble's beauty is surpassed only by the Shakespearean-in-magnitude sports dramas that have unfolded along its romantic cliffs. This year Pebble will host its sixth major championship: five U.S. Opens (the others were 1972, 1982, 1992, and 2000) and the 1977 PGA won by Lanny Wadkins. The course also hosted the U.S. Amateur in 1929, 1947, 1961, and 1999.

Golfers love historical stories told and retold, but it seems something incredible happens every time the U.S. Open comes to Pebble. In design, drama, beauty and history, Pebble is a course of surpassing excellence, holding its own in the discussion of greatest U.S. Open venues with Shinnecock, Oakmont, Oakland Hills and Winged Foot. But despite its enthralling beauty, it took a while before Pebble Beach was ready for golf's grandest stages.
The Genesis of an Icon

At the turn of 20th Century, a lawyer named David Jacks owned the land upon which the course now sits. The town of Monterey had deeded it to him at about 15 cents an acre to settle a $1,100 legal bill. Shrewdly, Jacks thought, he sold it to the Southern Pacific and Central Pacific Railroads.

Then, in 1914, a young lawyer and far-sighted entrepreneur named Samuel Morse, the captain of the Yale football team in 1906 and grand-nephew of the genius who invented the telegraph, found himself in the employ of the Pacific Improvement Company, a subsidiary of Southern Pacific. The company instructed Morse to liquidate what was thought to be an unprofitable holding.

Instead Morse formed a firm of his own - Del Monte Properties Company - and bought a 7,000-acre tract, including seven miles of coastline - for $1.3 million. The assets he purchased included the old Victorian Del Monte Hotel and the pleasant but pedestrian Del Monte Golf Course, which was inferior for Morse's needs. To attract the well-to-do and sell them real estate, Morse needed a world-class golf course. After consulting with perhaps half a dozen architects, in 1918 Morse had five-time California Amateur golf champion Jack Neville layout Pebble Beach, with a helping hand from Douglas Grant for the bunkering.

Interestingly, Neville was also a real-estate salesman who had worked for the Pacific Improvement Company, but who followed Morse to Del Monte Properties. Tall and laconic, with a dry wit, that's how history remembers Jack Neville. But Neville was also much like Kurt Vonnegut's character Ransom K. Fern from "The Sirens of Titan." He knew that in Morse he had found "his man": someone of superlative vision and business acumen to whom he could hitch his financial star.

Neville's routing was brilliant. He realized that the more he could keep to the cliff-tops and use the natural crags, coves and inlets as hazards, the more dramatic and memorable the experience. He laid out the course in a figure 8, where the fourth and sixth through 10th holes abutted the ocean. The course then turns inland - though really no further than a drive and pitch away from the ocean - for the stretch from 11-16 before turning home and finishing along the Pacific.

But while the routing was majestic, the initial reception of the course as a tournament venue was rather impolite. As golf writer and historian Ron Whitten wrote recently that a 1918 preview tournament was won by Mike Brady's two-day, 10-over score of 154 - a whopping 13 strokes better than the runner-up. "The dozen invited pros were openly critical," Whitten wrote. "Over the next decade, Morse allowed any number of people to make refinements and improvements," including a landscape painter.

While Morse also consulted such great architects as Herbert Fowler, Donald Ross and Alister Mackenzie (who both Whitten and golf architecture historian Ran Morrissett agree was likely responsible for designing the eighth and 13th greens), Chandler Egan, a two-time U.S. Amateur champion from Chicago who had moved to Medford, Ore., is the man most responsible for the course design as we see it today. "He replaced 16 of the 18 greens (leaving MacKenzie's 8th and 13th greens untouched), and completely redid the bunkering. Egan's redo is one of the great moments in the development of American architecture," wrote Morrissett.

Slowly, yet inexorably, Pebble rose its way to its first U.S. Open in 1972. Neville himself won the 1919 Cal State Am at Pebble. In 1929, Pebble held the first U.S. Amateur west of Minneapolis. Though Bobby Jones lost in the first round 1-up to little-known Johnny Goodman, "photos of its spectacular holes appeared in national newspapers and magazines coast to coast," wrote Herbert Warren Wind. "Golfers throughout the country became conscious of Pebble."

The final piece of the puzzle was crooned sweetly into place by Crosby, whose "National Pro-Am" - "The Crosby" to golfers - melded movie stars and television, bringing the majestic grandeur of Pebble to every living room in America at a crucial growing period for pro golf. A star was born . . . as was a legend.
The Modern Era

While Crosby's grace and class were the sturdy backbone of Pebble's fame, Jack Nicklaus's heroics - and heartbreaks - were Pebble's heart and soul. In 1961 "Fat Jack," as he was known then, dominated the U.S. Amateur start to finish. In 1972, while chasing Ben Hogan's major championship record, Nicklaus won what was, until Winged Foot two years later, the hardest Open of the modern era. With half the field scoring in the 80s due to howling winds stirring up waves and whitecaps, Nicklaus's 2-over 290 bested Arnold Palmer in a Sunday back-nine battle. Nicklaus's dagger was the now-immortal 218 yard 1-iron knifing through the King Lear-worthy wind at the par-3 17th, which hit the flagstick, stopped 6 inches away for a kick-in birdie, and gave the world a thrill that still resounds in the annals of golf history.

But that wasn't enough for 17, pint-sized drama queen that it is. One battle of titans was not sufficient, so after giving us Nicklaus vs. Palmer in the great golf battles of the '60s and early '70s, Pebble saw fit in 1982 to give us a second iconic rivalry: Nicklaus vs. Watson.

Back in 1982 it cost $70 to play Pebble, but a few years before as a Stanford student, freckle-faced Watson played the course for free. Almost every day he snuck on at first light, played a few holes, and was gone before the bell rang for his first class. Pebble was his de facto home course.

Still, "I was a little nervous when I woke on Sunday morning," Watson reminisced in 1983. So he played with his 2-year-old daughter Meg and then immersed himself in the Sunday paper, reading about the federal budget controversy, the Royals' prospects for the A.L. pennant and the earthquake in El Salvador.

Watson started the day at 4-under, tied for the lead with Bill Rogers. Nicklaus started three back at 1-under. Under cheerless grey skies, Nicklaus bogeyed the easy first hole when his approach spun back off the green. He then merely parred the short par-5 second, in truth an easy birdie hole.

But then the Nicklaus magic began. He rolled in a monster birdie putt from across the green at No. 3. He dropped a 23-footer for birdie at No. 4. His 6-iron at the par-3 fifth stopped 2 feet from the hole for birdie. He reached the behemoth, uphill par-5 6th with driver-1-iron and two-putted for birdie. He traded a fifth birdie in a row at seven with a bogey at eight, but was now running apace the leaders. Bogeys at nine, 10, and 12 dropped Rogers out of the race and the stage was left to Nicklaus and Watson.

Watson briefly grabbed a two-stroke lead when he miraculously saved par at 10 with a twisting 35-foot putt, then rolled in a 22-foot birdie putt at 11. But a bogey at the par-3 12th and a Nicklaus birdie at 15 evened the match again.

At the par-5 14th Watson - usually a short-game magician - skulled his third shot, a 95-yard pitch. "The lie wasn't good. The ball was above my feet with no cushion under it," admitted Watson. "I hit it thin and it went to the back fringe, 35 feet past the hole."

But time and time again on that epic Sunday, Watson found himself on the deck of a sinking ship, yet each time he battled back from the brink, pitting his little Bonhamme Richard broadside for broadside against mighty Nicklaus's Serapis. Incredibly, Watson sank the long, double-breaking downhill putt.

"It broke left at the beginning, then more right than left after that. The speed was difficult to gauge as the line. The putt was downhill as well as curving, and I just hoped to get it close," Watson recalled. "It dropped into the cup for a birdie! It was the putt that won the tournament for me. And for the first time that day, the pressure wasn't pushing me. It simply left and I felt a great inner calm . . . I knew it was down to a shootout with the greatest player of all time, and I drew on old positive memories. I thought back to the 1977 British Open at Turnberry."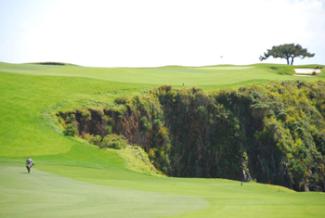 The 6th Fairway at Pebble Beach
In hindsight, it's odd that Watson should credit his victory to the putt at 15 because, as everyone remembers, he bogeyed 16 by driving into a bunker his friend Sandy Tatum deepened to make more penal. "It was the only fairway I missed all day," Watson confessed. He fell back into a tie, setting up his time-capsule, all-world sports-highlight-reel heroics: the chip-in for birdie at 17 that regained him the lead.

Watson had played the difficult par-3 well all week: two birdies and another near-miss. He went for the pin but came over the top just a bit. "I swung too much," he admitted. "The ball landed hard to the left of the green . . . It rolled to where I could not see it, and I said to myself, 'Uh-oh, now I'm dead.' "

Everyone else thought so too. Four-inch rough, short-sided and downhill to a green running away from him: the worst shot a golfer can leave himself, especially with the national championship on the line. By all rights, Watson's chip shouldn't have stopped until it reached Spyglass Hill. One golf writer reminisced that he wrote at the time, "Nicklaus must surely have thought, 'Bogey. I win,' and everyone else thought it, too."

"But when I got to the ball I saw I had a good lie, and then the sun chose that moment to come out. I had a good feeling all over," said Watson.

That light was much more than just a sunbeam. It was the touch of the Golf Gods, awakened once more and keenly aware of the incomparable romance of the moment. There was Pebble, a gleaming emerald by a sparkling sapphire sea, bathed in gold, while golf's mighty titans marched across her towering cliffs, trading birdie after swashbuckling birdie. Watson's chip-in was one of those moments where you could feel the touch of the Golf Gods. It wasn't just one of golf's greatest moments, but all of sports, and the cornerstone of beloved Pebble's immortality.

Sadly, the spot where Watson played the shot is gone, eroded by a storm the next winter. But the shot lives on in the hearts of every player. Watson's birdie on 18 was merely an afterthought, a victory lap in the sun.
On the Course

It makes sense that Watson would win his only U.S. Open at Pebble Beach. While his profile as a player didn't fit with the typical U.S. Open set-up as it existed back then - brutally long courses with 6-inch rough and criminally narrow fairways that deemphasized short game recovery shots, Watson's game fit Pebble well and provides a glimpse into who might win this year.

First, Watson, winner of five British Opens, was always a great wind player, and the winds at Pebble range from gentle zephyr to the breath of God. "At any time of year it can be absolute bluebird weather, or you can get wind and rain that you can't believe," explained Nicklaus.

Much like Turnberry, St. Andrews and other sea-side courses built in the Golden Age, Pebble Beach needs the wind to defend par. Though Pebble has tiny yet topsy-turvy greens - perhaps the smallest of any major championship venue, the course is also perhaps the shortest major championship venue: 7,040 yards, par-71. So with no wind and six par-4s measuring under 410 yards, Pebble will surrender low rounds. The competitive course record is 62.

But in wind, especially a crosswind like we saw last year at Turnberry, the tiny greens will be murder to hit, especially from the myriad side-hill lies. That's why plus-2 won in 1972 and plus-3 was good enough for second place in 2000. That's also why Pebble also consigns so many famous names to rounds in the 80s.

As an aside, Woods's 12-under score in 2000 was a statistical outlier because he caught the bluebird weather that week. While more than half the field played in squalls and fog Thursday afternoon and Friday morning, Woods breezed around Thursday morning under calm blue skies, then played after the Friday rain ended and softened the normally fast and firm June conditions at Pebble. "Early and late were the winning draws," groused Colin Montgomery. "Tiger isn't only the best player in the world, he's also the luckiest."
Indeed, looking closely at Woods's results, he does not play well in wind; it's the only element that defeats him regularly. He's lost (and played poorly) in windy and inclement conditions at Muirfield, Hazeltine, Bethpage and Turnberry to name a few. Moreover, when he won at Pebble, St. Andrews and Royal Liverpool, he had four days of great weather each time.

The odds are good that we'll see every kind of wind Pebble can throw at us U.S. Open week, from soft gentle breezes to banshee howls. Those conditions favor the European players, especially three-time major winner Padraig Harrington, who loves ghastly conditions and hard courses. "It helps me when half the field shows up and thinks they're out of it," Harrington observed.

Second, Watson was a creative shot-maker, unfazed by side-hill lies and tiny greens. Pro golfers have been the same for over 100 years - they hate to think. They want the same ideal conditions every shot so that their swing finds a groove and they can just fire and forget. Pebble's severe side-hill fairways and tiny greens help make up for its lack of length. At Pebble, phlegmatic, workmanlike shot-makers with great short games such as Jim Furyk, Zach Johnson, Retief Goosen and Ben Curtis can keep pace with the long-hitters like Phil Mickelson, Woods and Ernie Els.

However, in spots, Pebble does reward long players: they can bomb it past many of the tilted areas to flatter lies. Again, Watson provides two fascinating insights. Never known for prodigious length, he wrote in 1983, "I drove the ball further than I ever have at an Open, averaging almost 300 yards off the tee."

That's remarkable for 1982. That also helped him have higher-lofted clubs with more spin into the greens, but then he also offered another, more telling, observation. Describing the 495 yard par-4 10th hole, which has the steepest side-hill lie on the course and a green that slopes away from you, Watson explained, "It's the toughest driving hole on the course, because the fairway slopes so drastically from left to right, toward the ocean. [But] it widens out and flattens the longer you hit the ball." Several other holes offer the same strategy, including Nos. 8, 9 and 13, all long and difficult par-4s.

Woods and Nicklaus also enjoyed this advantage when they won at Pebble. They were able to drive over trouble and hit higher-lofted clubs with more spin into the greens. Long-bombers will have a chance at Pebble, but they'll need to hit the ball straight and have a well-rounded short game as well to cash in on their advantage. Despite being so short, Pebble is still a second-shot golf course, and a tough one at that.
Score Early, Hang Tough Late

When asked to summarize his winning week in '82, Watson had an observation that surprised many. "I played the tough finishing holes well. The first round I birdied 15, 16, and 17 to get back to even-par, and I made birdies on the late holes Friday and Saturday."

I can't recommend that as a strategy as it flies in the face of conventional wisdom. The normal game plan at Pebble is to attack the short opening stretch of 1-5. "If you're plus-5 on the sixth tee, commit suicide," joked Lee Trevino.

Then players turn to the ocean and the "cliffs of doom," which will feature an interesting change this year. The cliffs will not be guarded by a "savior cut" of rough: rough thick enough and in such width that it could save your ball from running off the edge and tumbling over the cliff like a runaway car in a Hollywood movie. Instead, the rough will only be about 6 feet wide and 1½ inches deep. "Just enough so the mowers don't fall into the ocean," quipped Mike Davis at media day.

Worse still, the fairways on the cliff-top holes usually slope toward the cliffs. This will have a monumental effect on a player's psyche on the tee. Take the par-5 sixth for example. Despite the fairway sloping severely left-to-right, the usual play was a draw off the tee to avoid starting the ball at the fairway bunkers left. Now players are starting their drives towards even more danger. Hole Nos. 4, 8, 9, 10, and 18 will feature the same strategy.

After surviving the cliffs, the inland holes 11-16 are no pushover. At 202 yards, the green on the par-3 12th is nearly impossible to hit in a crosswind. A new tee at No. 13 makes it 268 yards to clear the fairway bunker, and the players face an uphill approach that many invariably underestimate. Five new bunkers built in 2005 pinch the 15th fairway to put a premium on driving accuracy.

Even trees have a role at Pebble, though many pundits, including myself, find them a needless nuisance. One specimen tree that doesn't intrude too rudely into the air space of a hole can be written off as quirk. However, a tunnel of trees or trees placed in the fairway that can arbitrarily impact on the game through sheer luck are unpalatable. Four mammoth Cypress trees frame the 16th green - "tree gates" is the derogatory term in golf-architecture jargon - and form a ridiculous goalpost that must be negotiated or else the approach shot lands in a sandy barranca.

At 18, two trees were actually repositioned in the driving zone so players would have to challenge the ocean guarding the left side. Dubbed the "The Odd Couple" by Golf magazine, they look more out of place than the infamous "Hinkle Tree" from the 1979 U.S. Open at Inverness. Oh well, the Mona Lisa doesn't have any eyebrows either, and no one complains. As my girlfriend Britt likes to say, "No one is perfect, and if they are, then that's their flaw," so we'll forgive Pebble the two trees so long as the leader doesn't get stymied behind one at the 72nd hole of the Open.

Even so, No. 18 promises to be even more thrilling than in years past. Curving like a scimitar along the beach, what was once written off as strategy-lite - a 3-wood, lay-up, wedge affair - has been made more interesting by technology as more professionals go for it in two. Now that birdie is more of a possibility and eagle is finally in the mix, it will make an ideal swing-hole to finish the tournament with a dramatic flair, which is exactly the kind of excitement Mike Davis has sought to return to the U.S. Open.

And so the stage is set for golf's grande dame to once again thrill us with her beauty and guile. Like the U.S. Open itself, Pebble Beach is an undeniable slice of Americana and, in many respects, one of the quintessential U.S. Open courses. We celebrate our nation's exquisite natural wonders, we toast the industry and ardent spirit of the competitors, we share in their glorious triumph on Father's Day and they, in turn, become part of our country's celebrated sporting heritage. And Pebble continues to shine brightly as it has for nearly a century: emerald and sapphire and gold.

As Herbert warren Winde wrote in 1982, "it's as good as golf can get."
Notes & Quotes

* Everyone remembers Watson's chip-in and long putts in 1982, but in 1992 Tom Kite had an equally magical Sunday. He pitched in from out of the rough for birdie on the par-3 seventh, rolled in a 35-foot birdie putt on 12, and posted a final-round 72 in a windstorm that saw more than half the field score 80 or higher.

* This year, the Open will only feature three holes with significant distance increases. The long par-4 ninth and 10th holes were lengthened by approximately 40 and 60 yards, respectively. According to Davis, those holes were lengthened because they both play almost entirely downwind in June - when winds at Pebble are consistently out of the north or northwest. In 2000, Woods led the Open by six shots after two rounds, 10 shots after three and 15 after 72 holes. An Indy Car racing against Yugos, Woods carded the lowest first round, lowest second round, second-lowest third round and lowest final round of the tournament.

* Reflecting a year later on his U.S. Open victory, Watson explained, "I won the tournament as much with my mind as my clubs. I plotted a game plan and stuck with it on every shot except for my lay-up on Sunday."

* Although the story of two Asian golfers driving a golf cart off the cliff and plummeting to their deaths at Pebble is one of golf's urban legends, famous bon vivant and well-decorated pro golfer "Champagne" Tony Lema took a tumble off the cliffs on No. 9 and fell 18 feet to the beach below. He escaped with just a few bruises.

* Lucas Glover's 276 score last year at Bethpage was the lowest winning aggregate since Retief Goosen's 276 at Shinnecock in 2004.


Since launching his first golf writing website in 2004, http://www.jayflemma.thegolfspace.com, Jay Flemma's comparative analysis of golf designs and knowledge of golf course architecture and golf travel have garnered wide industry respect. In researching his book on America's great public golf courses (and whether they're worth the money), Jay, an associate editor of Cybergolf, has played over 220 nationally ranked public golf courses in 37 different states. Jay has played about 1,649,000 yards of golf - or roughly 938 miles. His pieces on travel and architecture appear in Golf Observer (www.golfobserver.com), Cybergolf and other print magazines. When not researching golf courses for design, value and excitement, Jay is an entertainment, copyright, Internet and trademark lawyer and an Entertainment and Internet Law professor in Manhattan. His clients have been nominated for Grammy and Emmy awards, won a Sundance Film Festival Best Director award, performed on stage and screen, and designed pop art for museums and collectors. Jay lives in Forest Hills, N.Y., and is fiercely loyal to his alma maters, Deerfield Academy in Massachusetts and Trinity College in Connecticut.