U.S. Open Should Visit Other 'Smaller' Venues after Return of Merion
By: Jay Flemma
[Cybergolf's Jay Flemma and Marino Parascenzo are in Ardmore, Pa., for this week's U.S. Open at Merion Golf Club. Here's Jay's third installment.]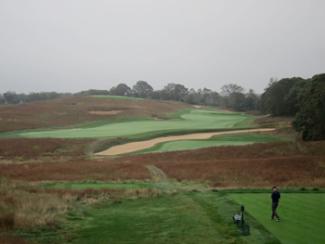 The Par-4 3rd at National Golf Links of America
"Forget about moving it around," exclaimed Dan Jenkins, the dean of all golf writers. "Play it here all the time!" he said, referring to Merion's venerable East Course, which is proving all the lowest-common-denominator broadcasters wrong by being quite the tough test despite the rain, thank you very much.

Still, the USGA shoehorned the tournament footprint and we're all going to have Band-Aids on our heels for the next two weeks.

Since the door has been opened for "boutique U.S. Opens" from time to time, let's talk about other possible venues we'd like to see that are 1) smaller or even lesser-known courses that are also a logistical nightmare; 2) places you wouldn't ordinarily nominate as an Open venue; or 3) places they flat out need to go back to. Here's my list.

National Golf Links of America

National and Shinnecock are both among the world's top-10 courses. They both have Golden Age pedigrees and phenomenal architecture. Best of all, they are adjacent to one another.

So why does Shinnecock get all the U.S. Opens?

One reason is that National doesn't really want the Open, but Shinnecock does. Having former tournament director Tom Meeks' head was enough to placate Shinnecock's fury at him for burning down their golf course in 2004, so they have returned to the rota and will host the Open in 2018.

Meanwhile, we'll see National for the Walker Cup this year, the battle between the best amateur players from the U.S. and Europe.

"Clubs ask the USGA to host the Walker Cup five times more than they ask to host any other USGA championship," explained USGA Architecture archivist Tom Paul.

There's a reason for that. It has more history than nearly any other USGA event barring the U.S. Amateur, and half the footprint (or less!) of any other event as well.

"If National reduced par to 70 it could hold its own for an Open. You'd have to make 7 and 18 into par-4s," explained Paul. "Yes, that leaves only one par-5 on the course, No. 9, but the trade-off would be like here at Merion, the entire world would see what we've known for so long - that National is a beautiful and singular experience."

I'll tell you another singular experience: watching pro golfers grimace after four-putting the first green and taking an opening double-bogey, although National's opener barely exceeds 300 yards. You don't need length to make a course hard; you need curvy greens and thought-provoking angles of play.
Pine Valley

"The place is like a shrine, and it would be so great for golf fans to get a peek inside," said gonzo golf fan Charles "Chucky" Cordova. "It's always rated No. 1 in all the rankings, the members all talk about its difficulty, so let's see how the pros would do."

The consensus is the pros would have their hands full under the U.S. Open's fast and firm conditions. Pine Valley and Merion are perhaps not sisters, but close cousins, both architecturally and superficially. The "Philadelphia School of Architecture," a group of friendly architects that shared design ideas and consulted each other's opinions on their plans, loosely worked together at both courses.

Pine Valley hosts the Crump Cup every September, and Sunday's final rounds are open to the public, so you actually can get to see what is rightfully renowned as one of the most exclusive clubs in the world.

"While the fairways are generous, and the rough is close to nonexistent, the penalty for missing almost any fairway on the course by more than 10 feet is severe because you're either in the trees or you're in extremely difficult bunkers that are also in the trees," explained golf-architecture expert Chip Oat. "Moreover, in almost all cases if you miss a green, especially long, it rolls down a steep slope and into an awful place from which to recover. It's like Garden City - the greens are steeply tilted and lightning-fast, so putts from a side-hill or above the hole are particularly difficult."

With new tee boxes on the longer and harder par-4s, it would test the Tour pros just fine.
Winged Foot East
Winged Foot East

No club in America has two courses as equally good as Winged Foot. The West course is everything everyone ever says it is. With five U.S. Opens and a devastating synergy of history and misery, it really is the Yankee Stadium of golf.

It's also the "Graveyard of Champions," but that's a story for another day.

But the East course is every bit the equal to West in difficulty, and has a more diverse and prettier natural setting. Did you know that for the U.S. Amateur in 2004 the East Course played harder in score-to-par than West? The par-3s are particularly tough, especially Nos. 13 and 17, so beautiful but deadly. If Winged Foot and the USGA wanted they could simply rearrange the footprint of the event.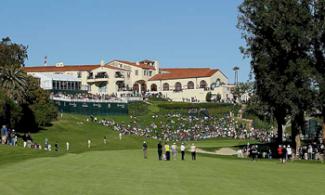 Riviera's 18th (Photo courtesy of the PGA Tour)
Riviera Country Club

We'll gratefully see the return Oakland Hills' South course to the Open rota soon, maybe as early as 2021 or '22, so why not bring back Riviera, where Ben Hogan won his first U.S. Open in 1948 and where Hal Sutton outdueled Jack Nicklaus for the PGA Championship in 1983?

Everyone loves Riviera's charm, gorgeous natural setting, strategic demands and fair set-up. Yes, the kikuyu can get outrageous, but the course makes you think all the way around. There would be a great mix of birdies and bogeys, so the leaderboard would be exciting and mercurial, and the players' familiarity with it would give everyone a chance to win. And again, the 10th hole shows you don't need 500 yards to make a challenging hole . . . or an exciting hole for that matter.

Chicago Golf Club

We need a Chicago U.S. Open venue. USGA knows what every top publication knows - Medinah is the most overrated golf course in America. It's a big, ugly dog nobody likes but the members. Too long, too much water, too many trees, too ugly, a lake with a name that's too unpronounceable and too hard to spell, and it's too bad we can't get the PGA of America to drop it too. Plus, its clubhouse looks like the Saudi Arabian Ritz-Carlton.

"Either the architect was a Shriner or he put on a fez, hit every bar on Rush Street," quipped Jenkins.

Moreover, Cog Hill is Dog Hill, just as ugly, boring and charmless. No, no, no.

Chicago Golf Club, on the other hand, is one of C.B. Macdonald's masterpieces. It's collection of par-3s are especially tough.

"It's got one of the best Redans, Biarritzes and Eden holes, I've ever seen," said USGA Architecture Archives Committee chair Bob Crosby. "It held its own well during the Walker Cup a few years ago and it's one of those courses the world needs to see if they want to study what makes a great golf course design; it's extraordinarily good. Plus, although it wouldn't have as much room as Merion does for tents and is probably a little easier than Merion, it also would be much easier for galleries to move around between the holes. There is a lot more room there for people to walk around."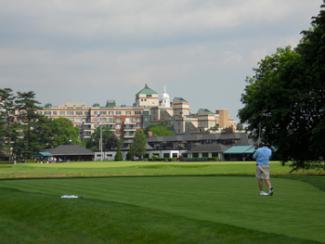 The Home Hole at Garden City
Garden City Golf Club

If we're going to be completely gridlocked somewhere, let's just make the biggest mess possible and do it in Long Island. Garden City is a lot like Merion: full of "half-par holes," either much harder or much easier that four strokes. The hard holes are exceptionally difficult and the easy holes can be particularly tricky - just like Merion. Plus, remember what Chip Oat said earlier - the greens are as slick as a parquet floor and as canted as a Tilt-a-Whirl.

Honorable Mentions

Pacific Dunes - The entire golf world should drop what they are doing and book a trip to Oregon's southern dunes for the greatest golf getaway west of Ireland. Pac Dunes gets the nod over Ballyneal or Sand Hills because there's more for fans to do in the area once the golf is done . . . i.e. "not much" as opposed to "zero."

Ballyhack - The U.S. Open also needs a Southern venue. What about Lester George's fire-breather outside Roanoke? Huge, tumbling fairways, cavernous bunkers and undulating greens would have the pros howling with rage after shooting 75-75=MC, trunk slam, screech of tire, Hasta Lasagna.

Sleepy Hollow - The Macdonald, Raynor, Banks architecture set in the tumbling hills of the Adirondack by the shores of the mighty Hudson River . . . Skyline greens, Alps holes, haunted bridges and the Headless Horseman. Too much fun!

Baltimore Country Club - This Tillie masterpiece gets overlooked in the discussion of his pantheon of great designs, but it gave the over-50 set fits at a recent U.S. Senior Open.
Since launching his first golf writing website in 2004, http://jayflemma.thegolfspace.com, Jay Flemma 's comparative analysis of golf designs and knowledge of golf course architecture and golf travel have garnered wide industry respect. In researching his book on America's great public golf courses (and whether they're worth the money), Jay, an associate editor of Cybergolf, has played over 420 nationally ranked public golf courses in 40 different states, and covered seven U.S. Opens and six PGA Championships, along with one trip to the Masters. A four-time award-winning sportswriter, Jay was called the best sports poet alive by both Sports Illustrated and NBC Sports writers and broadcasters. Jay has played about 3 million yards of golf - or close to 2,000 miles. His pieces on travel and architecture appear in Golf Observer (www.golfobserver.com), Cybergolf, PGA.com, Golf Magazine and other print magazines. When not researching golf courses for design, value and excitement, Jay is an entertainment, copyright, Internet and trademark lawyer and an Entertainment and Internet Law professor in Manhattan. His clients have been nominated for Grammy and Emmy awards, won a Sundance Film Festival Best Director award, performed on stage and screen, and designed pop art for museums and collectors. Jay lives in Forest Hills, N.Y., and is fiercely loyal to his alma maters, Deerfield Academy in Massachusetts and Trinity College in Connecticut.