U.S. Senior Open Background
The fourth of five majors this season on the Champions Tour - and the second in two weeks - is set to start Thursday. The 34th U.S. Senior Open will be played at Omaha Country Club. The historic course was established in 1927.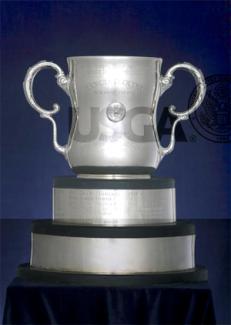 The U.S. Senior Open's Francis D. Ouimet Memorial
Trophy (Photo Courtesy of the USGA)
Previous major winners in 2013 on the over-50 circuit include Japan's Kohki Idoki (Senior PGA Championship), Regions Tradition (David Frost) and Kenny Perry (Senior Players).

The Venue

The design duo of Langford and Moreau crafted the original Omaha CC course. Subsequent remodels were overseen by Perry Maxwell in 1951 and by Keith Foster in 2007. The current layout will be played at 6,711 yards and a par of 70 for the championship.

The course will have the second-longest par-3 in U.S. Senior Open history. The 230-yard third hole is the first of five par-3s at Omaha CC. The site also boasts the third-longest par-4 in U.S. Senior Open history - the 494-yard 10th, one of six par-4s on the inward half.

This will be the third USGA championship held in Nebraska and first U.S. Senior Open in the state. In 1941, Marvin (Bud) Ward defeated Pat Abbott to win the U.S. Amateur at the Field Club of Omaha. In 1996 at Firethorn Golf Club in Lincoln, Kelli Kuehne won her second consecutive U.S. Women's Amateur title.

Omaha Country Club has hosted the Nebraska State Amateur 15 times, most recently in 2005. Johnny Goodman, an Omaha native and the last amateur to win the U.S. Open, in 1933, won the second of his three consecutive Nebraska State Amateurs at Omaha CC in 1930.
The Field

The 156-player field boasts nine former U.S. Senior Open winners: Roger Chapman (2012), Dave Eichelberger (1999), Fred Funk (2009), Hale Irwin (1998, 2000), Peter Jacobsen (2004), Bernhard Langer (2010), Graham Marsh (1997), Don Pooley (2002) and Eduardo Romero (2008). Also entered is two-time Champions Tour major winner Fred Couples, who finished as the runner-up to Langer at Sahalee Country Club near his hometown of Seattle in 2010.

The USGA accepted 2,746 entries for the 2013 championship. Sectional qualifying over 18 holes was held at 34 sites in the United States June 17-27. Pooley was the last player to win the U.S. Senior Open as a sectional qualifier.

Eichelberger, at age 69 (born September 3, 1943), is the oldest player in this year's field. Marsh is also 69 (born January 14, 1944). Irwin is 68. Colin Montgomerie is the youngest in the field; the Scot turned 50 June 23.

Also playing are 28 amateurs, the lowest total since 2004, when the U.S. Senior Open was held at Bellerive Country Club. Among the amateurs are Doug Hanzel, the low amateur at last year's U.S. Senior Open, and Paul Simson, the 2010 and '12 USGA Senior Amateur champion.
Several players withdrew in advance of the 2013 U.S. Senior Open. They include Russ Cochran (wrist injury), Brad Bryant (knee), two-time U.S. Senior Open winner Allen Doyle (unidentified medical condition), Nick Price (elbow), Craig Stadler (foot) and 2011 champion Olin Browne (back). They were replaced by amateur Don Reycroft, of Norfolk, Mass.; amateur Matt Hall, of Grand Junction, Colo.; Kirk Nelson, of Kihei, Hawaii; Don Thames, of Rancho Murieta, Calif.; Kym Olsen, of Australia; and Jerry Vidovic, of Blue Island, Ill., respectively. On Tuesday, Hal Sutton pulled out because of a hip injury. He was replaced by David Ladd, of Palm Beach Gardens, Fla. Ladd will be paired in the first two rounds with Corey Pavin and Steve Elkington.

Coverage

There will be at least 14 hours of live network coverage of the U.S. Senior Open, with at least six of those hours on NBC. ESPN will air at least eight hours over the first two days. If a three-hole aggregate playoff is necessary on Sunday, NBC will continue its coverage following the conclusion of Sunday's final round. Here's the broadcast schedule (all times CDT):

Thursday, July 11 - ESPN2*: 3-7 p.m.
Friday, July 12 - ESPN2*: 3-7 p.m.
Saturday July 13 (Sat.) - NBC: 1:30-5 p.m.
Sunday, July 14 - NBC: 1:30-5 p.m.

NBC television golf analyst Gary Koch will have double-duty after advancing through the Dunedin, Fla., sectional qualifier. Koch made it through a 4-for-2 playoff after shooting a 70. Koch won six PGA Tour events and played in 17 U.S. Opens, with his best finish a tie for sixth in 1982. He began his career as a sportscaster in 1990 by working for ESPN on Champions Tour events before moving to NBC Sports. Koch won the 1969 Florida Open as an amateur at age 16 and captured the U.S. Junior Amateur in 1970. As a member of the University of Florida golf team, he was runner-up to Ben Crenshaw at the 1973 NCAA Tournament. Koch, 60, who was inducted into the Florida Sports Hall of Fame last year, is making his second Senior Open appearance, having played in 2003.

Tickets & Online Updates
Tickets for the 2013 U.S. Senior Open Championship are available at www.2013ussenioropen.com. Competition-day grounds tickets are $150 (good from Thursday through Sunday with parking). Weekly packages and Trophy Club tickets are sold out.
The above report is courtesy of the USGA. For more information, visit www.usga.org. For further details about the U.S. Senior Open, including starting times, visit http://www.usga.org/ChampEventSite.aspx?id=17179869345.