U.S. Senior Open - Wednesday - Confusing Course
By: Tony Dear
Editor's Note: Tony Dear is reporting for Cybergolf through this week from Sahalee, site of the U.S. Senior Open. Here's Tony's latest report.
Wednesday was press conference day at the U.S. Senior Open, with the senior game's best players pontificating on the set-up of the course, how it compares to other USGA sites, and what score it might take to win this week.
And while everyone on the list - Tom Lehman, Bernhard Langer, Fred Funk, Corey Pavin and Fred Couples, could agree on one thing at least, namely that Sahalee is very narrow and you need to hit the ball straight if you want to win, there was also a lot of discord in some of the remarks concerning how best to tackle it.
Pavin, the 1995 U.S. Open champion, said he will be trying to keep the ball low this week. "I'm not putting it up in the air a lot," he added. "That's what a U.S. Open course can be sometimes. When I want to keep the ball in play, I try to keep it low."
A couple of hours later, the 1982 U.S. Open champion Tom Watson remarked on how you needed to hit it high. "Height is a big advantage here," he said. "Get the ball up in the air."
Then came comparisons between Sahalee and Pebble Beach where Watson won his lone U.S. Open and, which hosted the championship again six weeks ago, when Graeme McDowell emerged victorious.
"These greens are harder than Pebble's," Watson said, reiterating the point immediately - 'They are firmer than Pebble's, yes they are."
But Fred Funk, the defending champion at Sahalee, said no they weren't. "Pebble was harder than this, or firmer than this, rather."
A slight difference of opinion over what scores we might see this week was also apparent. "If anybody shoots under-par here, my hat's off to them," Funk said, while later in the day Couples hinted 3-under might be possible. "If you ask me what the lowest score was going to be this week, I would say 67," the hometown favorite said.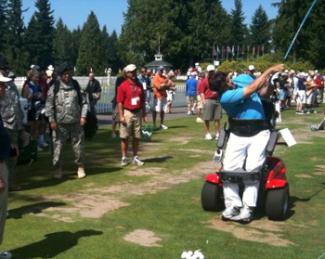 Big-Hitting Anthony Netto
They're all right, of course. Some shots will need to go low while others must come in high. The greens at Pebble were firmer, apart from the ones that weren't. And while a number of players are certainly capable of firing a 67 on any given day, it's also true that only a small percentage of them can keep it together sufficiently to remain under par for 72 holes.

Ted Robinson-designed Sahalee is a confounding course. But, as the world will see this week, a great one too.

Are You Kidding Me? - An Inspirational Moment

Stand behind the range at a professional golf tournament, and you'll hear a very familiar sound. Well, two actually. First comes the beautiful noise created when a golf club meets a ball so squarely and powerfully, the ball whizzing off into the far distance on an almost frighteningly penetrative trajectory.

Moments later you hear barely-stifled gasps from onlookers who weren't aware a golf ball could ever fly that far.

Such gasps are fewer in number at a Senior event for the simple reason that 50- to 60-year-old players don't create quite as much club-head speed as they used to. Sure, anyone watching Fred Couples, Keith Fergus or Tom Purtzer (all of whom still average well over 290 yards off the tee) for the first time is likely to go several seconds between blinks.

But at the same time, there are usually a handful of players on show who don't make you feel quite so inferior. Indeed, with a number of amateurs with day jobs in the field this week, it's likely observers will watch a certain player for a few minutes and go away thinking they could hit the ball just as well as that (forgetting how their scores might compare).

Everyone, and I mean everyone, stood stunned Wednesday afternoon, however, when wounded veteran Anthony Netto hit balls on the range during an exhibition featuring four Wounded Warriors from the American Lake Veterans Golf Course, and hosted by Champions Tour player D.A. Weibring and former Ryder Cup player Ken Still, who lives in Fircrest, in Tacoma, south of Seattle.

Netto, a native of South Africa and a former golf professional who fought in both the Angola War and the Gulf War, has been diagnosed with Multiple Sclerosis and Gulf War Syndrome and can only play the game he loves (and still teaches) with help from the brilliantly engineered Paragolfer (www.stand-up-and-play.com), which he began developing in 2001.

Able to maneuver smoothly and stand almost erect in the machine, Netto hit drives of almost 280 yards, reaching parts of the range that many of this week's competitors haven't even sniffed.

Tyler Wong, the assistant pro at Sudden Valley GC in Bellingham, Wash., is working the range this week and was utterly astounded by what he saw. "That guy was incredible," he says. 'I swear the only other person who has reached that big tree at the end of the range is Fred Couples. And he was hitting from 20 yards further up the practice tee."

Tony Dear is an Englishman living in Bellingham, Wash. In the early 1990s he was a member of the Liverpool University golf team which played its home matches at Royal Liverpool GC. Easy access to Hoylake made it increasingly difficult for him to focus on Politics (his chosen major) and, after dropping out, he ended up teaching golf at a club just south of London where he also made a futile attempt at becoming a "player." He moved into writing when it became abundantly clear he had no business playing the game for a living. A one-time golf correspondent of the New York Sun, Tony is a member of the Golf Writers Association of America, the Pacific Northwest Golf Media Association and the Golf Travel Writers Association. In 2009, Tony won first place for Editorial/Opinion in the ING Media Awards for Cybergolf. The article (http://www.cybergolf.com/golf_newsa_euros_take_on_the_2008_ryder_cup_matches) that impressed the judges was the one about Europe's Ryder Cup team and Captain Nick Faldo's decision to pick Paul Casey and Ian Poulter rather than Darren Clarke.