USGA Loses Media Center TV Remote, Gets all TVs Stuck on 'Judge Judy'
By: Jay Flemma
[Editor's Note: Cybergolf's Jay Flemma is in Pinehurst for the 114th U.S. Open. Here's a tale of Jay's Thursday from the USGA media center.]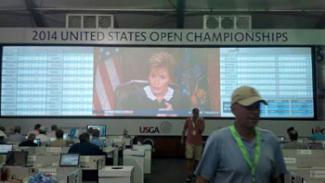 There Was Much Consternation in the Media Room
with the Unexpected Appearance of Judge Judy
In a surreal and hilarious gaffe, the USGA media center televisions on Thursday all got stuck on the TV show "Judge Judy," sending print journalists into an apoplectic frenzy.

"We lost the remote and couldn't find the person who could change the channels," explained one USGA staff member, as several writers hopped up and down madly squealing frantically for the golf tournament to come back on.

"Classic. Absolutely classic," laughed Fox and ESPN radio broadcaster Steve Czaban.

"Could you imagine if Tiger were playing?" asked another writer. It would have been open season on USGA personnel.

The picture of Judge Judy screaming at litigants under a sign reading "2014 UNITED STATES OPEN CHAMPIONSHIPS" and scoreboards on either side of her face, was fodder for laughter from those not under tight deadlines. Here are the top-10 captions we were able to compile:
10. Did the remote fall between the cushions or did the dog hide it?

9. She sure is getting a lot of air time for someone 10 shots back of the lead.

8. This is the defendant Dustin Johnson. He says he didn't ground his club in the hazard at Whistling Straits. Judge Judy rules when we return from commercial…

7. Hey USGA! If you're gonna get the TV stuck, how about "Game of Thrones" instead?

6. Even she plays faster than Kevin Na.

5. Don't change it back yet! I wanna see how she rules!

4. That's not Judge Judy, it's Nancy Lopez with an overbite.

3. At least it's better than when "Heidi" interrupted the Jets-Raiders game in 1968.

2. Tune in tomorrow when the USGA gets the TV stuck on "Divorce Court."

And the No. 1 caption is:

1. Sorry lady, the women are playing next week.
Since launching his first golf writing website in 2004, http://jayflemma.thegolfspace.com, Jay Flemma 's comparative analysis of golf designs and knowledge of golf course architecture and golf travel have garnered wide industry respect. In researching his book on America's great public golf courses (and whether they're worth the money), Jay has played over 420 nationally ranked public golf courses in 40 different states, and covered seven U.S. Opens and six PGA Championships, along with one trip to the Masters. A four-time award-winning sportswriter, Jay was called the best sports poet alive by both Sports Illustrated and NBC Sports writers and broadcasters. Jay has played about 3 million yards of golf - or close to 2,000 miles. His pieces on travel and architecture appear in Golf Observer (www.golfobserver.com), Cybergolf, PGA.com, Golf Magazine and other print magazines. When not researching golf courses for design, value and excitement, Jay is an entertainment, copyright, Internet and trademark lawyer and an Entertainment and Internet Law professor in Manhattan. His clients have been nominated for Grammy and Emmy awards, won a Sundance Film Festival Best Director award, performed on stage and screen, and designed pop art for museums and collectors. Jay lives in Forest Hills, N.Y., and is fiercely loyal to his alma maters, Deerfield Academy in Massachusetts and Trinity College in Connecticut.