USGA's Mike Davis: No Rough for 2014 Open
By: Dave Droschak
I shook my tape recorder as violently as some touring pros their ailing wrists after hacking out of U.S. Open rough. Was I hearing correctly? Was USGA executive director Mike Davis - the man charged with setting up Open venues to test player's skills, nerves and temperaments - actually uttering some sort of sacrilegious statement?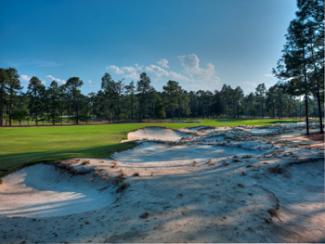 The Rugged-Looking Sandy Wastelands
on the 7th Hole at Pinehurst No. 2
I was in the middle of a deep discussion on his opinion of the recent restoration of Pinehurst No. 2 when Davis dropped the bombshell about the historic U.S. Open doubleheader (the men's and women's championships being played in consecutive weeks) the North Carolina resort will host in 2014.

"For the first time in the history of the U.S. Open, which goes back to 1895, we're going to be playing a U.S. Open with no rough to speak of, at least the way most of us think of rough as grass," Davis said. "It is going to be very unique; it's going to be great for television."

No rough! Where do I sign up?

Not so fast.

There will be "rough," it's just going to be of the "white" variety instead of green as architects Bill Coore and Ben Crenshaw draped a throwback jersey over the famed course and reproduced the 1940s Ross version of No. 2, where wider fairways meet sandy wastelands, where a ball tricking off lightning-fast fairways will end up in - well, who knows what kind of lie.

Davis isn't scared that today's top players will "eat up" a course without rough. He's hoping for fast and furious fairways, dry greens of hard turtleback proportions, and a bit of luck to produce a "fair outcome." He is also realistic that the winner may be etched from 10-under-par fabric, or even lower.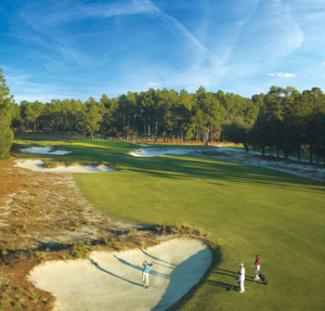 A Golfer Hits out of the Sand
on the 14th Hole at Pinehurst No. 2
Only twice - Tiger did it at Pebble Beach in 2000 and Rory last year at a wet Congressional - have players gone double-digit-deep under-par at the Open, where even-par is the gospel and 10-under is akin to blasphemy.

"What we try to do is not focus on score," Davis said. "We want the U.S. Open to be the toughest test every year but, as we saw last year at Congressional, when Mother Nature gives you certain conditions it is either going to make it much easier or it could make it much harder. In 2006 and 2007 at Winged Foot and Oakmont, plus-5 won those Opens and those were really hard golf courses, but we didn't do anything at those Opens to really try to make them harder.

"Those two years were dry U.S. Opens and we got some wind. My read on Pinehurst is you could see 10-, 11- or 12-under win if we are unlucky and we get some storms and it softens up the greens and they can throw darts at them. But I can see where 3- or 4-over would win if it happens to be firm. In either case, the USGA wouldn't have done anything differently.

"If 10-under is the winning score at Pinehurst and the golf course played properly - in other words it was a difficult test and a fair test, then that's really what we're looking for, trying to identify the best player that week. We want to have it hard, that is kind of the trademark of the U.S. Open, but I'm committed to the fact that we don't want to try to trick up Pinehurst No. 2 just to have a higher score winning."
The past defense of Pinehurst No. 2 was mostly its treacherous greens and surrounding shaved-down pitching areas as the Ross design aimed at penalizing those who miss the pin on the wrong side. The famous architect also wanted players to hit a certain part of each fairway in order to gain a better angle to that day's hole location. Coore and Crenshaw recaptured all of those twists and turns of the Ross fairways, and re-created his transition from grass-to-sand-to pine-tree look and feel.

"You are sort of back to the turn of the century when it all first started in the Sandhills - and what it looked like before areas were untouched," described Crenshaw. "There were a dearth of cultivated grasses and that sort of sandy, wasteland look. When you have sand in a region and pine trees it has a certain look and a certain feel and that is what was there originally. In discussions and research we wanted to try to reintroduce that.

"We went in knowing it might have been a radical step at first to see what we were doing and what we were about, but once again I don't think there is any golf course, or resort, or golf complex in the nation that has finer archives than Pinehurst," Crenshaw added. "You sure wish that everyone else would keep them. It is a great, great help when people restore. First and foremost you want to try to portray what was in the mind of an architect, and certainly in this case one of the most significant ones in Donald Ross."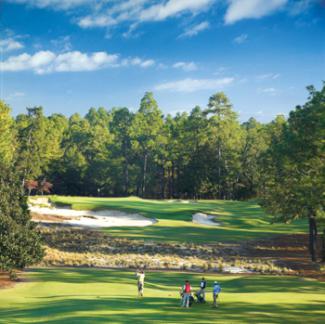 The Par-3 9th at Pinehurst No. 2
(All Photos Courtesy of Pinehurst Resort)
Davis said players will be faced with a "crapshoot" when their ball rolls into the sandy areas along the edges of Pinehurst's fairways. The lie could be good, bad or indifferent as the USGA team will be "prepping" white wastelands, not watering Bermuda rough so it grows like wildfire.

"What's interesting is we really want the sandy area to be rough, so to speak; what that means is we're going to make sure those sandy areas have all kind of different shots . . . and shots players are not always going to like," Davis noted. "There may be some softer sand that has some footprints in it that make a shot very hard, there are going to be pine needles in it, there is going to be some hardpan, you may roll right up against some wire grass, so the idea there is that when you hit it there we really want there to be different types of shots.

"With the Bermuda rough you knew what you were going to have even before you got to your ball, you were going to be in 2½-inch rough and the ball was going to be sinking down halfway and you were going to hit this knuckle shot that was going to have no spin on it and you weren't going to hold the green.

"This go-around in 2014 the golfers are going to encounter a lot more variety when they miss a fairway."

I guess variety is better than torture.
David Droschak has covered golf in the Carolinas for three decades, mostly with The Associated Press, where he worked for 20 years as AP sports editor in North Carolina prior to launching Droschak Communications, a full-service marketing and PR firm based in Apex, N.C. Dave, 51, has covered numerous major golf tournaments, including the 1999 and 2005 U.S. Opens at Pinehurst Resort, and is a longtime member of the Golf Writers Association of America.

Dave was honored with the Sports Writer of the Year award in North Carolina in 2005, and is currently editor of Triangle Golf Today (www.trianglegolf.com), a print and online publication regarded as the "No. 1 Source for Golf News in North Carolina." He is golf editor for Pinehurst Magazine, an award-winning glossy publication, and was instrumental in helping launch Triangle Golf Deals powered by Twongo (www.trianglegolfdeals.com) in the fall of 2011.

Dave also is the co-founder of www.HurricanesBeat.com, a website devoted to coverage of the Carolina Hurricanes, an NHL franchise he has covered since the team moved to North Carolina from Hartford in 1998.

Dave grew up in Penn Hills, Pa., about five minutes from the famed Oakmont Country Club and was introduced to the game of golf as a caddie at Green Oaks Country Club in nearby Verona, Pa.

Dave was the co-captain of the 1978 Penn Hills state championship baseball team, was a pitcher for the 1982 Atlantic Coast Conference champion University of North Carolina Tar Heels, and pitched professionally for two years in the St. Louis Cardinals organization. He is a member of the Penn Hills High School Sports Hall of Fame, which also includes NBA coach George Karl and former four-time Pro Bowl offensive lineman Bill Fralic.