Utah's Kokopelli GC is off the Beaten Track, but Not for Long
By: Steve Habel
The area of southern Utah defined by red rock boulders and the distant Pine Valley Mountains can be - once you're clear of the St. George area - remote and sparse. In the town of Apple Valley, some 30 minutes east of St. George but still connected to the Red Rock Golf Trail, sits stunning Kokopelli Golf Club, one of the newest courses in Utah (and the whole country for that matter).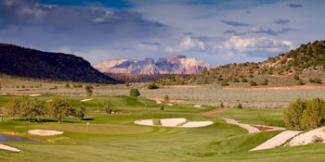 The Vistas are Fabulous at Kokopelli
The 7,612-yard track - designed by Champions Tour veteran and University of Utah grad Bruce Summerhays - winds through a jagged lava-rock canyon, alongside a mountain and across on a flat plain, offering a little bit of everything on its far-flung piece of ground.

Kokopelli Golf Club is named after a legendary Anasazi god who was considered by Native American tribes to be an amazing trickster. While exploring the deep gorge that cuts through the course, golfers will find Kokopelli's image chipped into the dark volcanic rock by those indigenous people.

At first glance, Kokopelli GC's site seems flat, with only sagebrush and rocks to punctuate the high-desert landscape. On closer inspection, however, players will see a wonderland of deep gorges, streams, waterfalls and beauty; flat is not a word that will be in the vocabulary after a round at Kokopelli GC.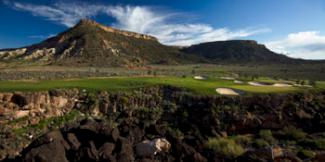 Kokopelli Golf Club
Focus is Demanded

Kokopelli GC is not only a test of skill but boasts a superb setting for some wonderful golf holes. Five holes are routed up, down and across a mountain to test players with tough uphill shots. A handful of tee shots off elevated boxes provide risk-reward options. Summerhays and his team also used huge white-sand bunkers to frame the playing corridors.

Carrying a rating of 76.7 and a Slope of 141 from the tips, Kokopelli is not for the faint of heart. Even the third set of the course's five blocks (the 6,659-yard "Amateur" tees) have a rating of 72.8 and a stout 133 Slope.

From the back tees, Kokopelli boasts seven par-4s of at least 438 yards, the toughest of which are the massive (489-yard) and downhill seventh and the 507-yard descending eighth. Add to these two lengthy par-5s (the 617-yard 13th and 595-yard 16th) and the 265-yard (!) par-3 14th, and players know they must hit the ball quite a distance to achieve success.

Summerhays balanced the long holes with shorter ones, notably the 152-yard par-3 fifth, which is played downhill and over a gorge, and the 356-yard par-4 15th, which proves a respite between the 14th and 16th.

Southern Utah's Kokopelli GC
The front nine initially moves downhill and across a gorge at the 535-yard par-5 first, then heads into the mountains for a roller-coaster ride that reaches its zenith at the tough trio of par-4s at Nos. 6-8 (454, 489 and 507 yards, respectively) and culminates with the 196-yard par-3 ninth, which requires a carry over a pond.

The inward nine winds through lava fields and involves forced carries that require players to move the ball left and right. The 440-yard par-4 12th is played over lava to a fairway that moves down and to the right, and the 13th takes two great shots to be able the see the elevated, well-bunkered green, located around a hill to the left.

The 16th moves uphill and to the right off the tee and its landing area is pinched both sides by rocky hills and trees. No. 17 is played downhill and across a stream to a shallow, elevated putting surface, and the closer - a 402-yard par-4, has a dual landing area split by a canyon.

Kokopelli the god was known as the "Casanova of the Southwest," and the course that bears his name casts a spell over golfers, testing their prowess at every turn while charming with its beauty and variety.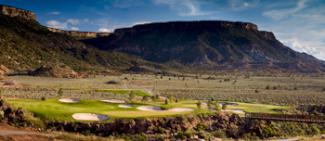 The Par-3 Second at Kokopelli Golf Club
In the midst of Zion, Bryce and the Grand Canyon national parks, with spectacular views of Zion, Gooseberry Mesa and some of southern Utah's most incredible sandstone formations, Kokopelli Golf Club - with all 18 holes opened in 2010 - offers an unforgettable experience. Even though Kokopelli GC is new it has gained popularity through word of mouth. Play the track now while it's still easy to get a tee time.

Because it is higher in elevation - 4,400 feet above sea level - than the courses in St. George, the temperature at Kokopelli GC is usually milder. But take into consideration that the property is exposed to the elements, and winds are prone to whip off the mountains and through the canyons and change direction on a moment's notice.

For more information, visit www.kokopelliut.com.
Steve Habel is one of Cybergolf's world correspondents, contributing news stories, features, equipment and book reviews and personality profiles from his base in Central Texas. He is also works as a contributing editor for Horns Illustrated magazine, a publication focusing on University of Texas sports, covers the Longhorns for CBS Sports, is regional editor for Texas Golfer magazine and files stories for Golf Oklahoma magazine, Texas Links magazines and Golfers Guide. Habel's main blog (www.shotoverthegreen.blogspot.com) features news on golf and the Longhorns, and another (www.checkinginandplayingthrough.blogspot.com)chronicles his many travels, on which he has played more than 350 golf courses since 2009. Habel is a member of the Golf Writers Association of America and the Texas Golf Writers Association.