Utah's Wolf Creek Resort Goes Private
Wolf Creek Resort, a 3,000-acre master-planned community in the Ogden Valley, announced it has transitioned into a private club and resort community, and will soon unveil new membership opportunities available for owners and residents, current members and individuals in nearby communities. The facility's name has been changed to Wolf Creek Utah.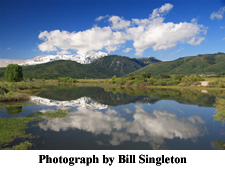 "Wolf Creek Utah is proud of our new position as the leading, private family-friendly, resort and club community in northern Utah. The privatization of our golf course and community allows Wolf Creek Utah to deliver high quality services and amenities to our members," said Bill Cox, general manager of Wolf Creek Utah. "Later this year, we plan to begin construction on the renovation of our member's clubhouse, the family pool and the interim member fitness center, and we look forward to the completion of the Wolf Creek Utah Family Adventure Village as well."
Effective April 10, 2008, the club will begin using the name Wolf Creek Utah to identify the club's private amenities and remaining properties. The change reflects Wolf Creek Utah's focus on differentiating the resort and club from other resorts in the mountain west.
"We feel our programs set the standard for excellence in family fun experiences," said Cox. "Even though our golf course and dining rooms are now private, we will continue to support our community and region with outstanding recreational opportunities and special events, such as the Balloon Festival and Music in the Mountains."
Wolf Mountain, Wolf Creek Utah Adventures, The Orvis Store, The Gift Shop (formerly Connie's Corner) and the Wolf Creek Liquor Cellar will remain open to the public. Wolf Creek Utah Adventures, The Orvis Store, The Gift Shop and the Wolf Creek Liquor Cellar have relocated just down the road from the clubhouse at 3718 North Wolf Creek Drive.
Beginning Sunday, April 13, restaurants at Wolf Creek Utah, including The Grille and The Rusty Cactus, will be closed for renovations, and will reopen in May only to members and Wolf Creek Utah Lodging guests. Wolf Creek Grill, formerly known as Tracks, will be offering a limited menu for golfers in the beginning of May and then will expand its menu as the golf season continues. Guests who book their stay through Wolf Creek Utah Lodging will continue to have access to the community's amenities, including the golf course, on a limited, fee-basis.
Chad Stoddard, Wolf Creek Utah golf professional, will lead the membership program and is responsible for transitioning Wolf Creek Utah into a private, resort community.
The new club membership packages will offer a full, lifetime and multi-generational opportunity with unlimited access, as well as a more recreation-specific membership program that will include limited access to its championship 18-hole course golf club, restaurants and the current and future amenity base.
For more information about Wolf Creek Utah, visit www.wolfcreekresort.com.