UW Golfer at Royal Liverpool
By: Matt Thurmond
[Editor's Note: Matt Thurmond is the head coach of the University of Washington's men's golf team. He and one of his top players, Cheng-Tsung Pan, have flown from Seattle to England for Pan's playing in the Open Championship at Royal Liverpool. Here's Matt's travelogue and observations of their adventure.]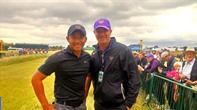 Cheng-Tsung Pan &
Matt Thurmond at Hoylake
I write you from a hotel in Liverpool on the eve of the Open Championship where Cheng-Tsung Pan will be competing clad in all his Husky glory. Thursday at 12:54 Hoylake time (3:54 a.m. on the West Coast of the U.S.) he will tee it up with Canada's Graham DeLaet and American Brant Snedeker at Royal Liverpool [Pan opened with a respectable 2-over 74, while DeLaet a 1-under 71 and Snedeker a 74.]

The Day Before

Pan had already played a couple of practice rounds before his last one on Wednesday. He said it feels like he's been here a long time and is ready to play.

On Tuesday he played at 12:50 and on the eve of the Open at 7:40. Those are his first two tee times for the tournament so he wanted to synchronize the practice rounds with his schedule and daytime conditions.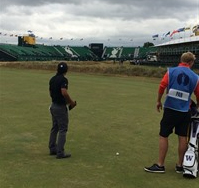 Pan During a Practice Round
A few special badges are given to each player for family and/or coaches that get them on the course on practice days, so I was inside the ropes walking the course with Pan on Wednesday. I've done many cool things in this job and I realize I'm beyond spoiled because of it. But today was a day that it hit me: "I'm walking the course with one of my players at the British Open the day before it starts."

I walked the greens and fairways and saw the course and competition set-up from a perspective very few people will ever experience. As a kid I imagined doing that as a player, but it's just as satisfying to do it as a coach.

Pan likes the course. He'll hit some drivers for sure, but the penalizing rough and fairway bunkers will make everyone very careful off the tee. With ever-changing winds, mostly blind or semi-blind tee shots, and many lurking hazards, tee shots are treated with the care of shots into well-guarded greens.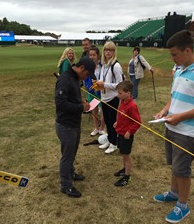 Pan Signing Autographs
The greens are small and firm, and the deep bunkers make for a difficult up and down, so missing in the proper area will be crucial. Pan is a smart player and is excellent around the greens, so I think you can expect a high up-and-down percentage from him this week. That will be a key.

Everywhere you turn there is a champion player who has won many events and made many millions. Pan doesn't seem to notice. In fact, he looks like one of them.

Except for the purple and gold Washington carry bag and the absence of large corporate logos on his clothes (he will be in UW gear every day) he looks like he completely belongs. He does.

This is Pan's third major. He's played in two U.S. Opens already. He's here to compete and contend, and I think he can.
Matt's daily blog is posted on www.GoHuskies.com. He'll also be posting updates on his Twitter account.