UW Golfer at Royal Liverpool - Part 2
By: Matt Thurmond
[Editor's Note: Matt Thurmond is the head coach of the University of Washington's men's golf team. He and one of his top players, Cheng-Tsung Pan, have flown from Seattle to England for Pan's playing in the Open Championship at Royal Liverpool. Here's Part 2 of Matt's travelogue and his observations of their adventure.]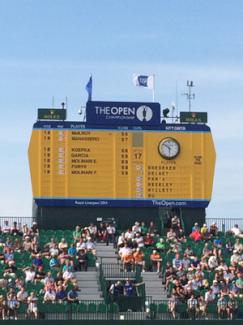 The Open Championship Scoreboard Shows
the Pairing of Pan, DeLaet & Snedeker
I'm just here to support Pan and offer any help needed. So my main job is to stay out of the way and let Pan do his thing. As we rode to the course (about a 30-minute drive from Liverpool) I wondered what Pan must be thinking about. I was nervous and I'm sure he was, too. We talked a little and laughed a little, but Pan was pretty serious and in his own bubble. That's a good thing.

Pan made plenty of good shots early, but didn't quite find his full rhythm until the back nine. He found a fairway bunker on the fourth hole, which cost a shot, and then his drive that was barely off the fairway on No. 7 ended up in a bush and led to a double-bogey. So he was at plus-3 through seven.

His worst iron shot of the day came on the second shot into the 11th, but then he worked some magic, holing a pitch shot from about 35 yards for a birdie on the par-4. Another birdie in front of a large crowd came on the 14th, followed by a plugged-lie bogey on 15. He parred the last three holes for a 2-over 74 and sits in 84th place.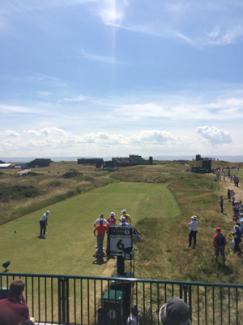 Pan Tees off on No. 18 at Royal Liverpool
in the First Round
In the first round he carded 13 pars, two birdies, two bogeys, and a double. Pan is the second-lowest amateur in the championship; England's Ashley Chesters shot a 70.

I'm sure the media is talking on TV about the ideal scoring conditions, which were certainly that Thursday morning when most of the low scores came in. But the afternoon was different. Although it was sunny and hot, the wind picked up considerably and shooting a low score became a significant challenge. Pan's afternoon round of 74 was hard-fought, especially considering he was 3-over through seven holes. One-under par on that back nine is excellent.

The crowd and atmosphere are special out here. The holes are close together, with no trees or big hills separating them, so you hear lots of clapping all the time from around the course. When these fans clap, they really clap. It comes loudly and often. What you don't hear are spectators shouting. It's mostly just lots of respectful applause. Pan hit many excellent iron shots to earn their appreciation.
He was in an ideal threesome. Both Graham DeLaet and Brandt Snedeker are nice guys, and the three will be paired again in the second round. I heard Graham ask Pan about [former UW Husky assistant golf coach recently named Boise State's head coach] Dan Potter as they walked off the second tee. Graham went to Boise State and still lives there and was anxious to learn about his program's new coach.

DeLaet was very steady all day, finishing with a 71, while Snedeker was more of a potluck with a little something different and unpredictable on every hole.

Pan looked great out there in his purple pin-striped pants, white Husky shirt and shoes, and white Husky hat. I can't say there was a huge Husky contingent on-site, but we certainly felt many of you following at home. We did have two of our Husky Golf Foundation members following: Steve Sander and Michael Crowson. Awesome fans.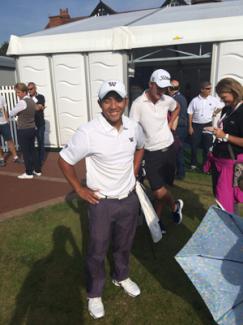 Pan Is Happy with His 74 Thursday
I've said this before, but I'm always struck by the same thing when I see Pan on the big stage - he looks so much bigger than his 5'7" stature would suggest. He has such great confidence, presence and comfort with himself. That makes him seem larger. He's beyond his years competitively and it shows in his poise and decision-making.

On Friday, we have big winds expected in the morning, lessening in the afternoon. Pan tees off at 7:50 a.m. The unpredictable weather makes talk and thoughts about "the cut" a complete waste of time. Pan plans to just go out there and play well and let all that take care of itself.

While sitting at a table full of authentic Chinese food tonight, he said of his second-round intentions, "I just want to shoot under par."
Matt's daily blog is posted on www.GoHuskies.com. He'll also be posting updates on his Twitter account.