UW Golfer at Royal Liverpool - Part 3
By: Matt Thurmond
[Editor's Note: Matt Thurmond is the head coach of the University of Washington's men's golf team. He and one of his top players, Cheng-Tsung Pan, have flown from Seattle to England for Pan's playing in the Open Championship at Royal Liverpool. Here's third and final part of Matt's travelogue and his observations of their adventure.]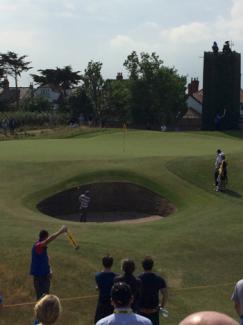 Pan Getting Up & Down for Birdie on No. 10
While our friends and family were going to bed back home, the Cheng-Tsung Pan "clan" was waking up in Liverpool for the second round of the Open Championship. Our courtesy car left the hotel at 5:30 a.m. The drive to the course is about 20 to 30 minutes; college golf prepares us well for these types of early starts. Pan was noticeably more relaxed this morning en route to the course and before the round and started with a great birdie on the first hole.

No. 4 is one of the shorter holes, but it proved tough for Pan as he made double-bogey Friday and bogey on Thursday. He followed with a birdie on the fifth and the tone was set for what turned out to be a seesaw round. Both his good momentum and bad momentum were ended quickly as Pan followed birdies with bogeys and bogeys with birdies. Bogeys came on Nos. 8, 11 and 13, and birdies came on 1, 5, 10 and 15.
For those of us outside of the ropes, even early in the day we could see that plus-2 looked to make the cut and 3-over had a good chance. When Pan bogeyed the 13th to go to plus-5 the prospects started looking bleak. He narrowly missed a birdie on 14 and then stuffed a towering iron shot and made birdie on the par-3 15th. Nos. 16 and 18 are often birdie holes, but they played into the wind Friday morning. Pan played them well, but just missed 15-foot putts on both, coming up a wee bit shy of making the 36-hole cut and qualifying for the weekend.

Pros constantly fret about "the draw" in these events. Each player gets a morning and afternoon round on the first two days and, sometimes, the weather conditions can be very different - or sometimes the same - depending on when you play. Pan won't say this, but the draw turned out to be a huge factor this year and his draw (which similarly affected half the field) had it far worse in both rounds.

It was at least a few shots tougher for those that played the first two rounds in the order of afternoon and morning compared to those that played morning-afternoon. (His playing partners the first two rounds, Brandt Snedeker and Graham DeLaet, had mixed results. After starting with a 74, Snedeker carded a 72 Friday and made the cut right on the number, while DeLaet missed it by one.) Luck will always be a huge factor in golf, and we accept that as part of why we love it.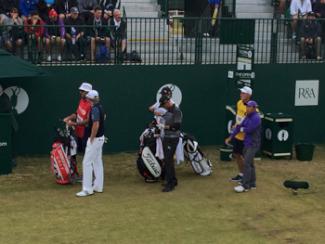 Pan Getting Set with Snedeker & DeLaet
to Start 2nd Round at Open Championship
All the players here are excellent and the margin of error is so small to make the cut and contend for the title. Pan really played well and gave himself a chance to be in the hunt. He was steady off the tee and into the greens and his chipping and putting also held up well. He felt his local caddie was a big help in having a good course strategy.

All Huskies can be very proud of Pan. He most definitely belongs out here and looked great in his Husky purple walking these historic links. Pan's game is well suited for these major championships as he is accurate, smart, tough, and has excellent short-game skills around the greens. Most importantly, he loves the pressure and plays his best when it's most needed. He made us proud this week and I suspect he will make us proud many times over in future Open Championships and other majors.

What a great experience for him and for me at this year's Open Championship!
Matt's daily blog is posted on www.GoHuskies.com. He'll also be posting updates on his Twitter account.