Vail Valley Golf - Something New at Cordillera
By: Nancy Berkley
It's nearly fall in Vail Valley, Colorado, and the mountains are splashed with yellow aspens. Ski season is still a few months away. So why am I writing about golf? Because in a couple of weeks, we will all know whether the proposed Paramonte Private Residences, a new fractional ownership development at the Lodge & Spa at Cordillera, will be a good place for golfers - or not.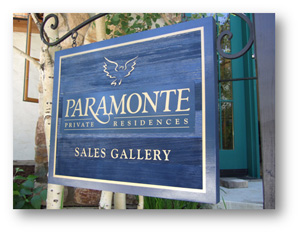 Sitting in the heart of Colorado's gorgeous Vail Valley is Cordillera, a 20-year-old real estate and golf development actually located down-valley in the town of Edwards. I have been tracking this venture for years and just revisited it in August 2008. I love mountain golf and long vistas even though the golf season here is a short one. (See my previous review on Cybergolf at www.cybergolf.com/golf_news/vail_valley_revisited_fall_golf_in_the_rockies.
Cordillera boasts four private courses by quality designers, including Jack Nicklaus and Tom Fazio. But two other features are particularly attractive to women. One is a luxurious spa set in one of Rockies' most beautiful settings. The second is one of the best short courses in the country designed, appropriately enough, by short-game guru Dave Pelz.
Currently, there are only a few ways to on the Cordillera courses. The first is to purchase a home in Cordillera and buy a golf membership. The homes are exquisite and pricey, ranging from $1 million for a small cottage to grand, mega-million homes with 360-degree views. As a Cordillera homeowner, you have the option to buy a golf membership, which is now priced at about $115,000 and that provides access to all the courses.
A second way is to take advantage of a very small window in late afternoon when the courses are open to the public. This is a very poor option because the common afternoon rain showers make it uncertain as to whether you will be able to finish a round.

Another way to play Cordillera is by staying at the lovely 60-room Lodge and Spa at Cordillera. I have called the Lodge one of the best après-golf settings.

The Lodge is separately owned and is not part of the Cordillera community. However, there are reciprocal arrangements between the Lodge and developers that allow guests to play the private courses.

But golf for Lodge guests has its problems. Lodge guests may only tee off between 11 and 11:50 a.m. and between 2 and 2:50 p.m. These are not great tee times! But, after all, Cordillera's courses are private and members paying the hefty initiation and membership fees should get priority.

The big news is that the Lodge & Spa was sold recently and the new owners have a plan. Welcome Paramonte (pronounced like "paramount") Private Residences.


The big news is that the Lodge & Spa was sold recently and the new owners have a plan. Welcome Paramonte (pronounced like "paramount") Private Residences.

The new Lodge owners are proposing a building with 19 private apartments adjacent to the current 60-room Lodge. The 2,000-square-foot luxury apartments will be built with the highest quality workmanship and interior design. The model apartments I visited were not up to the marketing hype, but I am told they are a

Ownership at Paramonte is "fractional," meaning that an owner may buy as few as six weeks. Because purchasers get deeds, the ownership structure is different from traditional time shares that were structured more like leases.

So what will six weeks cost at Paramonte? About $400,000. As a vacation site, golf in the summertime at Cordillera is special - even without mentioning all the other activities in nearby Edwards, Beaver Creek and Vail that grow each year I visit.

The marketing materials for the residences are in place. The videos are running and real estate agents are taking fully refundable deposits while the details and papers get worked out. One of the details still to be worked out are what tee times will be available for Paramonte owners. For their $400,000 investment, what tee times will the owners get? Well, that's still an open issue.
As of today, assuming that Paramonte was built and occupied (which it is not), owners will be entitled to the same unattractive tee times as Lodge guests. But the hope is that the Cordillera golf memberships will be available to the new fractional owners. And it won't be too long before we know how this will all play out.

Before September 30, 2008, Cordillera's homeowners will have an opportunity to purchase the community from the developer. The arrangement has been up for a vote before, and the members did not accept the previous offers.

But the rumors are that the homeowners and developers are closer than ever to accomplishing the conversion. If so, then the next item on the agenda should be to extend golf membership privileges to the Paramonte residences. And that decision, I hope, will be made sooner rather than later. It takes a while to build and the sooner more people get a chance to play the Cordillera courses, the better.
It's worth a visit to Cordillera before the snow falls to see the majesty of the location and the variety of golf experiences here. For more information about Paramonte, contact Kristi Cavanagh at Kristi@paramonte.com or call 866/760-8295. In the meantime, stay tuned.
Nancy Berkley, President of Berkley Consulting, is an expert on women's golf. Her book, "Women Welcome Here! A Guide to Growing Women's Golf," published by the National Golf Foundation, is an industry reference on marketing golf to women. She is a contributor to Golf for Women magazine and Chair of the Advisory Board for Golfer Girl Magazine where she writes a special series on careers in the golf industry. She chaired a panel at the World Scientific Congress of Golf in Phoenix in March 2008 and was a guest speaker at the Northern California Business Women's Conference held at Poppyridge Golf Course in Livermore, Calif., in June 2008. Nancy also consults with golf facilities on how to attract more women golfers. She is a resource for golf-industry trends and marketing advice on her website www.nancyberkley.com. Nancy also offers a Quick Question-Free Help Line on her website. After a career as a lawyer and business executive, Nancy founded Berkley Golf Consulting and The Woman's Only Guide® to Golf to share her long-time passion for golf and to help grow the game. Nancy describes herself as a bogey golfer who is too busy to play enough golf. Contact Nancy at info@nancyberkley.com or on www.nancyberkley.com.