Valero Texas Open is Twice as Nice for Johnson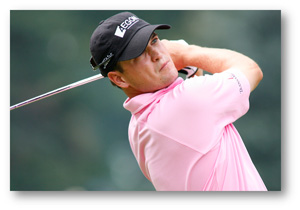 Of all those players that say they will be happy to see the Valero Texas Open move away from the La Cantera Golf Club beginning next season, there are at least two who wish the tournament stayed right where it has been played for the past 14 years: Zach Johnson and Justin Leonard.
Leonard, a three-time winner of this event at La Cantera, played in the final group Sunday but never mounted a real charge. Johnson, on the other hand, fought the winds and grainy Bermuda greens to forge an even-par 70 to work himself into a playoff with upstart James Driscoll at 15-under-par. On the first playoff hole, Johnson made a birdie to capture his second straight Valero Texas Open title.
Johnson, who triumphed here only seven months ago when the event was part of the PGA Tour's Fall Series, has played the Resort Course at La Cantera twice; he's won both times.
"It is bittersweet to see this tournament move from here," he said. "It's bitter in the sense that I like this golf course. I love the character it presents - it's got left, right, up, down short, long. Wind is an element that plays a factor - and I love all of that.
"But it is sweet in the sense that this tournament wants a new chapter, and San Antonio probably deserves it," Johnson added. "I think there are a lot of positives for next year and years to come."
Next spring, the tournament will leave La Cantera and move to TPC San Antonio's AT&T Oaks Course, a new venue designed by Greg Norman with Tour-caliber tournament golf in mind. A second course at TPC San Antonio, the Pete Dye-designed AT&T Canyons Course, is about six months behind the Norman track in its development and is scheduled to be the eventual home of the AT&T Championship, a Champions Tour event now played at Oak Hills Country Club.
Johnson fired a 60 in the rain-delayed third round to move into lead entering Sunday. He said he was "a little surprised" that an even-par score in the final round, his worst round of the week, was enough to get him into the playoff.
"In the end, holes 16, 17 and 18 were holes where if you were a little bit off, they will bite you," Johnson said. "I hit some good shots down the stretch - I really didn't miss a shot on the last five or six holes."
Driscoll, whose best finish in 2009 was a tie for 57th in the Buick Invitational and who entered the Valero Texas Open with $23,364 in winnings this season, fashioned a final-round of 62 in the swirling winds to post 15-under and take the clubhouse lead about two hours before Johnson finished. He stayed loose on the range and then watched as Johnson missed a short putt on 18 that would have won the tourney.

After both players found the middle of the fairway on the playoff hole (the 18th), Johnson smoothed a 6-iron onto the green about 10 feet from the cup. Driscoll followed with an approach about 20 feet away and left his putt right of the hole. Johnson then drilled home the winner.

"You have to hand it to Zack - he won the tournament with a great birdie in the playoff," Driscoll said. "I put myself in a position to win, but he was just a little bit better. I will take a lot away from this tournament."

Paul Goydos - who shot a 1-under 69 Sunday - and Bill Haas (who was 5-under-par in his final round) finished tied for third at 14-under 266. Leonard (who posted a 69 Sunday), tied for fifth with Brian Davis, Marc Leishman, and Fredrik Jacobson at 13-under-par 267.

"I hit the ball well today, but I didn't make any putts," Leonard said. "When we were on No. 12 I was just even par on the day but I was just two shots out of the lead. I had a chance to win but I just needed to get the ball in the hole, and I didn't."

Johnson at one point Sunday was 1-over, but he recovered with a birdie on 13 to get to even on the day and then made the biggest birdie of his season on 18 in the playoff.

The victory also vaults Johnson to the top of the FedEx Cup standings with a little less than half the season to go.

Goydos stayed in the picture with a gutsy approach from under a canopy of trees on the 15th and a birdie in the reachable par-4 16th. But after a long wait on the tee box on the 17th, he played away from the trouble on the 186-yard par-3, missed the green long and left and was woefully short on a putt through the collar of the green, leading to a bogey.

Then on the 18th, Goydos, needing a par to join in the playoff, short-sided himself on the approach into the left rough, flubbed a chip into the fringe and two-putted. "For 70 holes I did really good," Goydos said. "Then I didn't hit a good putt on 17 and didn't hit a good shot on 18."

Johnson had a chance to end the tournament moments later, but left a 12-footer for birdie one ball rotation short of the hole and headed back to the 18th tee for a playoff with Driscoll.

On Saturday, Johnson came 2 feet 10 inches from matching the Tour's 18-hole scoring record of 59, but settled for a 60 with eight birdies and an eagle to get to 15-under for the tournament. The 60 tied Johnson's career-best round set in the third-round at the 2007 Tour Championship.

"Really, this tournament was won on Saturday," Johnson said. "That was the day for me to get myself into position for (Sunday). I didn't anticipate a 60 - I mean who ever does?"

The action Saturday was delayed 4 hours and 53 minutes by rainfall that eventually totaled 2.1 inches. The third round was suspended at 8:17 p.m. due to darkness with 14 players still on the course; those golfers continued their rounds Sunday morning.

Johnson was one of the players who finished play Saturday, and he said he felt rested and ready on Sunday for the final round.

"I had some help out there today - obviously Paul played great, but made some mistakes on the last couple of holes," Johnson added. "I am not sure I would say I won the tournament, per se, but I certainly didn't lose it and just kept myself in the game - and for that I am proud."

Johnson (Sony Open in Hawaii) joins Geoff Ogilvy (Mercedes-Benz Championship, WGC-Accenture Match Play Championship) and Phil Mickelson (Northern Trust Open and WGC-CA Championship) as the only two-time winners on the Tour this season. Johnson, Ogilvy and Mickelson are 1-2-3 in the FedEx Cup standings respectively.

Johnson joins Mickelson and Woods as the only players to defend their titles in 2009. Mickelson defended his Northern Trust Open title, while Woods was able to retain his Arnold Palmer Invitational title. Otherwise, K.J. Choi's T12 was the best finish by a player trying to defend their Tour title this year. During the 2008 Tour season only three players were able to defend their 2007 titles (Tiger Woods - Buick Invitational, Boo Weekley - Verizon Heritage and Padraig Harrington - British Open).
Steve Habel is one of Cybergolf's national correspondents, contributing news stories, features, equipment and book reviews and personality profiles from his base in Central Texas. He is also the media coordinator for Bechtol Golf Design, the managing editor for Business District magazine in Austin and works as a contributing editor for Horns Illustrated magazine, a publication focusing on University of Texas sports. He also writes a blog (www.shotoverthegreen.blogspot.com), which features news on golf and the Longhorns.