Valhalla: Heavenly Host to 'The Greatest Sporting Event in the World'
By: Jay Flemma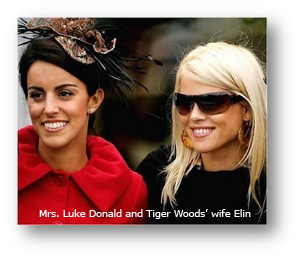 In Old Norse, the word "Valhalla" means "Hall of the Victorious Dead." It was there - in Odin's palace - where he, the other Norse gods, great kings, and those slain in battle would gather. In this sacred hall the heroes planned their fight against the forces of darkness in the ultimate conflict of good and evil, known in mythology as Ragnarok.
Ragnarok: that's essentially what the Ryder Cup competition has become, at least to the media, the ultimate battle in golf. A hand-wringing, gut-checking, heart-wrenching, spirit-crushing struggle so passionate, so fiercely contested, discussed and interpreted you'd think geopolitical security was at stake this week in Louisville.
How hard-wired is the Ryder Cup into the golf world's psyche? The afterglow of a victory tends to fade once the season following the competition starts. But then, immediately, there begins talk of which players might make the next squad, the new Captain, and altering the selection criteria (when we're not too busy laughing at fashion flops like Elin and Amy holding hands in matching schoolgirl outfits and Mrs. Luke Donald wearing the back half of Harry Potter's broomstick in her hair). No other sporting event gets such an extended run of discussion; there's always an undercurrent at every tour stop. Even the Olympics don't have as much buzz in the off years as the Ryder Cup.
"It's the greatest sporting event in the World," said Tom Auclair with his trademark steely conviction. He would know. He's seen everything - Bird, Clemens, Orr, the Super Bowl, the Olympics - everything. "Nothing else I've seen can match it," he stated confidently.
"I'd say that's pretty much dead on," agreed venerable sportswriter Marino Parascenzo. "You've got so much history, so many countries, and so much drama, it's become iconic of many virtues that we watch sports for in the first place."
So this year, it's poignant that golf's Ragnarok will be held at Valhalla, a course that, like the hallowed hall of Asgard which stood against forces of evil, now stands as the last refuge of a beleaguered, besmirched, but perhaps underestimated Team USA. On paper we're supposed to get slaughtered; the Europeans stand ready to shatter the gates.
But they play golf for the Ryder Cup, and spirit is three-fourths of the remedy. Young, inexperienced, Tiger-less, criticized and written-off by many, what have the Americans got to lose? The worst they can say is, "It's us against the world," and unite, one for all and all for one. After all, that worked as recently as two years ago when the Italian national soccer team went to the World Cup under a withering match-fixing scandal. They were humiliated and in the so-called "Group of Death" with three powerful teams, reeled from several excruciating losses in tournament finals by penalty kicks. Nobody was picking Italy. The experts thought their morale was crushed, their fortitude lacking, and their talent second-tier.
But they played as if their lives depended on it, which, essentially, they did. Now everyone just says three beautiful, timeless words: campione del mundo.
How about those New York Giants who beat the unbeaten Patriots? The 2004 Red Sox who turned the tables on the indomitable Yankees ? The Patriots of 2001? The 2005 Pittsburgh Steelers? The 1980 U.S. Hockey Team? There is only one truth in sports: We play sporting events so often during the year and from year-to-year miraculous things actually happen with surprising frequency.

In this regard, the Ryder Cup can be distilled down to two virtues: chemistry and momentum, and the moment European captain Nick Faldo turned his back on Ryder Cup "Yankee Killers" Darren Clarke and Paul McGinley, the fabled European chemistry, camaraderie and unity were razed solely so they could be rebuilt Faldo's way.

Chemistry is everything in doubles. The Europeans had overwhelming experience in the format - winning experience at that - a huge advantage which creates a comfort zone to ease the crucible of pressure that is the beating heart of the Ryder Cup. Sal Johnson of Golf Observer, one of the most experience sports journalists in the world, had this candid, precise observation: "The worst thing a captain can do is make a blatant dumb mistake . . . What Faldo did by not picking Darren Clarke was take the most powerful weapon away from Europe, a person who would bond together a group of guys into a team that would act and play like they'd been together for years."

The European writers agree. The word from veteran scribes from the other side of the pond who cover the Tour is that when Harrington and Westwood heard the Captain's pick was Poulter - not Clarke - they ran screaming out of the building like the narrator at the end of "The Fall of the House of Usher."

Clarke was the lightning rod of the 2006 European side. You couldn't cheer because you were crying; you couldn't cry because you were cheering; but both felt heartwarming and overwhelming anyway, because in one unforgettable weekend Clarke gave us a golf performance for all time. Gritty, courageous, inspiring, grateful and humble: a broken man held the entire golf world on his back that weekend and we held him up in return. Struggling past the bitter loss of his soul mate, his better half, his confidante, his partner, Clarke gave his departed wife Heather's memory a tribute that will last throughout recorded golf history. That energy is irreplaceable.

Moreover, Clarke is a ruthless match-play opponent and a doubles expert. He and Westwood won doubles matches at an astounding .722 clip; they are second only to Seve Ballesteros and Jose Maria Olazabal in Ryder Cup history. Clarke was just starting to get hot and gaining momentum on the European Tour. But his experience, wisdom, and energy are erased from the team room, not just the line-up card.

And there was more bad news. McGinley, who once sank a Cup-clinching putt, was not named as an assistant captain. That's more experience and chemistry discarded by Faldo, who according to one Golf Observer writer, "has been trying to make the team over in his image . . . he doesn't want any personalities in the locker room more dominant than his."

The European press is so furious, and the criticism so withering, the paint peels in Faldo's office every time he opens a paper. Past Ryder Cuppers and veteran writers have actually had to come out in print and implore people to knock it off and unify for the good of the team. But the damage is done. Faldo, a great player in his day, can't score points for Europe this time. Neither can Clarke, McGinley or Colin Montgomerie, an eight-time Ryder Cupper who never lost a singles match.

Nick Faldo has given Samson a haircut.

There isn't much time for someone else to grab the brass ring. With four days to go, the Euros are not on the same page, and that is a full-blown red-alert emergency. A few short weeks ago they were coasting to victory. Now they are storming about the ramparts desperately hoping for reinforcements. Sure, Padraig Harrington and Sergio Garcia are the equal of anyone on the American squad. But what happens if the next tier of players falters or if Westwood's wrist flares up and he can't play? That's another Ryder Cup Yankee Killer neutralized. The European doubles pairings - usually the source of their strength - are untested.

Now, the analysts may try to tell you the Americans are supposed to have no pairings, but if you look closely, there are actually many good options. J.B. Holmes and Kenny Perry, the hometown boys are chomping at the bit and have been doing so for some time. Dedication, drive, fearlessness, that's the energy and chemistry they have. How about Ben Curtis and Jim Furyk? They seem to have a different but equally formidable chemistry - the two ice men. Furyk, a rock as a player and a teammate despite his pedestrian record, has the chance to erase many years of frustration with one good weekend.

Then there's Curtis, tied with Zach Johnson for the kindest soul on Tour. He's a breakout star. He's actually underestimated because he flies below the radar, but is one of the most respected players among the players for his skill, work ethic and temperament. He won the British Open in his first start in a major and has plenty aplomb and coolness to handle the Ryder Cup.

Then pair Phil Mickelson with Anthony Kim (two swashbucklers), and Stewart Cink with Justin Leonard (two workmanlike grinders). Suddenly our pairings look solid, don't they? Not only do we have some Louisville Sluggers in singles, we have four promising doubles teams. If they stay close Friday and Saturday - normally our Achilles heel - they'll have the momentum on the American side, and that's everything in singles.

As an aside, if we lose, we can scream about how our team gets selected all we want. But that still ignores the real issue. Golfers, media and the industry look right past the real reason we are consistently getting slaughtered in this competition: Americans don't play enough doubles or team golf. You can't overstate that this is a team event. Even if Tiger were healthy and scored five points, we'd need 9.5 more to wrest the Cup. One man can't win this or lose this. Everyone will have ups and downs. Things won't always go as planned. But matches can turn at any moment and a two-hole lead is nothing. Two bad shots and the lead and momentum are gone.

Finally, there is the home-field advantage, which is considerable. One golf fan wrote on a golf website:

"Valhalla seems to get criticized by many because: 1) people have decided that they don't like Nicklaus courses, 2) there are power lines running through part of it, 3) the clubhouse is sort of ugly, 4) the PGA owns it, 5) the 13th green is on an island on a pile of rocks, 6) the pros don't like the 18th green, and 7) Mark Brooks won the first tournament there instead of some bigger name. None of those are good reasons except maybe No. 5 and the last one amuses me the most because it's funny to see how much more respected the course seemed to become after Tiger won there."

Headline: Golf Fan Watches TV, Still has Clue What's Going on

Really, he couldn't be more correct. First, despite mixing excellent strategic holes with mundane par-3s, some penal hazards and that wacky 13th hole, Valhalla is one of Nicklaus's most original and interesting layouts. He took some chances here; some of them soared and some of them bored. Nevertheless, Valhalla has the cornerstone of all great courses: it has a unique character. When you see a hole from Valhalla without the caption, you still have an excellent chance of naming its course of origin.

Next, in the grand scheme, power lines, the clubhouse, the owner and the pros' annoyance at difficult greens are less than window dressing to an architect critic's eye. Instead, the property is undulating and pretty; it's great terrain for golf. There is more than a fistful of excellent match-play holes - some because they yield birdies, some because double-bogey lurks. Finally, the greens have some of the best internal contours Nicklaus has designed anywhere.

And yes, he's also dead-on about 13. You hit a short club to a point framed by water on one side and a peppering of pot bunkers on the left (a moonscape that looks completely out of place). Then you turn 90 degrees left and hit a short iron to a dime on a pancake stack of rocks surrounded by water. I have never once looked at a green site and said, "You know what this hole needs? A moat."

Nevertheless, the course's mix of identities - strategic one moment, penal the next - will keep the pros thinking. With so many decisions to consider, it's tough to get in a rhythm here. Valhalla will yield birdies, but it also requires you to stay on high alert - there is no coasting here. The intrigue begins right from the first shot of the day on the short par-4 first, where some players may risk going over a stand of trees for a pitch-shot approach rather than a wedge from 150. It's a terrific example of risk-reward strategy.

The second showcases the other architectural style, the penal school. Water guards the whole left side of this long par-4 and terrain kicks everything to the left. The slopes in this once-severe green have been softened to be more receptive to a long-iron approach. (It used to be a par-5 and had a much shallower green. Some argue this took some of the character and strategy out of the hole). Five is another great example of a penal par-4. Looking like something out of Oakland Hills, both sides of the fairway are bunkered in a narrowed landing zone. Similarly, the controversial sixth has been transformed from a short par-4 to a 500-yard brute. "3-wood, 3-wood," groused one player. A massive finger of a local creek plays all along the right on the drive.

But it's back to the strategic school at the 600-yard par-5 seventh. Wrapping around a water hazard, an island fairway allows you to save about 50 yards in a perilous direct route if you dare chance it. Myrtle Beach golfers have experienced an almost identical hole at Arnold Palmer's King's North or The Wizard. But as Pete Dye once said of Sawgrass, "there's no recovery from water," so we will see swings on these holes.

The medium-length par-5 10th requires a draw off the tee, then a fade into the green. The small green is perfectly designed for a par-5 that lets you risk reaching it in two: it's shallow and there's deep rough if you go long. As well-decorated architect Jim Engh once said, "I'll give a guy a chance to hit a green in less than regulation, but I'm certainly not going to help him. This three-tiered green - and many others on this course - also shows that Nicklaus had his eye on one sophisticated design nuance, he was testing distance control, not just accuracy. When we speak of Nicklaus's best green complexes, we should include Valhalla in the discussion."

The strategy continues at the par-3 11th, which sets up like a Redan, just without the green falling away to the left as in the classic examples. While 12 is cited as the hardest on the course, it also proves harder is not better. A center-line hole all the way, bluegrass rough bisects the fairway, dictating distance off the tee. No. 16 is similarly penal. A 511-yard par-4, it follows a creek all along the right. The excellent green is guarded by two bunkers in the front and a steep collection area right, again testing distance control.

Finally, everyone recognizes the amphitheatre 18th, with its bilaterally winged entrance to the green, is meant to sublimely recall the logo and clubhouse design. This cape-style reachable par-5 saw the finish of two major championship playoffs, but it will also be a dramatic match-play finisher.

Indeed, so many holes at Valhalla are susceptible to momentum swings. That is the essence of a match-play team competition. Stroke-play events, such as those conducted by the NCAA, can't replicate the excitement on a shot-by-shot, match-by-match basis as a head-to-head competition.

Everyone is as eager as gun dogs on the morning of the hunt. Europe, once thought to be impregnable, is entering a lion's den in Kentucky. Sure, they may have enough talent to win, but the experience they left home has evened out that column. Now, it's who wants it more and who can keep their cool in the storm-tossed sea of emotions. And as serious underdogs, but underdogs who are suddenly barking, the Americans have nothing to lose.

That's the worst opponent you can face. After all, as literary lion Ian Fleming once wrote, "A man who has nothing to lose, has nothing to fear."

My prediction? U.S. 14 Europe 14, and Europe retains the Ryder Cup.


Since launching his first golf writing website in 2004, http://www.jayflemma.thegolfspace.com, Jay Flemma's comparative analysis of golf designs and knowledge of golf course architecture and golf travel have garnered wide industry respect. In researching his book on America's great public golf courses (and whether they're worth the money), Jay, an associate editor of Cybergolf, has played over 220 nationally ranked public golf courses in 37 different states. Jay has played about 1,649,000 yards of golf - or roughly 938 miles. His pieces on travel and architecture appear in Golf Observer (www.golfobserver.com), Cybergolf and other print magazines. When not researching golf courses for design, value and excitement, Jay is an entertainment, copyright, Internet and trademark lawyer and an Entertainment and Internet Law professor in Manhattan. His clients have been nominated for Grammy and Emmy awards, won a Sundance Film Festival Best Director award, performed on stage and screen, and designed pop art for museums and collectors. Jay lives in Forest Hills, N.Y., and is fiercely loyal to his alma maters, Deerfield Academy in Massachusetts and Trinity College in Connecticut.