Vega Hoping for a Breakout Year in 2009
By: Dave Andrews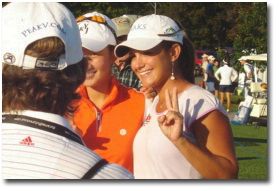 Perhaps nobody on the Futures Tour has worked harder over the past four seasons than Briana Vega. Her desire to make it to the LPGA Tour is as strong as any of the players she's competed against. She has been preparing in Florida this winter for the 2009 season, her fifth on the Futures Tour.
The 26-year-old from Andover, Mass., is known to many golf fans. In 2006 she won the Big Break VI competition on the Golf Channel. Viewers of that competition saw that Vega often wears her emotions on her sleeve. Watching her in person at Futures events, it is also clear to see the intensity and determination she brings to the game. She spends as much, if not more, time as any other player on the putting greens and driving ranges. She seems just as focused in her practice routines as she is out on the courses during tournament play.
The North Carolina State graduate has improved steadily over her first four seasons as a professional golfer. In 2008, she finished 21st on the tour's money list and lowered her scoring average to 72.9. In her first season (2005) her average score was over 76. Vega missed the cut in only one tournament in 2008, the first event of the season. Her best finish was a tie for second. In her three previous seasons she missed the cut in more than half of the tournaments she played in.
If she can take another stroke off her game this season, she has an excellent chance of earning her LPGA Tour card in 2010. A scoring average of 72 or better puts a player in very good position to finish in the top five on the tour's money list, which earns automatic full-playing status on the LPGA the following year.
Vega qualified for the LPGA Q School tournament held in December. An uncharacteristic 81 in the first round effectively ruined her chances of qualifying. She went on to shoot 69, 73, and 72 over the next three rounds, but missed the four-day cut. Now her objective will be a top-five finish on the season money list on the Duramed Futures Tour.
As part of her off-season routine, Vega competes on the Suncoast Ladies Series Tour in central Florida. This mini-tour runs from November to April, and covers the winter months when LPGA and Futures Tour players don't have any regular tour events to compete in.
Vega won three Suncoast events in 2008. This week she tied for first place in the rain-shortened Suncoast event at Rio Pinar Country Club in Orlando. She finished the tournament at five under par, firing a 68 and 71 over the first two days of play. That kind of shooting is exactly what she will be aiming for when the Duramed Futures Tour opens up in mid-March. That kind of shooting could make 2009 the year that Briana Vega's dream of making it to the LPGA comes true.
Dave Andrews is a Harvard-educated former television news reporter. He's also an avid golfer who has become a fan of the Duramed Futures Tour. His home course in Concord, N.H., is annually the site of one of the tour's events. The inspiration for Dave's 2007 novel, "Pops and Sunshine," came from meeting many of the young aspiring women golfers on that tour. Each of them has a passion, dedication and determination that he finds remarkable. His novel is a fictionalization of the dream that these young women share. To order Dave's book, visit http://popsandsunshine.com.