Ventura County Course Addresses Tee it Forward' Initiative
"The Players Course" at Tierra Rejada Golf Club in Ventura County, Calif., is the type of a layout being championed by Barney Adams, the founder of Adams Golf, in his "Tee it Forward" campaign.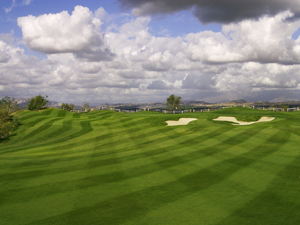 The 5th hole at Tierra Rejada.
"The Players Course," which is actually a course within a course, was built in response to the need to make courses more and to keep recreational golfers in the game.

Tierra Rejada is the first club in a major golf market to launch a project like "The Players Course." When played from the new and strategically placed green tees, the 5,600-yard layout makes landing areas more accessible, thus reducing the intimidation of long shots over ravines and lakes.

Designed by Bob Cupp (designer of Pumpkin Ridge, Crosswater and Liberty National, among other highly-regarded courses), Tierra Rejada Golf Club opened in December 1999. The course offers views of the Reagan Presidential Library and is known for challenging low-handicappers.
No. 8 at Tierra Rejada.
With the introduction of "The Players Course" and its new green tees, Tierra Rejada officials are hoping to provide average golfers with an experience that is more fun and memorable. The result is an abbreviated track that's approximately 500 yards less than the shortest championship tees on the "regular course."

"We accept the fact that a large number of those who play our championship course come away feeling a bit beat up," said Ted Kruger, developer and co-owner of Tierra Rejada Golf Club. "Golf is experiencing less frequency from average golfers and is losing older players because of difficulty. With the Players Course, we are putting the fun back in Tierra Rejada. Who the heck ever said that golf shouldn't be fun?"

Tierra Rejada is targeting the following golfer segments with its "Players Course":

• Older golfers who now find the game increasingly difficult
• Mid- to high-handicap golfers
• Infrequent golfers who play a limited number of times and then give it up
• Players just entering the game who need a course that meets their ability.
Kruger enlisted his friend and golf-industry veteran Walter Rosenthal as an advisor on the Players Course. Rosenthal, chairman of the Bobby Jones Golf Company before retiring at the end of last year, has been studying golf trends.

Kruger said the team at Tierra Rejada Golf Club is aware of the recent numbers released by the National Golf Foundation that show golf gained 3.6 million new players in 2010, but also lost 4.6 million players, for a net loss of 1 million on the year. According to Jon Last, president of Sports and Leisure Research in White Plains, N.Y., the loss of players (frequency aside) can't be blamed on the economy but rather on factors such as service, time commitment, health and enjoyment.

"We want to do our part at the micro-level to keep people in the game, and to encourage others to take up the game for the first time," said Kruger. "We already offer unparalleled customer service, great food and a spectacular setting. Now, with 'The Players Course,' we offer something that people will want to return to over and over at a great value."
"The Players Club" & Local Rules

For an annual fee of $125, golfers can join "The Players Club" at Tierra Rejada, which allows members to play the shortened layoutg with a $49 greens fee (cart included) Monday through Friday and $80 greens fee (cart included) Saturday, Sunday and Holidays, with a twilight rate of $60. These rates are much less than daily-fee courses of the same caliber in the area, some of which charge upwards of $200 per round.

"The Players Course" employs "local rule" options designed with playability, scoring and pace-of-play in mind. Should a golfer hit an errant shot into an unplayable area, penalty strokes will be minimized and drop areas have been designed to make this possible. However, golfers who play are not obligated to utilize the local rule.

"Our local rules are in the spirit of keeping the game fun," said Kruger. "It's frustrating enough if you've just lost a golf ball in a ravine, lake or natural area. Why penalize the average to weak golfer two strokes? Golf should be fun and scores should be lower. That's what playing The Players Course is all about."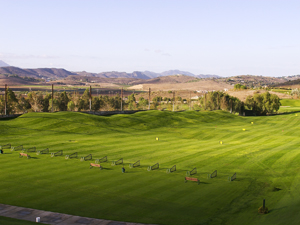 The Expansive Practice Facility at Tierra Rejada.
"Tee it Forward"

Retired clubmaker Adams is promoting the idea of shortening the courses golfers play. His efforts were highlighted in a May 16, 2011, Golf Digest article by Jaime Diaz, who wrote that Adams has gained support from the USGA, the PGA of America and the Golf Course Superintendents Association of America in encouraging the great majority of golfers to play courses from shorter distances. Diaz also reports that the three organizations will soon launch "Tee It Forward" - a campaign to convince golfers to move up and to urge course operators across the nation to set aside two weeks beginning July 5 in which they ask customers to play from a shorter set of tees.

According to a May 21 article by John Paul Newport in the Wall Street Journal, a recently completed study commissioned by the PGA of America determined there are 90 million former golfers in the U.S. Of those, the study estimates, about 60 million have at least moderate interest in taking up the game again - if it can be more palatable. "That is an enormous latent market," said Joe Steranka, the PGA of America's chief executive in the Wall Street Journal story.

The golf industry seems a lot more open to radical solutions, according to Newport. On May 30, for example, Golf Channel will broadcast live a pro tournament using a new two-flags-per-green, nine-hole format called PowerPlay. Newport wrote, "Before you scoff, consider that the event will be held at the site of last year's Ryder Cup, Celtic Manor in Wales, and that the competitors include the reigning U.S. Open U.S. Women's Open champions, Graeme McDowell and Paula Creamer."

"We're beating everyone in the area to the punch," said Kruger of Tierra Rejada Golf Club. "We think that what we're doing with The Players Course will be a model for golf courses everywhere, not only for making the game more fun, but also as a way to speed up play and increase business. We've been told that Bandon Dunes in Oregon has created its 'Royal Blue' course for men and women with a length of about 4,000 yards. We might just be on to something with this. "

Tierra Rejada Golf Club features a grass practice range, pitching green surrounded by sand bunkers and two practice greens for chipping and putting. With its picturesque setting, Tierra Rejada has been selected as a location for the filming of golf infomercials and the course was featured on several episodes of Golf Channel's series "Pipe Dreams."
Tierra Rejada is located in the Tierra Rejada Valley at the mid-point between Thousand Oaks, Simi Valley and Moorpark, at the Tierra Rejada exit of the 23 Freeway, just a 10-minute drive from Westlake Village. For more information, call 805/531-9300 or visit www.tierrarejadagolf.com.