Victoria GC its Beautiful Best after Prudent Restoration
By: Tony Dear
Every golfer has his or her favorite places where they feel completely at peace, their souls content. Links fans might enjoy a few moments to take in the view before hitting at Waterville's 17th hole, or Turnberry's ninth. Only the grayest personality wouldn't feel glad to be alive after boarding the tee at Pebble Beach's short seventh or Chambers Bay's 15th hole. And who but life's worst pessimist wouldn't sense joy in their heart when playing the third at Jasper Park Lodge or the 12th at Cape Kidnappers?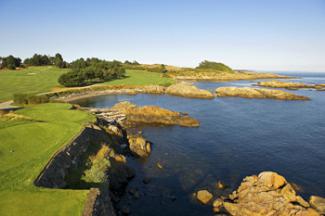 5th Hole at Victoria Golf Club (Photo by Bob Huxtable)
Be it with their incomparable scenery or exquisite challenge, these holes transcend golf. It doesn't really matter if you're making an eagle or double-bogey, you're just thankful to be there.

On a calm, sunny day with the ocean behind you, the Olympic Mountains in the distance, and a couple of orcas gliding through the water nearby, it is inconceivable that the ninth tee at Victoria Golf Club on Vancouver Island in British Columbia wouldn't jump to somewhere near the top of your list of happy places. Even members, who have been playing here for decades and stood on this tee hundreds of times, pause to appreciate the splendor of it all.

Victoria Golf Club sits on about 95 acres on the southern tip of the island in the well-heeled community of Oak Bay, incorporated in 1906. Downtown Victoria is a couple of miles to the west; Vancouver is about 60 miles to the north and east across the Strait of Georgia.

The club was founded in 1893 and has a strong claim to be the oldest in North America west of the Mississippi River. It is also the oldest club in Canada still playing at its original site.

Unless you are a member and have access to Peter Corley-Smith's club history - written to commemorate VGC's centenary, discovering stories from the club's past and exactly how it was formed can be surprisingly difficult. After an hour of Googling, I recently came across a book entitled "Tweed Curtain Pioneers," by a Canadian journalist named Betty Gordon Funke who wanted to celebrate the women that played a pivotal role in Oak Bay's development.
In the book, Funke tells the story of Nora Paterson (née Leonora Combe), daughter of Harvey Combe, who was responsible for the club's formation. Combe, the Registrar of British Columbia's Supreme Court, journeyed to London in the spring of 1893 to visit his family's (he had English roots) brewery business near Wimbledon. While in England, he played his first-ever round of golf, and he returned to Victoria with a set of clubs determined to assemble a group of like-minded sportsmen and find some suitable ground on which to play.

Combe settled on a 200-acre dairy farm owned by Surveyor-General Joseph Despard-Pemberton, which he had purchased from the Hudson Bay Company in 1856. The land extended south to Gonzales Point, named for Gonzalo Lopez de Haro, who was part of the Spanish expedition force of 1790 that drew the first charts of the Strait of Juan de Fuca.

A lease was arranged between Combe and Pemberton, who was granted an honorary membership. The club met for the first time in November 1893 and played on the course Combe laid out - 11 holes at first, seven more two years later. The club eventually bought the land outright in 1906.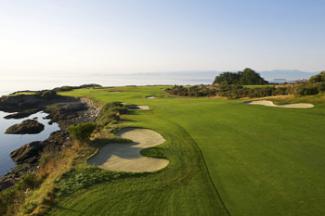 7th Fairway at Victoria Golf Club (Photo by Bob Huxtable)
Funke says all 18 holes of the original Oak Bay Links, which members reached by an open-sided streetcar from downtown, were on the ocean side of Beach Drive. Michael Riste seriously doubts that's true, however.

Riste, the historian at the BC Golf House museum in Vancouver and the volunteer historian for the Pacific Northwest Golf Association, knows more about the history of golf in western Canada and the Pacific Northwest than anyone, and says quite categorically that several of Victoria's holes crossed over Beach Drive.

"Before World War I, the course had several holes that not only played over Beach Drive, but which crisscrossed, meaning players were always at risk of getting hit," he says.

In 2011 Riste published "Just Call me Mac," his diligently-researched biography of Arthur Vernon Macan, the Irish lawyer who emigrated to Victoria in 1912 and became the Northwest's most prolific golf architect, creating several fine courses such as Victoria's Royal Colwood (originally Colwood Club, which opened in 1913), Shaughnessy in Vancouver, Fircrest and Lake Spanaway near Tacoma, Broadmoor in Seattle, and Manito in Spokane.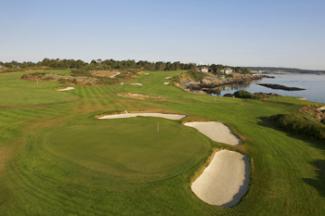 7th, 8th & 9th Holes at Victoria (Photo by Bob Huxtable)
Macan was a member at VGC and twice carried out extensive renovations to the course. The first, in 1923, eliminated all the crisscrossing holes and created the routing still played today. Not a great deal of change was necessary when he went to work again 32 years later, though he did make a controversial change to the 12th green, which Riste says had been rather flat and uninteresting before 1955.

By this time, Macan had taken to using Plasticine models to recreate his plans. According to Riste's book, the club pro Laurie Carroll insisted Macan had been enjoying too much Irish whiskey one afternoon and mistakenly turned his model for the 12th green upside down. The green was built according to the model, which meant the green now sloped significantly from front to back. Carroll said Macan made a mistake he would never admit to.

One member, George Bigelow, was incensed at the design as he could no longer hit a favored pitch for his third shot to the par-5. Macan, never one to concede meekly, wrote Bigelow a letter explaining that had he built a back-to-front sloping green surface water would drain towards the apron, and that back-to-front sloping greens helped poorly-struck shots hold a green they perhaps shouldn't have. He finished by strongly encouraging Bigelow to "cultivate the run-up shot."

Macan's front-to-back sloping green remained until the 1980s, by which time he had passed away (1964). Eventually, the members decided the time had come to change it, and a strangely alien green complex was built with artificial mounds surrounding the putting surface and greenside bunkers that only loosely resembled those elsewhere on the course (basically, the sole similarity was that the traps had sand in them).
"It greatly contrasted the greens on the rest of the course," says Jeff Mingay a young, Canadian architect currently working on restoring the course to Macan's 1923 ideal. "Part of the master plan I devised for the club recommended restoring this green to a style that better matched the older greens. But the club didn't want to rebuild the putting surface, so instead we removed all of the high mounds and changed the shape of the putting surface to give it a more classic look and feel. The results are actually better than I expected."

Mingay, who worked with Rod Whitman at the excellent Cabot Links in Nova Scotia, Blackhawk in Edmonton and Sagebrush in Quilchena, B.C., was first hired by the club in 2009 when the members felt their course needed refreshing. "Jeff's appointment went through a lengthy process at the club as we were trying to find the right fit," says Victoria general manager Scott Kolb. "Over the previous 20 years, we had worked with other firms to get a master plan of the property. Two of them failed because their plans were too drastic, so we settled on another firm to draw up a master plan using the existing layout."

That plan was approved by the members in 2005 and made only gentle tweaks to what Macan had left behind. But after about three or four projects, the members began noticing the remodeled areas had a distinctly different look. "Their changes were not visually the same as much of the course," says Kolb. "It was only then that the members realized that what they wanted was a restoration, not something entirely new. The Board wasn't confident the existing firm had the same vision."

An RFP (Request for Proposal) was put out and numerous firms from across North America pitched for the work. "But a number of the prominent architects said they would visit the site only occasionally, and that most of the work would be completed by their on-site staff," Kolb continues. "We wanted to work closely with the architect. With Jeff, we knew he had worked with great people in the past, liked the courses he was involved with, and felt we would be getting an individual that was about to launch his career. We knew he was passionate about the course and the project and that he would be 100 percent committed to doing a good job."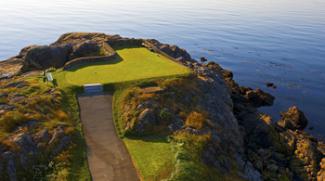 The 9th Tee at Victoria Golf Club (Photo by Bob Huxtable)
That Mingay would do much of the heavy-lifting and dozer work himself was a bonus, as was his insistence he would be entirely responsible for the finished product. Being Canadian probably didn't hurt either.

Mingay was hired to complete the plan the previous firm had begun. "I didn't exactly keep to the script though," he says. "I had a few of my own ideas, but the members could see I didn't want to change the character of the course, just enhance it where I could." In late 2009, Mingay says he was "commissioned properly" and produced a master plan of his own, basing it on an aerial shot of the course taken in the 1950s. "Basically, I wanted to deal with the tired old bunkers, and remove trees that were hindering views of the ocean and preventing the growth of healthy turf," he says.

Working alongside friend and fellow architect George Waters, Mingay labored to make Victoria Golf Club feel like a "classic" course again with a "rugged, seaside feel it hadn't had for several years."

"I didn't want to make any great changes," says Mingay. "To be honest, I hoped no one would notice I'd been there. I wanted the renovation/restoration, whatever you want to call it, to be subtle - for members to be able to say they really enjoyed the course more than they had been, but didn't know why exactly. I wanted them to have better views of the ocean and ultimately leave the course with healthier turf. I basically wanted the changes to be discernible, but subtle."

During a recent visit to Victoria, I asked Alistair Davies, the club's director of sales and marketing, who else had been considered for the job. He named a handful of well-known architects, and added he had been slightly disappointed the members had chosen not to hire one of them in particular. I told him I thought he should be grateful the members had made such a wise decision, as I suspected this other architect might have been tempted to do far too much, leaving his footprint all over the course.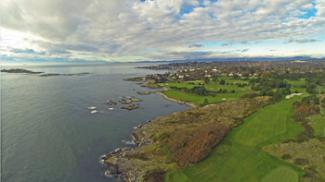 Aerial View of Victoria's 5th & 10th Holes
(Photo by Nick Wemyss)
Mingay had exactly the right attitude. "Who was I to alter significantly the ground people had played golf on for 120 years?" he asks. "Who was I to radically change what Macan had created 90 years ago?"

Now working with superintendent Paul Robertson and his maintenance staff, Mingay says there isn't much left to do. He wants to rebuild the bunkers between the first and 18th fairways and the greenside bunkers at the 15th and 16th. And he wants to remove a few more trees. "About 35 years ago, the club planted dozens of Austrian pines (Pinus Nigra). Well, they grew up and concealed some wonderful views. The back of the sixth hole was the most affected area. There was literally a wall of trees behind the green, and when we took them out last year it opened up the ocean panorama and the view of Mount Baker. I want to tell the club not to plant any more trees . . . ever."

The tree removal is definitely paying handsome dividends because, not only are the views astounding, Victoria's poa annua greens were the best I had played in literally years. Smooth, true and just the right speed for club golfers - quick without being scary - they are the result of Mingay and Robertson's combined expertise.

Jeff Mingay's work at Victoria Golf Club is a great example of a restoration/renovation done right. It is sensitive, sensible and respectful, and has been carried out with the intention of increasing golfers' enjoyment, not drawing attention to the architect.
Tony Dear is an Englishman living in Bellingham, Wash. In the early 1990s he was a member of the Liverpool University golf team which played its home matches at Royal Liverpool GC. Easy access to Hoylake made it extremely difficult for him to focus on Politics, his chosen major. After leaving Liverpool, he worked as a golf instructor at a club just south of London where he also made a futile attempt at becoming a 'player.' He moved into writing when it became abundantly clear he had no business playing the game for a living. A one-time golf correspondent of the New York Sun, Tony is a member of the Golf Writers Association of America, the Pacific Northwest Golf Media Association and the Golf Travel Writers Association. He is a multi-award winning journalist, and edits his own website at www.bellinghamgolfer.com.