Vietnam Golf Association Formed
In a move that complements the July 2007 launch of the Ho Chi Minh Golf Trail, Vietnamese course owners and officials met at Kings' Island Golf Club on August 18 to discuss the formation of a formal governing body for golf in the increasingly tourist-friendly nation.
The gathering took place a day after representatives from all seven Ho Chi Minh Golf Trail clubs, in addition to more than 150 Vietnamese golf officials, vendors and dignitaries, committed to the organization of a Vietnam Golf Association (VGA) - responsible for uniform course ratings, handicapping services and nationwide tournament administration - in 2008.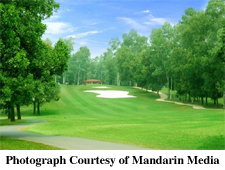 "The birth of the association is a new milestone in Vietnam's international integration process," said Vu Khoan, former Deputy Prime Minister.
Added Thomas Benefield, Kings' Island GC's operations manager: "This is the next logical step in the maturation of golf in Vietnam. Some day, we'll look back on that weekend as an historic one - the moment it all started really."
It was fitting that such an event took place at Kings' Island, the oldest club in the country's northern tier. Formed in 1994, the 36-hole facility is also a founding member of the Ho Chi Minh Golf Trail (www.hochiminhgolftrail.com), the region's first comprehensive golfing tourist destination.    
Benefield also announced at the August meeting that Kings' Island has shifted into high gear its makeover of the original Lakeside course. Renovations began earlier in 2007 with improvements on the front nine, which are now being done on the back.
"Tourism is increasing, and golf interest is increasing, so it's vitally important that course quality increases with it," he said. "Visitors want international standards, and they want it all to mesh - the lodging, the attractions, the golf. We'll leave no stone unturned. Grass, irrigation, tees, bunkers. You name it, we're upgrading it."
Refurbishing efforts on the front are focused on reshaping fairways and enlarging greens "that for too long have been too small," said Benefield. On the back, the primary target is the par-3 16th hole, where an island green is under construction - 250 yards from the championship tees.
"The carry is going to be lengthy but the hole is going to be fair, because the green will be big and surrounded by bunkers," said Benefield. "It's really going to be something to look at. I can't wait to play it."

The course venues in the emerging Southeast Asian nation do not end at Kings' Island, but stretch south through a country still awaiting discover by golfing tourists.

Routed north to south through Vietnam, the Ho Chi Minh Golf Trail boasts a first-class clubs and resorts, and some of the most luxurious accommodations in Southeast Asia. Kings' Island, for example, is close to the country's governmental and cultural capital as well as Ha Long Bay, a UNESCO World Heritage Site. Located 25 miles west of Hanoi, Kings' Island pioneered the game in Vietnam's capital city.

The Lakeside layout, designed by Robert McFarland, was built first. The Mountainview course, designed by another American architect, Phillip Rodgers, opened a decade later. Together, they form a tandem that is improving. "Our goal is to keep that characteristic on the Lakeside, while at the same time making it more fair and visually striking," Benefield said.

In addition to Kings' Island, stops along the Ho Chi Minh Golf Trail include:

• Chi Linh Star Golf & Country Club, a 27-hole facility outside Hanoi that recently hosted the Asian PGA Tour's Carlsberg Masters.

• Dalat Palace Golf Club, a mile-high layout featuring the only wall-to-wall bentgrass course in Southeast Asia, was built in the 1920s for Bao Dai, the last emperor of Vietnam.

• Dong Nai Golf Resort, a 27-hole track designed by American Ward Northrup, whose layout skirts the inlets and shores of a natural lake.

• Ocean Dunes Golf Club, a windswept Nick Faldo design, is a "tropical links" lapped by the South China Sea.

• Tam Dao Golf Resort, a new 18 in the highlands northeast of Hanoi, is convenient to the airport but seemingly a world away.

• Vietnam Golf & Country Club, home to 36 otherwise private holes just 20 minutes from downtown Ho Chi Minh City.
For travel plans or a tour of the Ho Chi Minh Golf Trail, contact Ms. Phi Thu Thuy at exotissimo@hochiminhgolftrail.com. For more information on the Ho Chi Minh Golf Trail, visit www.hochiminhgolftrail.com.