Vietnam Golf Coast
The maturation of golf in Vietnam takes another step forward in mid-August with formation of the Vietnam Golf Coast, a new partnership of golf and beach resorts in the Central Coast city of Danang.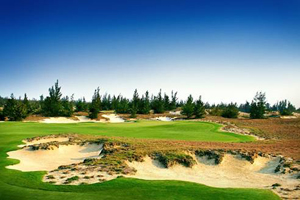 Danang Golf Club
Vietnam's standing as an up-an-coming golf destination is no secret, but establishment of the Vietnam Golf Coast coordinates for tourists the country's top new courses with its finest hotels and beaches, all in one place. That place is a comely stretch of sand in Danang, 20 minutes from an international airport that sits within 2-hour flights of both Singapore and Hong Kong.

Indeed, the first of 30 regularly scheduled charter flights to Danang out of Hong Kong on Vietnam Airlines will commence September 17, and will fly every Tuesday and Friday thereafter.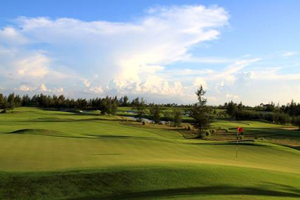 Montgomerie Links
The founding members of the Vietnam Golf Coast are:

• Montgomerie Links Vietnam: Designed by sitting European Ryder Cup Captain Colin Montgomerie and opened in August 2009, Monty Links was recently ranked 7th on the list of top courses in all of Southeast Asia.

• Danang Golf Club: Crafted by legend Greg Norman and opened to wide acclaim in May 2010, the Dunes Course at Danang GC is "as close as you'll come (in Asia) to the UK's great links courses," according to Golf Digest Singapore.

• The Nam Hai: An ultra-luxurious, all-villa property, the Nam Hai is the most highly acclaimed resort in the country. It was named to Travel+Leisure magazine's "It List" when it opened in 2007, and won Best Resort in T+L's design competition the following year.

• Life Resort Danang: The region's newest five-star hotel (it opened in March 2010), Life Resort Danang is set on five hectares fronting Bac My An beach. Its nearby sister property in Hoi An is on Cond้ Nast Traveler's Gold List and won a Reader's Choice Award.

• Golfasian Vietnam: The leading golf tour operator in Southeast Asia, Golfasian Vietnam has been named Official Tour Operator of the Vietnam Golf Coast.

Golfasian has arranged more than 17,000 golf trips to Thailand, Cambodia and Vietnam since 2001, yet CEO Mark Siegel sees the emergence of Danang as something of a breakthrough.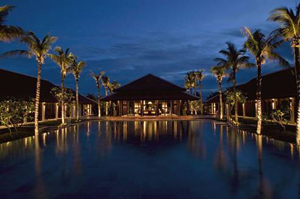 Nam Hai
"The golf offerings in Danang are new, but a variety of factors have conspired to peg Danang as the top golf destination in the country, and one of the best in all of Southeast Asia," Siegel said. "For starters, I think Danang Golf Club and Montgomerie Links are the best two courses in the country. There are several excellent courses in Ho Chi Minh City and Hanoi, but they're all at least an hour from downtown hotels or the airports.

"The courses in Danang are just so convenient - 15 minutes from the airport and literally right across the street from The Nam Hai and Life Resort Danang. And Danang itself is so convenient to all of Southeast Asia. When you consider all the non-golfing activities at play on the Central Coast, it's easy to see why golfers are already flocking here."
"We expect additional golf courses and hotels to join our cooperative, in short order," added Jon Tomlinson, general director of Montgomerie Links. "There are half a dozen more golf courses in various stages of construction and planning here in the Central Coast region. We don't see them as competition. We see them as additional reasons why golfers should consider Danang for their next golf holiday."

The same sand that hosted Americans at play during the bad old days of the Vietnam War have shifted over the intervening decades. Today they underpin the Vietnam Golf Coast, and Danang serves up all you might expect from a vibrant seaport city of two million inhabitants.

Just south of Danang, 20 minutes from the Nam Hai and Life Resort Danang, sits the UNESCO World Heritage city of Hoi An - with its extraordinary history, dining and shopping. To the north lies Hue, the last imperial capital of Vietnam. Bathing the entire region with its warm tropical waters is the East Sea, home to some of the country's freshest seafood and top scuba locales in Southeast Asia.

It's no accident that American armed forces chose Danang as the center of its R&R culture during the Vietnam War. "What you have here is a year-round beach culture that has, in the last five years, added the sort of sophistication and amenities that have made the world take notice: 5-star hotels, casinos, golf, and transportation infrastructure," said Howie Roberts, general manager of Danang Golf Club, which will add a second 18 in 2012.
In Danang, the golf and airline offerings appear to have come of age simultaneously. While a new international airport will open in 2011, Danang already accommodates international flights from Singapore and Guangzhou, in addition to regular connecting service from both Hanoi and Ho Chi Minh City. Shanghai Airlines will soon commence a twice-a-week charter service from its hub, Shanghai, to complement those Vietnam Airlines has scheduled from Hong Kong, starting in September.

"The latter two flights are expected to undertake regular schedules when the tour operators currently selling these routes can achieve a high passenger load," explained Herbert Laubichler-Pichler, general manager of the Nam Hai. "This confluence of new international routes obviously makes access to Danang far more convenient. With all this in place, we see the Central Coast as the first Vietnamese destination fully equipped to compete with the best of Asia's beach destinations."
For more information, visit www.vietnamgolfcoast.com.