Visit British Columbia & Golf!
British Columbia contains a wealth of wonderful places to play golf. With a favorable U.S. dollar exchange rate, spectacular scenery, plenty of top-flight accommodations, and activities for the whole family, our neighbors to the north are blessed with many attractions for visiting golfers. Here's a breakdown of British Columbia, and its six major geographic regions.

Vancouver Islands

Even before you arrive on these islands, you'll feel excited about the possibilities. Perhaps it's the salty air from the ferry ride over, or maybe it's the sense of wonder you'll have stepping into such a blessed place.

Golfing here isn't a pastime, it's a passion. Play year-round at more than 50 spectacular courses, including 22 championship courses on Vancouver Island. Over the past decade the island has been one of the hottest golf properties in the world, with over a dozen new tracks built for public consumption.
Non-golf activities include beach-combing, browsing the works of local artisans, chartering a boat, kayaking, surfing, or scubadiving. The waters around the Vancouver Islands are alive with wolf eels, octopus, six-gill sharks, soft coral, and brilliant sponges. Shipwrecks lurk like ghosts in aqueous graveyards. Orca whales cavort off the shores of southern Vancouver Island from May to October – take a whale-watching cruise in Johnstone Strait. In March and April, up to 20,000 Pacific gray whales migrate from Baja to Alaska. The best place to see these magnificent creatures is off Vancouver Island's west coast.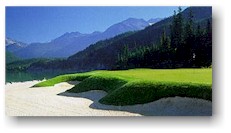 Vancouver, Coast & Mountains

Metropolitan Vancouver is one of the world's great cities. Ringed by snow-capped peaks, the city boasts many urban highlights, yet, even in the heart of the city, nature is right around the corner. Take a 40-minute ferry ride from Horseshoe Bay in West Vancouver to picturesque fishing villages and local artist communities along the fabled Sunshine Coast. Dive, sail and explore places as intriguing as their names: Halfmoon Bay, Chatterbox Falls, Porpoise Bay Provincial Park, and Smugglers Cove Marine Park.

Thirty minutes from Vancouver is the Sea to Sky Highway 99, one of the world's foremost scenic drives. Motor from West Vancouver to Squamish, Canada's windsurfing capital, and be sure to visit Whistler, recognized as the Number One ski resort in North America by skiers and international ski publications alike. In summer, be sure to play Whistler's outstanding layouts: the Arnold Palmer-designed Whistler Golf Club, Nicklaus North and Chateau Whistler, designed by Robert Trent Jones, Jr.

Near Vancouver lie lands carved by the one of North America's mightiest rivers, the Fraser. This waterway involves the canyons of the Coast Mountains to the vast delta with its beaches, mudflats and wetlands. Take the Hell's Gate Airtram over the Fraser. Or, head to Lytton, the whitewater rafting capital of Canada, and ride the Thompson River.

Golf in this vast section of British Columbia is sublime, with hundreds of courses to fit the skills, price ranges and amenity needs of any golfer.

Thompson Okanagan

Millions of years ago, when massive glacial ice floes carved out a valley, an ideal place for orchards and wineries evolved. The Thompson Okanagan is a land of wild rivers, serene lakes, rugged canyons, wide open plains, and wonderful golf courses. There are over 50 layouts in this, one of Canada's most dramatic settings. Among the best-known facilities are Predator Ridge near Vernon; Gallagher's Canyon, Quail Ridge and The Bear in Kelowna; Fairview Mountain in Oliver; and Rivershore and The Dunes in Kamloops.

The Okanagan is a virtual cornucopia, with peaches, nectarines, plums, berries and vineyards overflowing with grapes. Wine festivals in spring, fall and winter feature everything from grape-stomping to gourmet dining.

The landscape is awash in warm-water lakes lined by white sand beaches, perfect conditions for water- and jet-skiing. Many resorts dot these lakes, with overnight stays also available in houseboats. The Thompson, Fraser or Adams rivers are brimming with fish.
Horseback riding is also a popular avocation, with leisurely jaunts on trails or real-live dude ranches where guests round up wayward cattle while enjoying such civilized amenities as pools, tennis courts and spas.

B.C. Rockies

Located in the far southwest corner of this vast province, the B.C. Rockies offer all manner of year-round recreational opportunities. In winter, the area is a mecca for skiers, snowboarders and snowmobilers. Some of the best powder conditions in the world are here. Apres-ski activities should always involve a long soak in a naturally heated mineral spring.

The warm, dry days of spring and summer are ideal for golf, hiking, and biking. The golf ball travels far in this high-elevation, alpine region. In summer, ride the rapids of Kicking Horse River, or swim in Kootenay Lake. There are 12 major parks in the area, with perhaps the most spectacular Yoho National Park, which boasts 28 snowcapped mountain peaks. The mountain valleys are dotted with picturesque villages. There's Nelson's Victorian character, Revelstoke's alpine atmosphere, and the Bavarian-themed Kimberley.

Cariboo Chilcotin Coast

Situated north of Vancouver in mid-province, this rustic part of British Columbia involves the forests of the Cariboo; the rivers, lakes and ranchlands of the Chilcotin; and the secluded inlets and waterways of a fjord-fringed coast.
Guest ranches are abundant here, with visitors treated to the "Four R's" – Riding, Roping, Rodeoing and Relaxing. The guest ranches range from rustic charmers to deluxe spas. The discovery of gold in 1862 initiated the region's settlement. Today, visitors come to Barkerville to pan for gold and experience Gold Rush days.

Other outdoorsy experiences include rafting trips on the whitewaters of the mighty Chilko, Chilcotin and Fraser rivers. With more than 8,000 pristine lakes, 11,000 miles of rivers and streams and 9,300 miles of coastline, the fishing is fantastic here. The abundance of trout and salmon is complemented by a variety of fishing resorts, lodges, guides and outfitters.

For those of us who enjoy kicking back and watching the world go by after a round of golf at one of the region's many fine facilities, take a trip aboard a BC Ferries Discovery Coast Passage ship from Port Hardy to Bella Coola. Enjoy the ride and the views of mountains, fiords, coastal villages, waterfalls and maybe a whale or two.

Northern British Columbia

This slice of British Columbia is by far the largest, occupying over half of the multimillion-square-mile province. The area stretches from the storm-swept Queen Charlotte Islands to the Rocky Mountain foothills. The Northern B.C. region is a vast wilderness preserve, with pristine lakes, wilderness parks and nature preserves.
Visitors to the area can get a good feel for the authentic, historic B.C. Cedar totems carved centuries ago stand tall in aboriginal villages. Just north of Prince George, the Hubble Homestead is a living museum of trading post life in 1905.
In the Queen Charlotte Islands, plants and animals exist that are not found anywhere else. In the Northern Rockies, the Muskwa-Kechika Special Management Area is known as "Serengeti of the North," because nowhere else outside of Africa is found such wildlife diversity and untrammeled ecosystems.

BC Ferries cruise past seals, sea lions and fjords on the Inside Passage. River rafting is also an option, as are walking tours through the lava fields in the Nisga'a Memorial Lava Bed Provincial Park. From late August through April, humans are stunned as the spectacular Northern Lights dance across the sky.