Volunteers at American Lake Veterans GC Have 'Can-do' Attitude
"No" is not part of the vocabulary around American Lake Veterans Golf Course. At this unique facility, the mantra is "can do." Just ask the two Ryder Cup teammates who said "Yes" when asked if they could help with this haven for wounded warriors near Tacoma, Wash.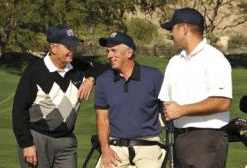 From left to right: Jack Nicklaus, Vietnam veteran Jim Martinson,
and Leroy Petry, a veteran of Iraq and Afghanistan.
Ask the 160 volunteers (many of them retired military) who, since 1995, have operated and maintained all aspects of the course, from mowing grass to flipping burgers. Ask retired teacher Pepper Roberts who formed a nonprofit organization in 2003 to raise money for improving playing conditions and facilities. Ask the rehabilitation specialists about the healing power of golf.

Most importantly, ask the 25,000 wounded and disabled veterans and their families who play golf each year at American Lake Veterans Golf Course.

Ken Still, a former PGA Tour player and Tacoma native has volunteered at the course for years. For Still, an especially gratifying "yes" came from his Ryder Cup teammate, Jack Nicklaus.

Still, a winner of three Tour events after joining the Tour in 1953 played on the 1969 Ryder Cup Team with Nicklaus. He's volunteered at American Lake Veterans since 2004 and currently serves on the board of directors for "Friends of American Lake Veterans Golf Course," the facility's nonprofit arm.
Still says helping out at ALVGC has been more rewarding than any of his career accomplishments, including being in the top 60 on the Tour money list for eight consecutive years and a 1995 induction in the Pacific Northwest Section PGA Hall of Fame.

At a 2009 board meeting when directors discussed adding another nine holes to the original nine-hole track, someone thought Nicklaus should be approached about overseeing the expansion. Shortly afterwards, Still called his former teammate and friend of 40 years, expecting Nicklaus's wife Barbara to pick up the phone. Not only did Jack answer the call, there was no hesitation before golf's "Golden Bear" declared, "Count me in."

"We hear a lot of spontaneous 'Yeses,' " Still said as he recalled that conversation, which marked the first time he asked a favor of his former teammate.
Not only did Nicklaus assent to Still's request, he refused any fees for his design expertise. "For what these guys have given to us, sacrificing life and limb for the freedoms we enjoy, there will never be a charge. Just to be asked to be a part of it is a privilege," said Nicklaus, whose charitable activities are as legendary as his achievements as a golfer and course architect.

He and Barbara are the guiding light for the Nicklaus Children's Health Care Foundation and countless other causes. Although perhaps best known for his four decades of charitable work with children, Nicklaus is admired as both a businessman and goodwill ambassador. Accolades he has accumulated include the Woodrow Wilson Award for Corporate Citizenship, the Charles Bartlett Award from the Golf Writers Association of America (recognizing unselfish contributions to the betterment of society) and the Presidential Medal of Freedom, the highest honor given to an American civilian.
Nicklaus's commitment to American Lake Veterans Golf Course deepened when he agreed to serve as honorary co-chair with retired General John Shalikashvili for the capital campaign to construct the "New Nine by Jack" and other facility improvements. In mid-November, he led a clinic for disabled veterans and invited guests at Bighorn Golf Club in Palm Desert, Calif., as part of a weekend fund-raiser that netted more than $1 million toward the goal of $4.5 million.
The volunteers at American Lake Veterans Golf Course consider Nicklaus's involvement and contribution of design services to be priceless. Roberts believes veterans from other states will travel to Lakewood (about an hour south of Seattle) just to play the "New Nine" designed by Jack Nicklaus.

The course, with its special accommodations for mobility-impaired veterans, is expected to become a model facility that can be replicated across the country as a much-needed recreational and rehabilitation outlet for the growing population of veterans.
Using the campaign theme, "A Course in Courage: Healing America's Veterans through Golf," American Lake Veterans Golf Course unites volunteers of all stripes. Some are young, others in their 80s; some are wealthy, many of modest means; some well-known, others less so; some have written large checks, some just donate their time. But all are united as Friends of American Lake Veterans Golf Course and in saying "Yes" to providing a more accessible and enjoyable golfing experience for those who have served and sacrificed in service of our country.
For additional information, call 253/589-1998 or visit www.veterangolf.org.