Wake Up Little Suzy, Wake Up
By: Tony Dear
Writer Tony Dear interviewed Suzy Whaley earlier this summer on the eve of her historic playing in the Greater Hartford Open. The Connecticut club pro became the first woman since Babe Zaharias in 1945 to qualify for a PGA Tour event. After qualifying for the tournament, Whaley appeared on all the major AmericanTV networks and estimated she gave over 1,500 interviews to reporters from around the world. Here's Tony's look at all the hubbub surrounding Whaley, who shot 75-78 and finished 13-over-par 153, failing to qualify for weekend play. Tony's article originally appeared in the July 2003 edition of Golf World (UK).
Suzy Whaley is exactly how you'd picture an American Mom – mid-30s, homemaker, power-walker, bright white pumps and a broad, toothy smile. If she had the time she'd spend her days doing what other moms her age do; obsessing over her weight, cholesterol and energy levels while doing lunch and running around in a large SUV picking the kids up from soccer practice.
But, as the head teaching professional of the Blue Fox Run Golf Club in Avon, Connecticut, Whaley doesn't have time for anything much, except teaching. "I give 30 to 40 lessons a week and am at the club six days out of seven. My diary is full until the end of August. Where would I fit anything else in?" she asks. "My two daughters, Jennifer (8) and Kelly (6), get all my spare time." By the fourth week of July, however, even they will have to turn on their television to see much of their mother.
By then the golfing spotlight will be focused so brightly on Whaley she'll do well to grab a few hours sleep a night in between all the conference calls and demands for autographs. For one week she's going to be as big as Tiger Woods.
So who the heck is Suzy Whaley anyway?
The British press eventually got around to mentioning her about two months after she shocked Connecticut's men professionals by beating them all to land the State Open Championship last September (2002). That in itself was not particularly newsworthy (she played off the forward tees after all) but what really set this story apart was that as well as banking a paycheck for six grand, Whaley won a berth in the state's only PGA Tour event, the Greater Hartford Open (GHO). Annika Sorenstam may have beaten her to the men's tour this year by playing at the Colonial in May, but the Swede was invited by sponsors who saw an opportunity for some cheap publicity. Whaley qualified, the first women to do so, in fact, since Babe Zaharias qualified for the 1945 Los Angeles and Tucson Opens.
Whaley stewed over the decision of whether or not to play for months. Two 90s and she'd embarrass herself in front of family and friends, not to mention several million TV viewers, many of whom would be watching just to see the "lil' lady" come a cropper. But by declining her spot she would be passing up the opportunity of a lifetime.
"I wanted to get the support of the PGA Tour, the PGA of America and the LPGA before deciding to play. I didn't want to offend anybody," she says. "But the person who really swung it was my daughter Jennifer. For years I've been telling her anything is possible so long as you work hard and try your best. So when she looked at me and asked, 'Mommy, why don't you play,' what was I going to do?
"Then there was the poem she wrote me for Mother's Day. It said: 'You love me, you read to me, you help me with my homework and play golf with me. You're going to be the first woman to play in the GHO and you're my role model.' "

Over-sentimental twaddle perhaps (come on, she is eight), but wouldn't it stir you into action?

That her 8-year-old girl should be the biggest factor in determining her decision to play would come as no surprise to those who know Whaley. "I am a mom first and foremost," she insists. "There is no agenda here. I don't consider myself a pioneer for woman's golf."

Those who remain unconvinced this is not some desperate attempt to further women's rights on the golf course should know that Martha Burk, Hootie Johnson's nemesis, left a voice-mail message for Whaley no doubt hoping to enlist her support in the struggle for equality. Whaley never returned the call.

"She and I are in different places philosophically," Whaley jokes. "I'm doing this to prove something to my children, and if I can inspire youngsters to pick a golf club up in the process, then it will be a success no matter what I shoot."

But don't be fooled into thinking Whaley is treating this as some kind of recruitment drive for junior golf. She may not be anything like as good as Sorenstam but she is extremely competitive and deadly serious about her chances of making the cut at the TPC at River Highlands, venue for the GHO.

To improve her chances she spent most of the winter and spring getting into shape, working out for two and a half hours every day and working on her swing with husband Bill, her coach since 1994. "I want to be able to stand on the tee and know I did everything I could," Whaley says. "I don't want to have any regrets about not giving it my best shot."

The extra muscle and flexibility that resulted did necessitate some changes in her swing, but by the time we played together on a cold, gray morning in May, everything seemed to be back on track. "My swing is definitely more powerful and I'm still learning how to use it," she said. "My legs are clearing a lot faster now so the clubface is in different positions at impact sometimes. But it's slowly coming together."

Unfortunately, it hadn't quite come together in time for her appearance at the Michelob Light Open on the LPGA Tour earlier in the month. Rounds of 77 and 73 saw her miss the cut by three. By the time she tees it up with the boys she will have played three more LPGA events and also hopes to have qualified for and played in the Women's US Open, a tournament she first appeared in 21 years ago.

"I was only 16 and extremely nervous as you can imagine," Whaley remembers. "I signed up for a late afternoon practice round on the Tuesday hoping to avoid all the other players but was joined by Joanne Carner, my hero at the time. I asked her to go on ahead of me but she insisted we play together. I skied it 100 yards off the first tee."

Eight years later Whaley joined Carner, Nancy Lopez and the other big names in women's golf on tour, but it didn't work out. "I was still too inexperienced. I just wasn't ready for it."

She managed to win her card back for the 1993 season but again failed to keep it, trudging through another desperate campaign in which she failed to register a single top ten finish. "That's it for me I thought. It's time to start a family." Two years later, Jennifer arrived and soon after that Whaley was working for Jim Flick as a teaching professional. "I was settled so never really thought of going back on tour."

As she stroked another drive 260 yards down the middle of the fairway during our all-too-brief saunter around the Country Club of Farmington, it was hard to believe Whaley's record on tour was so, shall we say . . . forgettable? She is an accomplished golfer with two State Women's Open titles and the honor of being the only female to play in the PGA Club Professional's Championship for which she qualified last year. She boasts a smooth, languid swing and a sure putting stroke, a combination that finished me off before I had even warmed up. You don't need to know the details, but the fact is she totally thrashed me. I offered very little by way of serious competition, something she desperately needed before going up against some of the best players in the game.

One thing that will help her cause, apart from the experience she'll gain from those appearances on the women's tour, is that husband Bill is Director of Golf at River Highlands. And although that doesn't mean she gets to play the course whenever she likes, it does mean she will be as familiar with it as most of the guys. "I've played it once from the tips and about 15 times from the blues. I shot in the mid 70s from the tips last October, but it was cold and played much longer than it will in July. I really only needed a driver, 3-wood, wedge and putter that day."

She knows there won't be many 3-wood, sand wedge par-4s for her even with hard fairways and warmer temperatures. But, like Sorenstam at the Colonial, she is certainly talking up her chances of doing well.

"I have high hopes. If I can keep to my own game, maintain my pre-shot routine and putt as well as I know I can, then who knows what can happen? Whatever does happen though, I'll keep it all in perspective and walk off the 18th green smiling."

Will she enjoy the experience? Of course. Does she give a damn what Vijay Singh thinks of her participation? No. Will she make her daughters proud and tempt a few people off the couch and on to the golf course? Absolutely. Will she make the cut? Not a hope.

But so what? By the end of July, Suzy Whaley will go back to doing what she does best: teaching golf and being a mom. "No one will remember my name when it's all over, except for my family and my pupils. They're really excited about me playing in this tournament. They think it's really cool. And you know what? That's really all that matters."

What You Can Learn from Suzy Whaley (Yes, Guys Too!)

Use the clubs that suit your game

"I have five woods in my bag. The longest iron is a 5-iron. I bet you have a driver and 3-wood plus a 3- and 4-iron, and maybe even a 2-iron. Be honest with yourself, do you really hit those flat-faced clubs with any consistency? Long irons are so difficult to hit, but still men shy away from replacing them with far more user-friendly lofted woods because they think they're designed for women or seniors with hip replacements. With the extra loft and confidence-boosting head shape, however, I'm sure many men would benefit from having a 5-, 7- and 9-wood instead of their long irons."

When addressing the ball, remember the three "A's": alignment, alignment and alignment

"I'm amazed at how few golfers align themselves correctly. I see a lot of people aiming their body before the clubface which usually leads to a closed body position at address. From there the club comes back too far on the inside in relation to the target line. When the brain picks up on this, the golfer tries correcting the swingpath looping the club over to the outside which usually results in a pull-slice.

"Aiming the clubface first then your body in relation to it will help you start from the correct position with your shoulders, knees and toes aligned parallel left of your target. This removes any need for re-routing the club at the top of the backswing."

Remove the 'hit' from your swing

She's barely 5 and a half feet tall, weighs little more than bag of clubs and wears clothes labeled 'petite', but Suzy Whaley probably hits the ball a lot further than you can.

Her swing is all about rhythm and timing. When she reaches the top she slows the club to a smooth stop before moving effortlessly into the downswing. There is no sudden rush to get the clubhead back down but rather a smooth uncoiling of her body and a composed sweep through the ball. The result is dead-solid contact, meaning good distance even with a relatively slow swing speed.

Whaley relies heavily on the technology in her club and ball to achieve exceptional distance for one so small. She doesn't feel the need to contribute much of the power herself and swings the clubhead (rather than jerking it every which way), finishing in a balanced position with her navel facing the target. The ball simply gets in the way of the clubhead.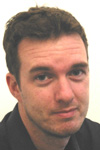 Tony Dear has been writing about golf for 11 years. A former assistant club pro from Sussex, England, Tony started out as a freelancer in 1992 before taking a staff writer's job at Fore!, a magazine based in Peterborough. As the magazine's chief instruction writer, it was Tony's job to compose instructional articles aimed at a youngish readership whose letters to the editor suggested they often got confused by technical jargon and theory. Tony bought his simple approach to teaching golf to the magazine, helping boost sales by 10,000 issues. As a result, he was nominated within the company and nationally for Young Writer of the Year awards.

From there, Tony moved 20 yards across the Emap UK office to join Today's Golfer. There, he was soon promoted to a senior editorial position, focusing on equipment, and became a significant part of a team that saw sales figures double within the magazine's first 12 months.

After three years at Emap UK, Tony was dragged kicking and screaming across the Atlantic by his American wife ('not really, I love it over here') and, after short spells in Phoenix and Denver, wound up in Seattle in May 2003. He recently moved to Bellingham in the far northwest corner of the far Northwest of the U.S. and became a father to a son on whom he has already staked £5 for the 2029 Open Championship. At present, he is freelancing for a number of print and online publications back in England including Today's Golfer, Golf World, Bogey, The Open Championship Magazine and Casino.com. He is also a contributing editor for Denver-based Colorado AvidGolfer.

Recent features include a look at Colorado's self proclaimed 'links' courses, an interview with Suzy Whaley, with whom he played nine holes ('and got soundly thrashed') and a 64-page instruction supplement for Today's Golfer.

Tony has authored three books in the last five years and been nominated for several specialist and young writers awards. 'Although I've never actually won one,' he admits. He is a member of the Northwest Golf Media Association and the Golf Travel Writers Association based in London.