Watch Out for Chris Williams & the UW Huskies at NCAA Championship
By: Blaine Newnham
Chris Williams isn't looking past next week's NCAA Men's Golf Championship at Riviera Country Club in Los Angeles. Or past next year's senior season at the University of Washington in Seattle.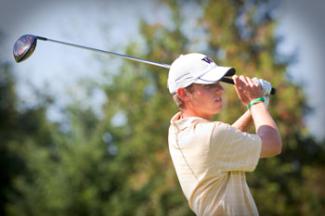 Chris Williams (Rob Sumner of Red Box Photos)
He won't bolt for the PGA Tour even though many college standouts are considering it. He will not only play this summer in the Palmer Cup at Royal County Down in Northern Ireland but hopes to again be selected for the Walker Cup team and its matches a year later at the National Golf Links of America.

As an amateur. This guy sees the fairways for the rough and is enjoying college and amateur golf so much that the money can wait.

"I understand basketball players like Terrence Ross and Tony Wroten trying to get a guaranteed contract in the NBA," he said of two schoolmates who opted for the NBA draft even though in Wroten's case he is just a freshman.

"There is nothing guaranteed in golf," said Williams. "The PGA Tour has been there forever and it will be there in a few years when I'm better prepared to succeed there than I am now."
As far as college, Williams says, "I'd stay five years if I could. I love it here; I made a commitment to play for Washington and the least I can do is honor it."

A medalist at the recent Southwest Regional the Huskies won by four strokes over top-ranked Texas, Williams has won more tournaments for Washington than any other player in school history. And the Huskies have had good players: 2010 Ben Hogan Award winner Nick Taylor, 2005 NCAA champion James Lepp, All-American Brock MacKenzie, current PGA Tour players Alex Prugh and Troy Kelly, Richard Lee, folks like that.

They've been a consistent and persistent force in the NCAA tournament, and may be again next week. Even though they finished seventh in the Pac-12 tournament, a different format for the NCAA tournament gives them the chance nationally that they didn't have locally.
To put their Pac-12 finish in perspective, six of the top nine teams in the NCAA tournament are from the Pac-12. In the Pac-12s, play was over four days, not three, and five scores counted instead of four. Washington's lack of depth hurt the school in the league tournament, but won't be as much a factor at Riviera.

Despite being a cold-weather school and on the far reaches of the map, Washington under Coach Matt Thurmond has made it to the NCAA tournament nine of 11 years. "Absolutely we can win," said Thurmond of his team's chances in 2012. "But there are a dozen schools that can do that."

The Huskies have firepower. Williams is ranked fourth in the world among amateurs. Freshman teammate Cheng-Tsung Pan has also been ranked in the top 10 internationally. Junior Charlie Hughes, a veteran of three NCAA Regionals, sophomore Trevor Simsby and Ty Chambers, the lone senior on the team, round out the top five.

Why, year in and year out are the Huskies so competitive? "I think coach has recruited a certain personality of player," said Williams, who is from Moscow, Idaho. "And playing in the Northwest makes you ready for anything."
Williams considered flying south to go to school. "Every day in the winter I wonder what I'm doing in the Northwest," he said, "but I love it and the weather in Seattle is certainly better than it was in Idaho. So its 45 degrees with a slight drizzle, that's nice."

Thurmond believes that playing in the Northwest prepares his team better than those who are used to easier conditions. "The golf is harder here than other places," he said. "A 275-yard drives goes 250. The grass grows year-round so there is rough year-round. The trees aren't deciduous, the fairways are narrow, the greens are small and fast, there are uneven lies everywhere; it is just a better test for us than it is for others. You don't miss a shot and see it bounce up onto the green anyway."

It all works for Williams, who Thurmond says is the hardest worker he has ever had. "By far," said Thurmond. "I can't tell you how many times he has called me from Washington National (the UW's home course) to tell me he's locked in the practice facility. I look outside and it is pitch-black. It isn't good for everyone to practice that much, but for Chris it is."
As for his game, Williams is a shot-maker. He doesn't hit it far and hopes to improve his distance with strength and age, but said he won't sacrifice accuracy. It could serve him well at Riviera, which is both long and tight.

Despite his successes, Williams isn't a campus celebrity at Washington. Few know he is one of this country's best international amateurs, with success in both the Walker and Palmer cups. "He's humble," said Thurmond, "and very talented."

Said Williams, "My name is about as common as they come. People don't know who I am."

For Williams, it is mostly about his relationship with Thurmond. "I wanted to go to Washington before I even visited the campus," he said. "He's a great coach and we hit it off right from the beginning. He doesn't force me to get a swing coach. I've never had a lesson in my life and he understands that. It's been a great time together."

And it will continue.
Blaine Newnham has covered golf for 50 years. He still cherishes the memory of following Ben Hogan for 18 holes during the first round of the 1966 U.S. Open at the Olympic Club in San Francisco. He worked then for the Oakland Tribune, where he covered the Oakland Raiders during the first three seasons of head coach John Madden. Blaine moved on to Eugene, Ore., in 1971 as sports editor and columnist, covering the 1972 Olympic Games in Munich. He covered five Olympics all together - Mexico City, Munich, Los Angeles, Seoul, and Athens - before retiring in early 2005 from the Seattle Times. He covered his first Masters in 1987 when Larry Mize chipped in to beat Greg Norman, and his last in 2005 when Tiger Woods chip dramatically teetered on the lip at No. 16 and rolled in. He saw Woods' four straight major wins in 2000 and 2001, and Payne Stewart's par putt to win the U.S. Open at Pinehurst. In 2005, Blaine received the Northwest Golf Media Association's Distinguished Service Award. He and his wife, Joanna, live in Indianola, Wash., where the Dungeness crabs outnumber the people.