Water, Sun, Sand & Tough Golf in Cancun
By: Rob Duca
Mexico is not often on the short list these days for vacation destinations. While the country offers miles of white, sandy beaches along the warm, turquoise Caribbean waters and ample activities such as golf, water sports, snorkeling and a wide variety of nightlife and dining options, safety concerns have caused some people to look elsewhere when planning their winter retreats.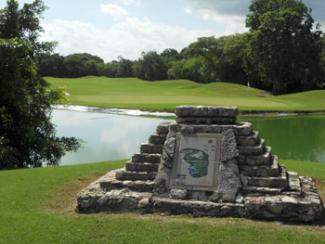 The 12th Tee at the Testy Playacar Course
Overlooks the 11th Green
But those worries felt exaggerated during a trip to Cancun in November when I stayed at the sprawling Moon Palace Golf & Spa Resort and the extravagant Le Blanc Spa Resort. While there was the occasional disconcerting sighting of rifle-toting police, there was never a fear of being in peril - with the possible exception of my visit to the 5th Avenue shopping district, where the constant prodding of shop owners to purchase their goods sent me scurrying back to the sanctity of the resort.

During that five-day stay I played four courses owned and operated by the Palace Resorts chain, beginning with the relatively benign Moon Palace Spa and Golf Club and ending with the almost sadistic Robert Von Hagge-designed Playacar Golf Club. In between, I tackled the intriguing Jack Nicklaus Signature course at Riviera Cancun.
The oceanfront Moon Palace Resort is 45 minutes from downtown Cancun, and there's not much reason to leave the gated community after arrival. Once the hospital-type bracelet is attached to your wrist upon check-in - yes, you must wear it at all times - you're free to eat and drink without ever having to take money out of your wallet. There are 2,500 rooms in three hotels/villas, seven outdoor pools, six swim-up bars, two fitness centers, a disco, a spa, 15 restaurants and 16 bars/lounges on the property. Where you stay depends on your choice of atmosphere. Nizuc is party-central; Sunrise is geared toward families; and Moon Grand attracts couples.

We shifted to the posh Le Blanc Spa Resort 15 minutes from downtown Cancun for the final two days. After my private butler escorted me to my room (including a spacious hot tub) and offered a menu of in-room aromatherapy, bath salts and specialty pillows, I stepped onto a balcony to gaze down upon two infinity pools that led to the beach and the glistening waters of the Caribbean. One could grow accustomed to this. As with all Palace Resorts properties, Le Blanc is all-inclusive. So off came one wristband, on went another.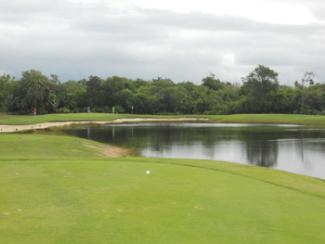 Water Enters Play on Seven of the Nine
holes at the Jungle Course
Moon Palace Spa & Golf Club

Day One of golf began at Moon Palace Spa & Golf Club, which is split into three nine-hole Nicklaus-designed layouts: the Jungle, Lakes and Dunes. Although each is significantly diverse, all three feature crocodiles, iguana and a wide variety of birds.

The Jungle, where water comes into play on seven of nine holes, should probably be renamed the Lakes. Natural vegetation, wetlands and a lack of private housing certainly give the layout an ambiance of isolation. At 3,599 yards from the championship tees, with two par-4s measuring more than 430 yards and a 226-yard par-3, the Jungle certainly has length.

But it's a more merciful nine holes than the Dunes, which features a severe stretch beginning at No. 3 that is capable of ruining anyone's scorecard. The third hole is an unforgiving, uphill 229-yard par-3, with water to the right, a deep bunker left and a back-to-front sloping green. It's followed by a 438-yard par-4 with water along the left side off the tee and more water to be carried on the approach. The fifth hole? Only a 445-yard par-4, with water again down the left side of the fairway that wraps around the left side of the green. After a 536-yard par-5, the No. 2 handicap hole, an apparent breather arrives in the form of the 342-yard seventh. But beware, you must thread a needle off the tee to avoid bunkers right and left, and any long approach will find water.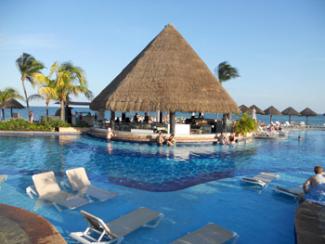 This Pool with a Swim-up Bar is
One of Six at Moon Palace Resort
A visit to the Lakes course the following day resulted in a series of blind tee shots and forced carries over water, but nothing overly stressful. More memorable was the "Jungle Tour Excursion" that our group of golf writers had signed up for later in the day. First, we strapped on life jackets. Then, we were strapped into our seats on a jet boat that reportedly traveled up to 90 mph. Lastly, we took a ride on the open ocean that was something like a roller-coaster on water, with unpredictable 180-degree turns that lifted the boat sideways and splashed salt water into our faces. It was white-water rafting on steroids.

And then it was on to two-person jet skis for a 30-minute journey to a prime snorkeling area. After minimal instruction, our guide, who would ride ahead of the pack, told us to watch for his hand signals for when to go faster or slow down. He then sped off, and within seconds, I would have needed the Hubble Telescope to see his signals. The snorkeling was pleasant, but the journey back to shore along choppy waters was a harrowing experience. Memo to PR people: The writers must remain alive in order to later produce stories.
Rivera Cancun

Day 3 brought us to the Rivera Cancun course, where robust winds and challenging carries over water made for arduous conditions. Undulating fairways, silky, speedy greens, and an endless array of intriguing wildlife kept things appealing. Stretching out to over 7,060 yards, the course features lakes, mangroves and native palm trees and plays to a stiff 76.2 rating and 146 Slope. The signature 14th hole offers a magnificent view of the Caribbean Sea.
Playacar Spa and Golf Resort

Our final destination was the Playacar Spa and Golf Resort, located 35 minutes south of Cancun International Airport. We were told by employees at each of the previous courses that this would easily be the most testing layout we would encounter. They weren't exaggerating. Playacar is 7,144 yards of pure Von Hagge wickedness, with lakes, vegetation, bunkers, the odd crocodile sunning himself on a fallen tree, and old-fashioned elevation changes spelling trouble at every turn.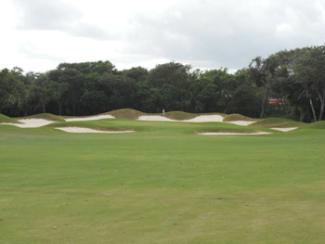 There's Plenty of Sand Awaiting at Playacar,
Whether on the Beach or Not
Forget a warm-up hole. The opener demanded a precise drive to a razor-thin fairway, followed by an approach that had be fitted through a narrow chute the size of a bowling alley. That was merely a prelude to the 600-yard par-5 second hole, the 318-yard par-4 ninth (with water everywhere) and the 444-yard, uphill, into the wind par-4 seventh, with four bunkers guarding an elevated green.

The finishing par-5 18th was equally memorable. The intriguing choice off the tee was to either play left for a shorter carry over water, but leaving a more difficult, longer second shot blocked by trees, or to play right, where you would bring the trees and water into the equation.

That's how my five days in Mexico came to an end, where the only fearing for my safety came on the golf course.
For more information about these courses, visit www.palaceresorts.com.

This story originally appeared in Cybergolf on December 29, 2011.
Rob Duca is an award-winning sports columnist who wrote for the Cape Cod Times for 25 years, covering golf, the Boston Red Sox, the Boston Celtics and the Boston Bruins. He is now managing editor of Golf & Leisure Cape Cod magazine and has written for a variety of other publications, including Sports Illustrated, the Boston Globe, Yankee magazine and Cape Cod Life.