Water, Water Everywhere
By: George Fuller
The churn and wash of the everlasting sea,
below a crowded, twinkling sky,
the verdant folds of velvet mountains
hidden by night but known close by.
This is the spell of Hanalei Bay,
the unsubtle charms of nighttime Kauai.

Hanalei Bay at Night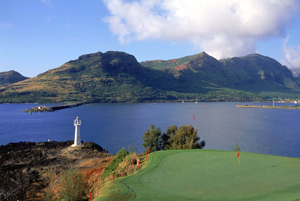 Kauai Lagoons Number 16
Have you ever had one of those thrilling dreams where you are flying and transported to a magical place? Where verdant mountains cut down to an azure sea; a warm wind carries the fragrance of sweet flowers; and water, water is everywhere? I did recently, only when I woke up, it was real. I was on Kauai.

The "Garden Isle," as Kauai is nicknamed, is as enchanting a place as there is, in Hawaii or anywhere in the world. Where land meets sea and is ringed by gentle beaches, her interior a heave of bright-green mountains with sharp, knife-like ridges, often capped with purplish-white clouds. Tall palm trees, thick vines and colorful blossoms line her roads. When we dream of things "tropical," it is Kauai that comes to mind.

The North Shore of the island is particularly scenic. Out here, where hikers embark on the Na Pali Coast's fabled Kalalau Trail, Hollywood has filmed dozens of movies requiring that perfect tropical locale. The most famous might still be "South Pacific" (1957), which first brought images of Lumahai Beach and Mount Makana (the conical mountain peak called Bali Hai in the film) to the world. But moviegoers have also seen Kauai's charms on the silver screen in such films as Elvis' "Blue Hawaii" (1961), "Six Days," "Seven Nights" (1998) and two of the three Jurassic Park incarnations (1993, 2001).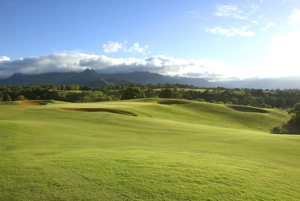 Prince Course
It's a Jungle Out There

Such a landscape also lends itself to unique and dramatic golf courses, and two of Hawaii's best are found at Princeville. Both the Prince Course and the Makai Course are Robert Trent Jones Jr. designs, with the Prince Course annually recognized as one of the top two courses in the state.

With a longtime home in nearby Hanalei, Jones Jr. considers Kauai a perfect landscape for golf. "Although everyone immediately recognizes the dramatic beauty of the ocean, Kauai also has spectacular inland views of the rugged mountain ranges," he says.

Both of his Princeville designs take full advantage of those views, and the recently renovated Makai (new grasses and bunker sand) remains a forgiving, resort-style layout, while Prince is still preferred by better golfers, as it has been since opening in 1991. Its resistance to scoring is found in many forms: forced carries from a number of tees, both grass and sand fairway bunkering, wind, hillside lies and fast, undulating greens . . . not to mention a fair share of rain (which is, of course, why Kauai is so green).
The Prince's demand for accuracy is nowhere more apparent than on its par-4 12th hole, where you are asked to smack a long and straight tee ball off a cliff with enough accuracy to land in the middle of a narrow, jungle-sided fairway 100 feet below - and then place a wedge shot over a stream and onto a green surrounded by tangled trouble. One half-expects genetically reinvigorated dinosaurs to charge from the jungle to complete the challenge of No. 12.

No. 13 asks for about the same, but with a narrower landing zone and a longer carry to a tougher green. A soothing waterfall backs the green here, though, so even the worries of a bad score (or an angry dinosaur) are soon washed over with beauty.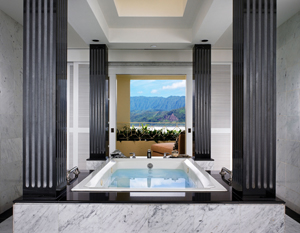 Regis Princeville Bathroom
Bath with a View

While the golf is superb at Princeville, it does not stand alone in its excellence. The 252-room St. Regis Princeville opened last October - the first St. Regis in Hawaii - and immediately took its place among the very best resorts in the Aloha State. Occupying the same footprint as the former Princeville Resort Kauai, St. Regis is perched on a bluff overlooking Hanalei Bay, with million-dollar views from every vantage point.

Entering the expansive lobby, the first thing one observes is a sweeping view of the bay and the green mountains behind. Original Polynesian-themed artwork graces the walls, koa wood furniture and woven-mat flooring accents add authentic Hawaiian touches, and a 40,000-piece, waterfall-inspired Murano glass chandelier hangs from the lobby ceiling.

Such elements successfully merge St. Regis elegance with local style. Guestrooms - and 51 premium suites - also bespeak well-crafted luxury. But it's difficult to take your eyes off the view, as from your bluff-top perspective you gaze out upon surfers in the bay, the town of Hanalei and the craggy splendor of the Na Pali Coast.
Even in the marble-lined bathrooms, the view is foremost. With the flick of a light switch a unique "privacy window" turns opaque to clear. When clear, guests are able enjoy the full visual impact of the magnificent setting while indulging in the pleasures of a wide soaking tub. A glass of champagne is suggested to accompany your bath.

A 10,000-square-foot spa and a signature restaurant by Jean-Georges Vongerichten are other noteworthy additions to the resort.
Garden of Earthly Delights

A short drive from Princeville leads to Hanalei, a laid-back North Shore village that serves as an adventure gateway for the Na Pali Coast. Outfitters can be found here to usher you on snorkeling trips, hikes, kayak expeditions, horseback rides and Zip Line thrill rides.

Even if you're not inclined to partake of a hike, drive north to where the highway ends and the Kalalau Trail begins. Several picturesque and oft-deserted beaches are found along the way - including Lumahai, of South Pacific fame - and a glimpse of Kauai's rural lifestyle await discovery.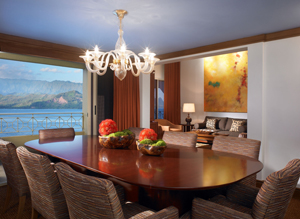 Bali Hai Suite - Princeville
On the opposite side of the island, from the south shore, a drive into Waimea Canyon - which no less a world traveler than Mark Twain dubbed "The Grand Canyon of the Pacific" - is rewarding, and there's plenty of water-oriented fun to be found at Poipu, which often ranks as one of the best beaches in Hawaii. Dining options are abundant around Poipu, too, with both Roy's and a new Merriman's dishing exquisite Hawaii Regional Cuisine, and longtime beachfront favorites Brennecke's Beach Broiler and the Beach House Restaurant providing perfect spots for a sunset and cocktails.

In addition to the two courses at Princeville, Kauai's golf offerings include Poipu Bay Resort, a windy, scenic course with several cliff-side holes, where the PGA Grand Slam of Golf was held for several years (Author's Note: Poipu Bay Resort is closing April 1 for the balance of 2010 to install Seashore Paspallum grass throughout); Kauai Lagoons, adjacent to the Kauai Marriott Resort & Beach Club, where a superior Jack Nicklaus design called Kiele has only 12 of its original holes open (plus six from the former Lagoons Course), but still has its signature 16th open for play; and Puakea, a fun daily-fee course in Lihue preferred by many local players, with rates under $100.

Kauai may be, as Robert Trent Jones Jr. says, a perfect island for golf. For everything else, it's just downright dreamy.
For more information, visit www.kauaidiscovery.com.

This story originally appeared in Cybergolf on February 9, 2009.
Award-winning publisher, editor, writer and photographer George Fuller has been covering golf travel and lifestyle for more than 30 years. His book and magazine assignments and projects have taken him throughout the United States, Canada, Europe, Asia, Polynesia and Mexico.

From 1992 to 1997 he was editor of LINKS-The Best of Golf, based in Hilton Head, S.C. In 2005, after having spent several years in the Pacific starting two magazines for Continental Micronesia Airlines and writing two books, Fuller launched GOLF LIVING Magazine for the Los Angeles Times, a "super-regional" magazine of travel, real estate and the lifestyle surrounding the game of golf. After a successful year of publication, he purchased GOLF LIVING from the newspaper and sold it to Media That Deelivers of Scottsdale, Ariz., with a contract to operate it for them.

In 2007, he launched TEE IT UP Magazine in partnership with the nationally syndicated radio show of the same name; and in 2009 he gained the contract to redesign and re-launch TEXAS GOLFER, a magazine with 25 years of history in the Lone Star State.

He has nine published books to his credit, the most recent being I Golf, Therefore I Am...Nuts! (2008, Human Kinetics Publishing). Others include Discover Hawaii's Best Golf (2001, Island Heritage Publishing) and California Golf: The Complete Guide, (11th edition, 2005, Avalon Books). He has contributed to many guidebooks, notably the Berlitz Travelers Guide, Birnbaum Guide, Citibank's Great Resorts of the World and several city editions of Guest Informant.

Fuller's newspapers and magazines credits include TIME, Wall Street Journal, San Francisco Chronicle, The Los Angeles Times, Robb Report, Coastal Living, Palm Springs Life, Estates West, GOLF Magazine, Golf Digest, Travel & Leisure Golf, LINKS, Successful Meetings, Honolulu and many others. He has reported for Reuters, United Press International (UPI), written for Copley News Service and is still a regular on-line travel correspondent for CBS Sports.com.

George Fuller is based in Newport Coast, Calif. He can be contacted directly at: gfuller@earthlink.net; 310/245-9550 (cell).