Wednesday Notes from PGA National & the Honda Classic
By: David Wood
One of the unique and appealing aspects of the PGA Tour is its Wednesday pro-am. You can't go to bat against C.C. Sabathia in Yankee Stadium or return serve against Roger Federer at Centre Court of Wimbledon or try to take Kobe Bryant to the hoop at Staples Arena. But today, at the Honda Classic, held at PGA National Resort & Spa, 200 amateurs with handicaps running the gamut got to tee to it up on the mighty Champion Course alongside the best golfers on the planet.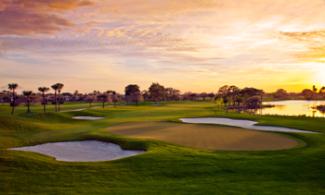 The 9th Green at the Champion Course
The "Kenny G Gold Pro-Am" started at 6:45 a.m. Tiger Woods and his four amateur partners teed off on the par-4 first hole with a few hundred caffeinated early-risers applauding the opening salvos. Of course, Tiger probably can't drop off his dry-cleaning without attracting a sizable crowd and, by the time his group reached the 18th, 2,000 or so fans were following his every move. The dude is box-office.

After his round Tiger praised the Champion Course, where he hadn't played since he was 14 years old in the final round of the PGA Junior Championship, saying, "It's in great shape," and, "I'm excited to play."

When asked about the difficult Bear Trap - Nos. 15, 16 and 17 - Tiger said, "The par-3s at 15 and 17 are the challenge. There's really no bail-out. You have to hit a good shot." It will be quite intriguing to watch him play on the day before the tournament starts for real Thursday morning.
One amateur thrilled to be playing the Champion Course in the pro-am was Will Bain - an IT exec from St. Louis, Mo. He won a free trip to the Honda Classic via a promotion co-sponsored by PGA National and retail giant Golf Galaxy. "This is a once-in-a-lifetime experience for me," said Bain. "It was a great surprise to win and I'm excited to be here." A nice guy with an unassuming smile, Bain did admit to being "a touch nervous." We wished him the best.
In addition to players like Woods, Rory McIlory and Rickie Fowler entertaining the crowds in the morning, the featured afternoon foursome had a wonderfully diverse combination of players: Greg Norman, Kenny G, LPGA teen sensation Lexi Thompson, New England Patriots' head coach Bill Belichick and NFL great Joe Theismann. How's that for an interesting group?
After a brief respite due to a rain shower, two things were immediately obvious when watching this group start its round. Number one is Kenny G is a flat-out excellent golfer. His swing is as sweet as his mesmerizing sax solos. He's one of the few celebrities whose golf handicap isn't one of vanity.
Number two is that 16-year-old Lexi Thompson is going to win a crazy number of tournaments. On the range her piercing shots had every bit the length and trajectory of the Tour players practicing next to her. It's the same feeling of watching a young Tiger Woods when he first burst onto the scene - this girl will really be something special.
Despite a downpour or two, it was another joyous day at the storied South Florida resort. There's no doubt Tiger has generated huge local interest in the proceedings, and the appreciative fans cheered on their golfing heroes throughout the day.
Afterwards, the spacious and comfortable hotel lobby teemed with people enjoying its hip iBAR as the room buzzed with excitement and good cheer. The "Florida Swing" of the PGA Tour is off and running in grand style.
Oh, did I mention that I got to see - in person - the young lady who will become the greatest woman golfer in history? Not bad for an outing in the middle of a work week.
In addition to writing on golf and travel, author and noted speaker David Wood has made several appearances on "Late Night with David Letterman" as well as dozens of other television shows. His book - "Around the World in 80 Rounds" - was just released in paperback on www.Amazon.com. Currently he works in public relations with Buffalo Communications in Vienna, Va. His website is www.DavidWoodSpeaking.com.