We-Ko-Pa Deals Golfers an Ace in the Desert
By: Rick Corcoran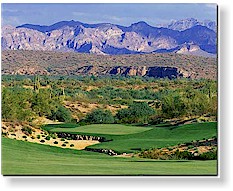 The course sprawls across tribal land, giving golfers the feeling a peaceful spirit is emanating from the desert. The quietness is such that the only sounds heard are the songs of native birds. This place is sweet music for the mind and the soul. It's We-Ko-Pa.
We-Ko-Pa Golf Club has opened to the public and is a force to be reckoned with in the upscale Phoenix/Scottsdale golf scene. The club, located just east of Scottsdale in Fountain Hills, is the Fort McDowell Yavapai Nation's stunning new golf course.
Architect Scott Miller has created a winner at We-Ko-Pa (the Yavapai pronunciation for "Four Peaks Mountain"). The layout stretches 7,225 yards from the tips, but has multiple tee boxes that cater to players of all abilities. Unlike many other courses in the area, you won't see many houses while you play We-Ko-Pa. You will, however, glimpse beautiful mountains and desert vistas from nearly every hole.
The arroyos and canyons of We-Ko-Pa are lined by natural mesquite, palo verde, saguaros, shrubbery and colorful desert vegetation. The course is open enough so high-handicappers won't get frustrated, yet makes the low handicapper carefully consider each shot. Though there's no out-of-bounds, the desert along fairways will penalize errant shotmakers.
Despite its newness, We-Ko-Pa looks and feels like a mature course. The fairways afford great lies and the greens are as smooth as butter. Other features include a couple of risk-reward holes that offer good birdie opportunities with well-placed drives. And the facility's stately clubhouse gives golfers a great place for post-round festivities.
With many years of experience in Arizona golf, director of golf Jeff Lessig runs a large and well-stocked pro shop, and Scottsdale-based OB Sports oversees the club's operations. Nearby activities include a casino where golfers can enjoy a game of chance. But if you're looking for a sure winner, play the course at We-Ko-Pa Golf Club.
For more information on We-Ko-Pa, call 480/836-9001 or click on www.wekopa.com.