Welcome to the Honor Roll, Laurie Hammer
By: Jay Flemma
When a young, tall, golden-haired Laurie Hammer roamed the fairways at PGA Tour events in the 1970s, every player marveled at his golf swing and all the women sighed dreamily. He was the PGA Tour's version of a blonde James Bond, but more Robert Redford than Daniel Craig.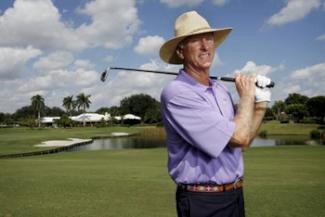 Laurie Hammer - A Great Friend of Golf
A dashing swashbuckler on the golf course and a debonair, genteel ambassador of the game off the course, Hammer's life has been that of a golf renaissance man: college All-American, PGA Tour event winner, National Club Pro Championship winner, founder of a venerable country club (Delray Dunes in Boynton Beach, Fla.), well-decorated PGA head professional and teaching pro, devoted family man . . . and overall a Great Friend of Golf. Hammer has dedicated his life to golf, and the game and it has loved him back just as much.

"He's our hero, our role model, our coach, and our mentor in life and in golf, which are parallel," said a smiling Gino "Que se dice!" Composto, the successor at Delray Dunes as the head professional following Hammer's stellar 41-year tenure. "The only thing that surpasses his ability as a teacher is what a great human being he is: always upbeat, smiling, positive and supportive, we couldn't have asked for a better head pro. Because of his guidance and example, many young pros and young players came here and moved on to bigger and better things."

"He's our family's prince and everyone else's as well," agreed his doting daughter-in-law Karen, who is married to Laurie's son Kevin and is mother to three of Laurie's grandchildren - Ella, Eva and rising golf superstar Alexa.
Indeed, the members of not only Delray Dunes but countless clubs across the Florida praise the humble and affable Hammer, who is graceful and grateful in return.

As a player he instilled fear in the hearts of competitors when his name rose atop the leaderboard. Paired with veteran pro Dave Stockton, the two won the 1967 Haig Scotch Foursome event, going without a bogey over 90 holes. Try playing Scotch foursome with your lunkhead buddies at Meatball Meadows and see if you can go just nine holes in a row without a bogey in that format, then you'll realize just how astounding a feat it was.

Meanwhile, off the course in his younger days, Hammer was Madison Avenue's dream. He'd appear on the front cover of countless golf magazines holding his perfect finish, steely gaze staring off at yet another laser-perfect shot. Then he'd appear on the back cover of the magazine as well, modeling golf shirts with a smile that made women's hearts skip beats from Bangor to Baja, Sarasota to Seattle.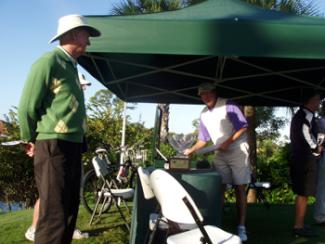 Laurie & Son Kevin Prepare to
Battle for the Golf Road Cup
As the '70s dawned, Hammer traded his visor for the wide-brimmed Panama hat of a teaching professional that has become his trademark. It was a better, more stable and peaceful life that he could enjoy with his wife Marlene and their children, including Kevin, a nationally-decorated amateur who has just as much of a square jaw, eagle eye, iron will and kind heart as his father. There's an old insult that goes, "They say genius skips a generation, so your kids should be brilliant," but the Hammer family proves that adage is flat-out wrong.

"Don't be too sure about that in Kevin's case," laughs family friend and fellow former pro Eoghan O'Connell. "It applies when he plays against me," jibing his friend as they have done back and forth over the years. But then the jokes stop and O'Connell likewise pays glowing tribute to the family that has been so dearly close to him for ages.

"Laurie has always been the classiest of class acts," 'Connell says. "Plus he built Delray Dunes with 'Murph' [former pro and NBC broadcaster Bob Murphy] and together they brought countless great players - pros and amateurs - to Delray, which has the distinction of being Pete Dye's first 18-hole golf course. They are the gold standard to which everyone and golf should strive to achieve."
Even after leaving the ranks of the touring pros, Hammer has talked the talk as a teacher, then walked the walk as a golfer, winning the 1977 PGA Club Pro Championship and representing the United States in the 1978 PGA Cup team. For over a decade he captained the Delray Dunes Golf Road Cup teams and, although he passed those reins this year to Gino and Anthony D'Angelo, he was everywhere at once, silently inspiring the rest of the team with his mere presence: the sight of him lifting the most quaking competitive heart, helping spur them to their upset victory and first title defense in club history.
Through it all, Hammer has led by example, yet all his success in golf and life came naturally with the class and humility that promote golf's altruistic virtues. Upon his retirement, no less a personage than former PGA Tour Commissioner Deane Beman gave a glowing tribute to the man who tended to two full generations of golfer's swings with the bedside manner of a gifted surgeon.
There are nine chief virtues in life: courage, honor, loyalty, wisdom, fortitude, temperance, justice, compassion and humility. That's what he brings to everyone he met, high and low, pauper or king, pro or 45-handicapper. So, "Welcome to the Honor Roll" Laurie Hammer - the place where we celebrate those who make everyone around them look good. And thanks for bringing the Sun with you wherever you go.


Since launching his first golf writing website in 2004, http://www.jayflemma.thegolfspace.com, Jay Flemma's comparative analysis of golf designs and knowledge of golf course architecture and golf travel have garnered wide industry respect. In researching his book on America's great public golf courses (and whether they're worth the money), Jay, an associate editor of Cybergolf, has played over 220 nationally ranked public golf courses in 37 different states. Jay has played about 1,649,000 yards of golf - or roughly 938 miles. His pieces on travel and architecture appear in Golf Observer (www.golfobserver.com), Cybergolf and other print magazines. When not researching golf courses for design, value and excitement, Jay is an entertainment, copyright, Internet and trademark lawyer and an Entertainment and Internet Law professor in Manhattan. His clients have been nominated for Grammy and Emmy awards, won a Sundance Film Festival Best Director award, performed on stage and screen, and designed pop art for museums and collectors. Jay lives in Forest Hills, N.Y., and is fiercely loyal to his alma maters, Deerfield Academy in Massachusetts and Trinity College in Connecticut.