Welsh Golf
By: Blaine Newnham
Celtic Manor, the sumptuous resort in Wales and home of the only course built specifically for the Ryder Cup, will be a superb venue for next month's showdown between the best professional players from the United States and Europe, a large sprawling layout with enough room for the spectators and risk-reward holes for the competition.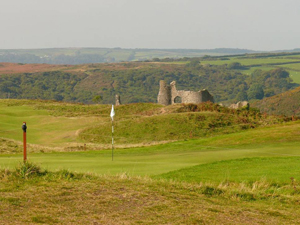 Pennard Golf Club
It should remind many of the site of the last Ryder Cup, Valhalla in Louisville, Ky., when the Americans prevailed, a bold but bucolic setting in the Usk Valley and nothing like the iconic links course of the British Isles.
Think about it. The only links-like course to host the Ryder Cup in the past 30 years was in America at Kiawah Island. The other irony here is that while the players play for pride, the promoters of the Ryder Cup are in it for the money, not the tradition. The Irish, finally given their chance to host the event in 2006, took it to the Arnold Palmer-designed K Club instead of Ballybunion or Portmarnock.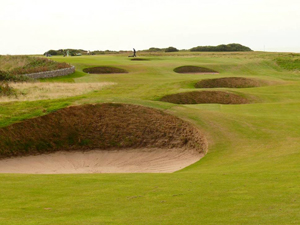 Royal Porthcawl Golf Club
And now the Welsh to Celtic Manor, a resort with three courses and countless restaurants, rooms and spas on nearly 1,400 acres. Wales, of course, bought the Ryder Cup, as did Ireland before it. More specifically, Sir Terry Matthews, the country's first billionaire, did the deed by pouring almost $200 million into the resort built on the property on which he was born.
Matthews, a telecommunications giant who made much of his money in Canada, was more than sentimental in selecting the site of his birth to build a resort that is barely a two-hour drive from Heathrow Airport and a stunning gateway to Wales. Wales is looking for worldwide recognition, an uptick in tourism for not only its golf but its castles and cathedrals, an appreciation for Wales like there is for Scotland, another UK member.
On a week's visit there I gained a great appreciation for Wales, not so much in the pampered world that is the Celtic Manor - though it was certainly nice - but in the links courses I played, and others that I would love to play.
"I know you Americans," said Roger Pride, the director of marketing for the Wales Assembly over dinner at the Celtic Manor, "and you will come for the links golf."
I think a very strong case can be made for broadening your every-couple-of-years trip to Europe. You've been to Ireland and Scotland. Now I'd do Wales, an interesting paradox for the golfer. Cheaper, less crowded venues in an area that has more folks and more things to do than the coastal reaches of Ireland and Scotland.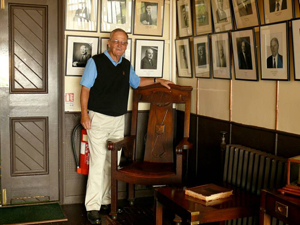 Author Blaine Newnham in Royal
Porthcawl's Clubhouse
Great seaside villages, great historical ruins, and great golf in a land that boasts of 750 miles of coastline, 641 castles, 11 million sheep and two languages.

For starters, there just isn't a more perfect links venue than Royal Porthcawl, with its losing-yourself-in-the-1800s clubhouse, with its unending views of the water, with its voracious fairway bunkers and its green complexes that haven't been messed with for 75 years and yet are as good as any modern architects like David McLay Kidd and Tom Doak can concoct.

Porthcawl just recently made the Top 100 Courses in the World list. The attention on the Ryder Cup will unquestionably help rediscover the Royal Porthcawl that vanquished Tiger Woods and the Americans in the 1995 Walker Cup.

There is everything old and noble about Porthcawl, but nothing stuffy. Or crowded. Or overpriced. There aren't the tour buses parked outside like there are at Ballybunion or Carnoustie. Green fees aren't $200. Didn't see a caddie or really seem to need one. Two ladies playing in front of us - both well into their 70s - walked briskly and used motorized push carts to carry their clubs.

When we were there last fall they were charging $138 for a round that included lunch afterwards in the wooden clubhouse that was shipped from England at the turn of the last century from where it had been used to house workers for Queen Victoria's Diamond Jubilee Exhibition.

The membership, in a recent vote, roundly rejected the notion that the clubhouse was too small, too antique and needed to be replaced. Good for the membership.

The winds were benign the day we played, but the course was still difficult enough, so firm and fast that distance was never the factor imagination and execution were.

The beauty of Wales is that Royal Porthcawl isn't some isolated golf paradise along a lonely coast, but rather the crown jewel in a half dozen quirky links courses along a 75- mile stretch of motorway.

We stayed at the St. Brides Spa and Hotel in Saundersfoot with small balconies overlooking the harbor which has one of the largest tidal surges in the world. Like almost 50 feet. There are too many B&Bs in the area to mention. You could bed and breakfast for a week and play as much links golf as you wanted. And never drive much more than an hour. Still, for reference, an interesting B&B grouping and boutique hotels is cleverly called Welsh Rarebits.

While no other course in the south of Wales has the pedigree of Royal Portchawl, the area is teeming with courses that are at least as charming, if not majestic. Tenby is played along the Irish Sea with views to a monastery and an island. Golf has been played here since 1875 and much of the original course was designed by James Braid.

Perched 200 yards above the sea with Pebble Beach views, Pennard is played with electric fences around the greens to protect them from grazing cows, and Southerndown is dependent on sheep to keep the rough in check.

There are others the locals swear by. They are quick to say if you like Tenby, then you'll like Pyle & Kenfig, which is right next door to Royal Porthcawl, and, of course, the venerable Ashburnham which the great Harry Vardon once called his favorite course in Wales.

Drive farther north and you can play Royal St. David's in the shadow of Harlech castle where Merlin the magician did his thing. And Aberdovey, and even Nefyn and District, Wales answer to Old Head in Ireland. At less than $75 a round.

Another course worth consideration is a new one, Machynys Penninsula, a Jack Nicklaus-design that demonstrates how a links course has been carved out of reclaimed marshlands.

As for the cluster of courses around Cardiff, all come with credentials. Tenby holds the Irish Amateur and is an inspiring if ragged test of golf, blind shots around dunes on one hole, views of the Irish sea on another, families walking through the course to the beach, a small commuter train rumbling along just out of bounds, and the local militia firing guns at an adjoining rifle range.

Southerndown sits high above Porthcawl and is a long, tough test that stretched over 7,000 yards when St. Andrews was 6,300 yards. James Finegan, the American who has written extensively about golf in Ireland and the UK, said there is no course he would rather plan than Pennard.

"Pennard," Finegan wrote in his book 'All Courses Great and Small,' "is a very great course, in my experience one of the twenty greatest in the world. How many well-formed American golfers are aware of this? Very few indeed."

It is pure links even though it is well above the sea. The holes are strong and long. The seventh is played between the rubble of an ancient castle on one side, and church on the other. As for getting nose-to-nose with the local ambiance, a local rule enables you to lift, clean and place if your ball plops in a cow pie, but if it is your feet that find themselves in peril, well, tough sliding.

The Tenby-type courses, my favorites, are in the $75 range. Clearly, good, if antiquated golf in Wales is less expensive than it is in Scotland or Ireland, and should stay that way even with the attention of the Ryder Cup.

Ireland jacked up golf rates in 2006 because it could, and because the Ryder Cup was played there at the K Club. "What we learned is not to make the Irish mistake of pricing ourselves out of the market chasing American dollars," said Jonathon Jones, director of tourism and marketing.

As part of the United Kingdom, Wales is a country that votes to spend its own tax monies, that proudly has its children learning the Welsh language in school, that has a love affair with rugby, not soccer, and whose road signs are in two languages.

Many of the country's 3 million inhabits live in the south, 300,000 in Cardiff, once a coal-shipping town and now a university city. The Welsh contend we know less about them than we do the Irish or the Scots or the English because there wasn't the huge emigration to America in the 1800s there was from the other countries.

Coal meant jobs, a reason to stay rather than leave. Now, for a few days anyway, the sporting world will focus on the bucolic beauty of Wales and the Celtic Manor even if it isn't aware that a more charming and satisfying golf lies a few kilometers away.

The Ryder Cup will be in Scotland in 2014 (at Gleneagles) and then on the continent in 2018. Portugal, Spain, Holland, France and Sweden are bidding for it. It probably won't return to Wales, but I'll bet a lot of accidental tourists will. As they say in their brochures, golf in Wales is golf as it was meant to be played.
Blaine Newnham has covered golf for 50 years. He still cherishes the memory of following Ben Hogan for 18 holes during the first round of the 1966 U.S. Open at the Olympic Club in San Francisco. He worked then for the Oakland Tribune, where he covered the Oakland Raiders during the first three seasons of head coach John Madden. Blaine moved on to Eugene, Ore., in 1971 as sports editor and columnist, covering the 1972 Olympic Games in Munich. He covered five Olympics all together - Mexico City, Munich, Los Angeles, Seoul, and Athens - before retiring in early 2005 from the Seattle Times. He covered his first Masters in 1987 when Larry Mize chipped in to beat Greg Norman, and his last in 2005 when Tiger Woods chip dramatically teetered on the lip at No. 16 and rolled in. He saw Woods' four straight major wins in 2000 and 2001, and Payne Stewart's birdie putt to win the U.S. Open at Pinehurst. Blaine now plays golf at Wing Point Golf and Country Club on Bainbridge Island, Wash., where his current index is 12.6. In 2005, Blaine received the Northwest Golf Media Association's Distinguished Service Award. He and his wife, Joanna, live in Indianola, Wash., where the Dungeness crabs outnumber the people.