West Country to West Palm Beach
By: Tony Dear
Young guns Luke Donald, Paul Casey and Justin Rose get all the headlines. But there's another 20-something Englishman you may never have heard of who's started making some news of his own. Step up Portishead's John Edward Morgan.
Vijay Singh stood on the 16th tee of the Magnolia Course at Lake Buena Vista in Florida during a practice round for the 2003 Funai Classic and waited for John Morgan to catch up to him. With a reputation for offering assistance to young, struggling tour pros, Singh invited Morgan to join him and, after a few introductions, the pair got on famously.
Morgan, a big guy at 6 foot 2 inches and 200-plus pounds, was soon knocking it past the Fijian and new world No. 1 who, drolly and with typical poker-faced gravity, complimented his playing partner. "Looks good John," he said, before adding, "a lot better than your hair."
Dyed blue, Morgan's shocking locks were the result of a bet he had lost to Les Garland, co-founder of MTV, at La Gorce Country Club in Miami Beach. "I met Les and Keith Askins, the assistant coach of the Miami Heat basketball team, on the practice ground and joined them for a game," Morgan remembers. "I gave Les 13 shots and, of course, he had the best round of his life. Shot 77. I would have had to shoot 64 to even tie with him."
That a young pro halfway through his rookie year on the PGA Tour would enter into such a bet – let alone risk antagonizing notoriously straight-laced tour officials by going through with the consequences should he lose it (Henry Hughes, the tour's senior vice-president, did indeed have words) – says a lot about Morgan's character and helps explain why Singh took an instant liking to the man they call "Mogsy."
To be honest though, it really isn't difficult to like John Morgan. Modest, unassuming and extremely approachable, his interview manner belies the bulldog passion with which he plays the game. His accent is more Farmer Giles than chic West Palm Beach, where he is currently looking for a house. Though respectful of authority, he is sufficiently unimpressed with protocol to allow any golf tournament, irrespective of how staid and starched its organizers are, inhibit his desire to express himself. Fans who saw Morgan at this year's John Deere Classic, where he fist-pumped and high-fived the gallery en route to four birdies in the last five holes and an eventual runner-up finish, will know exactly what I'm talking about.
On a circuit where sycophantic compliance with tour boss Tim Finchem's plans for world domination is expected, and far more often than not given, Morgan is a giddy breath of pungent West Country air. While his golf game says Pebble Beach, TPC of Sawgrass, Cog Hill and all the Tour's other venerable venues, his ill-positioned baseball cap (backwards), occasionally wayward hair and unsophisticated approach to the game says Bootle Municipal.
"He's so ungroomed," says Eddie Hearn, Barry Hearn's son and Morgan's manager. "You wouldn't think he belonged out there to look at him. I don't think he even used yardage planners until he got to the PGA Tour."
So how did this working-class dock worker's son, a dyslexic who now also endures two or three epileptic seizures a year, come to be house-hunting in Florida and wrestling with Singh, Woods, Mickelson and the rest of them for million dollar cheques anyway? Fortunately, the story isn't a long one. How could it be? Morgan only turned professional two and half years ago after a largely frustrating amateur career in which, it's been said, he never really received the attention he deserved from England or Walker Cup selectors. The man himself tells a different story, however. "I wasn't really good enough and, to be honest, I never really had the drive."

After taking the leap into the pro ranks, Morgan soon realized that apathy wouldn't put much bread on his table, and his game necessarily stepped up a notch or three. Impressive early showings on the Europro Tour and a quiet word to the powers-that-be from Hearn helped him move up to the Challenge Tour where he immediately shone. A tie for second behind Alex Cejka at the Kaufhof Pokal Challenge in Germany was soon followed by a win in the Charles Church Challenge Tour Championship (say that five times after a few pints) at Bowood in Wiltshire, a major breakthrough that saw him finish the year eighth on the money list, thus ensuring his place on the 2003 European Tour.

But Eddie Hearn, clearly a chip off the old block, who like his father knows a good opportunity when he sees one, had other ideas. With his client playing so well, Hearn suggested Morgan try qualifying for the PGA Tour. The response, "Yeah whatever, sounds good, I'll try anything once," was typical Morgan.

Amazingly, without ever having stepped foot in America and with only six months' experience as a professional golfer behind him, Morgan survived three stages, 14 rounds and what many participants regard as the most intense pressure of any golf tournament in the world to earn his PGA Tour card at La Quinta in California. Between April and December he'd gone from playing for peanuts against assistant club pros to securing his ticket on golf's most glamorous gravy train.

"It all happened a bit quick," says Morgan, understating the case somewhat. "It's been a bit of a blur but I'm loving every minute of it."

Remarkably, Morgan even managed three top-tens from his 29 events in 2003, including fifth-place finishes at the BC Open and Chrysler Classic. The $422,917 he banked was good enough for 141st on the money list and a handful of starts in 2004. It wasn't a Tiger-like rookie year by any means, but it was nothing to be ashamed of either.

This year, inconsistency has dogged Morgan and bruising a few ribs during a seizure en route to Reno in August hasn't help his efforts to establish himself in America. But his stats, most notably his driving accuracy and putting, are on the up and, of course, he had that momentous second-place finish in Illinois after rounds of 66, 68, 69 and 65.

"That was the best experience of my life," Morgan says about the John Deere. "I got so excited and the crowd was fantastic, they were loving it. I was totally in my element. Afterwards the people were so kind and said so many nice things. Even Tiger came up to me at the Deutsche Bank tournament and said I looked the business."

The fear now is that that performance was a one-off, the one good tournament every golfer has in him somewhere and which only occurs when conditions – external and internal – are in perfect harmony. Morgan politely quashes the suggestion. "I honestly don't think that's the case. I played to my potential at John Deere, not above it, and feel I can play like that far more often."

To do that Morgan has a lot of work ahead of him, in the gym more so than on the range perhaps. "I have to get a lot fitter," he says. "The guys out here these days are athletes who push themselves very hard physically and I've never been like that. I work on flexibility with Vijay's trainer Joey Diovisalvi, but not that often. I need to improve everything really so my body can heal itself quicker after injuries I pick up during seizures. And I need to have more stamina, like Vijay. Seems he plays every week."

As for his swing, coach George Ryall, a teaching pro at Clevedon Golf Centre in Somerset and a former European Tour player, says there really isn't much to work on. "He has a very tidy action and keeps it very simple. He's not at all technically minded. All I have to do is make sure he doesn't get into any bad habits."

With almost monthly trips from his U.K. base to see John in the U.S., Ryall believes those bad habits can and will be avoided and that Morgan will soon be collecting his first PGA Tour trophy. "I said when he first went over there that I thought he would win within three years. He has very big goals: Ryder Cups, major championships that sort of thing. He definitely needs to work on his consistency but he's very determined and he loves a challenge."

Obviously, the first challenge Morgan has to overcome, besides loneliness ("the only thing I don't like about the PGA Tour is the lack of camaraderie. There's more of an individualistic mentality here so it's difficult to make any mates"), is working his way into the top 120 on the money list in order to regain the fully exempt status he needs if he is to improve his world ranking and thus qualify for the majors.

I, for one, certainly hope he does it. The sometimes drab PGA Tour needs people like John Morgan to give it some color now and again. Actually, golf needs more people like John Morgan . . . heck, the world needs more people like John Morgan.

John E. Morgan Fact File

Born: December 19th 1977
Residence: Family home in Portishead, looking for a new pad in West Palm Beach, Florida
Handicap before turning pro: +3
Interests: Football, music (spends a lot of his money on signed music memorabilia – guitars, albums, gold discs etc)
Favorite bands: Beatles, Rolling Stones, Led Zeppelin, Guns 'n Roses, Doors, John Lennon.
Supports: "I like Manchester United, Arsenal, Chelsea, anybody who plays good football really. And Bristol Rovers and Bristol City, of course."
Marital status: Single. "I wouldn't say I was one of the world's most eligible bachelors. I'd like to have a relationship like Justin Rose has with his girlfriend, Kate. They seem perfect for each other and she must be such a positive influence on him."
PGA Tour record (through October 2004): 42 tournaments, four top-10s, six top-25s, 23 missed cuts (up to 2004 Canadian Open)
Career Money on PGA Tour: $909,949 (up to 2004 Canadian Open)
Nationwide Tour (2004): six tournaments, three cuts, one top-25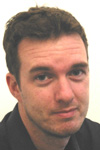 Tony Dear has been writing about golf for 11 years. A former assistant club pro from Sussex, England, Tony started out as a freelancer in 1992 before taking a staff writer's job at Fore!, a magazine based in Peterborough. As the magazine's chief instruction writer, it was Tony's job to compose instructional articles aimed at a youngish readership whose letters to the editor suggested they often got confused by technical jargon and theory. Tony bought his simple approach to teaching golf to the magazine, helping boost sales by 10,000 issues. As a result, he was nominated within the company and nationally for Young Writer of the Year awards.

From there, Tony moved 20 yards across the Emap UK office to join Today's Golfer. There, he was soon promoted to a senior editorial position, focusing on equipment, and became a significant part of a team that saw sales figures double within the magazine's first 12 months.

After three years at Emap UK, Tony was dragged kicking and screaming across the Atlantic by his American wife ("not really, I love it over here") and, after short spells in Phoenix and Denver, wound up in Seattle in May 2003. He recently moved to Bellingham in the far northwest corner of the far Northwest of the U.S. and became a father to a son on whom he has already staked £5 for the 2029 Open Championship. At present, he is freelancing for a number of print and online publications back in England including Today's Golfer, Golf World, Bogey, The Open Championship Magazine and Casino.com. He is also a contributing editor for Denver-based Colorado AvidGolfer.

Recent features include a look at Colorado's self proclaimed 'links' courses, an interview with Suzy Whaley, with whom he played nine holes ("and got soundly thrashed") and a 64-page instruction supplement for Today's Golfer.

Tony has authored three books in the last five years and been nominated for several specialist and young writers awards. "Although I've never actually won one," he admits. He is a member of the Northwest Golf Media Association and the Golf Travel Writers Association based in London.