West Seattle Golf Course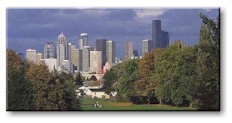 Designed by Chandler Egan, the same fellow who was responsible for the redesign of Pebble Beach Golf Links early in the last century, West Seattle Golf Course is a dandy 18-hole layout that opened in 1940. In recent years it has undergone several improvements, including an all-new irrigation system and overall upgrades to its tees and greens.

The course stretches over 6,600 yards from the back tees. Besides being sneaky long, West Seattle winds over and alongside the crest of a hill, proffering many ungainly, sidehill lies. In addition, a couple dozen sand traps engird the greens, most of which are small and slick. From some of the course's higher points are lovely northward vistas of downtown Seattle as well as the Cascade Mountains to the east.
Besides a golf course that warrants a 118 slope rating from the tips, West Seattle contains a full-service clubhouse and well-stocked pro shop. The course is readily accessibly off Interstate 5 when taking the West Seattle Bridge. For more information or a tee time, call 206/935-5187 or go online at www.westseattlegolf.com