Westchester CC's Buckley & Christiana Survive Closing Double-Bogey to Win 77th Anderson Memorial at Winged Foot
By: Jay Flemma
For 17 holes the final round of the 77th Anderson Memorial amateur four-ball tournament at Winged Foot was everything promised - an old-fashioned donnybrook between two of the best teams in amateur golf trading uppercuts, haymakers and roundhouses like the champion prizefighters they are.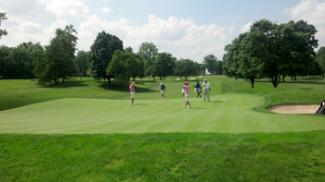 The Maxes Thought they Blew It, No Wait!
And then on the 18th green everyone turned into my old Aunt Sally.

Max Buckley and Max Christiana of Westchester Country Club, who held a one-shot lead on the 18th tee over the father-and-son team of Steve and Scott Smyers, won despite carding a ghastly three-putt double-bogey on the 18th hole.

"Wait a minute!" you may ask yourself. "How did they win when they had a one-shot lead, then double-bogeyed??!! That means the Smyerses must have both made at least six as well . . . "

Worse, actually. Scott Smyers, first-team college All-American and a member of the Division II National Champion Barry University Buccaneers, five-putted the final green from 25 feet for a triple-bogey seven - including four soul-stripping shots from five feet or less to fumble away the title after the Maxes also made a hash job of the hole, taking double-bogey after three-putting from three feet. Steve Smyers was already in pocket after taking three to get to the greenside bunker, then having his recovery shot fail to get up the false front of the green and roll 30 yards back down the fairway.

It was a startling ending to an otherwise sublime weekend of golf and camaraderie. Rain had changed both the format of the weekend to medal play from its normal 16-team match-play bracket and the nature of the golf course as well. With the course shortened to 6,700 yards Saturday, many teams made a move deep into red figures with mid-60s rounds, including multiple defending champions Dan Crockett and Parker Smith, who finished tied for second. The best round of all though was the sparkling 63 the Smyerses posted to take a two-shot lead into the final 18 holes.

There's a silver lining for you, by the way. Scott and Steve, no matter what the final scoreboard reads, you'll forever be able to say you shot 63 at Winged Foot West.

But you don't shoot 63 at Winged Foot under normal conditions, and with a day to dry out and the tees moved back to 7,200 the slumbering dragon awoke and breathed fire in the final round. The West Course played an average of six shots harder, and hardly anyone saw red numbers.
The Smyerses started the day with a two-shot lead over the Maxes and, playing together in the last group, the two teams separated themselves from the pack over the front nine. Christiana and Buckley finally took their first lead of the tournament at the long par-3 13th. Buckley's 5-iron on the 223 yard hole drew ever so slightly toward the dangerously tucked pin, before landing softly and drifting its way to a cozy five feet from the cup.

"That was big, but my partner's par save in 15 was even bigger," said Buckley. "He made such a clutch 30-foot putt. It not only turned bogey or double-bogey into a par, it kept us in the lead."

Clutch indeed, and almost as comical as the hockey game that broke out on the 18th green a few minutes later. Christiana's approach failed to get to the top level of the severely sloped green and settled 80 feet away on the wrong tier. His first putt also didn't make it up the hill and came halfway back to his feet. His next putt finally did crest the hill, and then rolled back down a second hill before turning sharply left and tumbling into the hole. It was an "Are you kidding me?" moment.

"I had no business making that," Christiana sheepishly admitted.

As an aside, the par-3s were a key to Buckley and Christiana's victory, the first ever at the Anderson by a team from Westchester Country Club. They birdied both three and 13, two of the hardest holes on the course in strokes to par ratio.
As to the tragic-comedy on the 18th green, it reminded one of the end of the 2001 U.S. Open at Southern Hills, where first Stewart Cink three-putted from 2½ feet, then Retief Goosen did exactly the same thing to fall into a tie with Mark Brooks, who missed a shorty of his own that would have won it for him outright.

The same thing happened at Winged Foot Sunday. Guys kept handing the trophy to the other team, who dropped it right back on the ground. You'd have thought Rangers' goalie Henrik Lundqvist was guarding the hole with his hockey gear from the way they couldn't find the cup all of a sudden.

In Scott Smyers's defense, the hole was cut in an insidious position, just five feet past the edge of the false front. It's a "Superintendent's Revenge" sort of hole location. As he was well past the pin and above the hole, Smyers is actually lucky he didn't go down the false front and back down the fairway to where his dad's ball was. That makes the four more swipes from five feet or less all the more inexplicable, but that's Winged Foot for you. The inexplicable happens here with alarming frequency.

Further in the kid's defense is that he's in good company. I call Winged Foot the "Graveyard of Champions" for a good reason: only the greatest golfers in history get humbled by her. Look at the names she's brought to her their knees in humiliating fashion: Woods, Nicklaus, Palmer, Watson, Mickelson, Montgomerie, Norman, Harrington, Furyk, Hogan, Sarazen, Snead, the list is endless.

There are two places where all the Furies of the Golf Gods will come riding down on your head on their Steeds of Vengeance: One is Oakmont and the other is Winged Foot. Scott Smyers is a first-team All-American and a reigning national champion golfer. He is exactly the type of person you'd expect to get run over by the angry Golf Gods at Winged Foot . . . especially after posting a 63 the day before. So if you didn't see this coming, then you don't know the Golf Gods because they are mean and cruel. Five putts? With the title in the balance? That's the Golf Gods trampling you and then turning the Steeds of Vengeance around to come rumbling back for another pass while shouting, "Get him again!"

Meanwhile Dad Smyers was super-cool about it. After Scott putted out, Steve was smiling and putting his arm around him.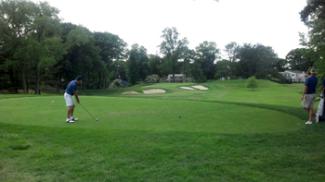 The Smyers Father-and-Son Team Had a Great Week
"I smiled because what else can you do at a moment like that," explained Steve, who has been around golf all his life. He's a prominent golf course architect and married to a former LPGA star. "I understand the pressures people sometimes put on their kids, but I understand that that pressure makes the game even tougher, so you have to take the highs with the lows."

"Wow. What a great dad," said golf fan Mike Zyzckowski, who observed the scene. "That's awesome. My dad would've yelled 'Five putts??!! What's wrong with you?!' "

But Steve Smyers is absolutely right. After all, golf is like life, it's a perfect microcosm of it, in fact. You have good days and bad days so you celebrate your victories, and you learn from your defeats, and then forget them. The best golfers have the shortest memories, like baseball pitchers or hockey goalies. And right on cue, there's the kid standing right beside his dad, smiling so broadly, you'd think he had a date with a supermodel in five minutes.

"I just got flustered. I thought it was over after I missed the first short one, so I rushed the rest," explained Scott. "It was a tough pin placement, but I did get flustered too. But Dad was so cool about it. He knows things happen in golf."

"The key is for Scott to recover," agreed Steve. "It was still a weekend we'll never forget. To come here to place with such history and get to play in tournament like this is a blessing. It's really special, a wonderful place and great tournament."

It is a great tournament. Winged Foot has always been a snapshot of Americana in all its grace and class - the Yankee Stadium of golf. The tournament is likewise the grandest example of a two man four-ball event.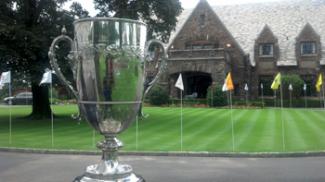 The Anderson Memorial Trophy
in Front oF Winged Foot's Clubhouse
"It's the greatest doubles match in golf," said Zyzckowski.

It is, and for the first time in its illustrious 77-year history, its champions will hail from Westchester Country Club. Max Buckley just graduated from Southern Methodist University, where had had a stellar college career, including a win at Ohio State's yearly tournament. Max Christiana just finished his sophomore year at Boston College. Both are Metropolitan Golf Association stars.

"This was the biggest win of my life," said Christiana. "My biggest before this was the Westchester junior club championship!"

"We're just so happy to get a chance to bring that trophy back to Westchester," echoed Buckley. "It means so much to us because of how much the members here love this tournament. It's so great just to get invited to play in this event, knowing how much it means to everyone at the club. But then to compete and get the chance to win and see our names up on the board where everyone is eating lunch . . . it's pretty special."

News, Notes & Quotes

Though the run of consecutive wins in the tournament is up, Parker Smith and Dan Crockett are still a defending champs of sorts. Smith has not lost this tournament in match-play format since 2009. He's 12-1 in Anderson match-play matches, including 12 consecutive victories. Partner Crockett is a perfect 8-0.
Since launching his first golf writing website in 2004, http://jayflemma.thegolfspace.com, Jay Flemma 's comparative analysis of golf designs and knowledge of golf course architecture and golf travel have garnered wide industry respect. In researching his book on America's great public golf courses (and whether they're worth the money), Jay, an associate editor of Cybergolf, has played over 420 nationally ranked public golf courses in 40 different states, and covered seven U.S. Opens and six PGA Championships, along with one trip to the Masters. A four-time award-winning sportswriter, Jay was called the best sports poet alive by both Sports Illustrated and NBC Sports writers and broadcasters. Jay has played about 3 million yards of golf - or close to 2,000 miles. His pieces on travel and architecture appear in Golf Observer (www.golfobserver.com), Cybergolf, PGA.com, Golf Magazine and other print magazines. When not researching golf courses for design, value and excitement, Jay is an entertainment, copyright, Internet and trademark lawyer and an Entertainment and Internet Law professor in Manhattan. His clients have been nominated for Grammy and Emmy awards, won a Sundance Film Festival Best Director award, performed on stage and screen, and designed pop art for museums and collectors. Jay lives in Forest Hills, N.Y., and is fiercely loyal to his alma maters, Deerfield Academy in Massachusetts and Trinity College in Connecticut.