Westmoor Renovations Wrapping Up for Winter
The architects at Lohmann Golf Designs, Inc. have completed their comprehensive renovation of Westmoor Country Club in suburban Milwaukee. When the course in Brookfield, Wis., will reopen in the spring of 2009, the innovations implemented by Lohmann Golf Designs, contractor TDI International and Westmoor superintendent Jerry Kershasky may well change the way upper Midwestern golf courses are renovated and maintained.
Lohmann Golf Designs (LGD) oversaw major green, tee and bunker upgrades. The bunkers are especially dramatic, sporting the deep, flat-bottomed, steep-faced style reminiscent of William Langford, who worked at Westmoor in the late 1950s.
LGD also regrassed all 18 putting surfaces with something relatively new to a climate this far north: A1 bentgrass, a premium turf whose extreme density helps it resist poa annua encroachment - the bane of superintendents across the upper Midwest. What's more, while 18 greens were regrassed, their drainage was enhanced before the fumigation and seeding process.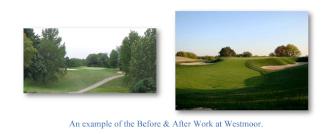 An example of the Before & After Work at Westmoor.
Only four greens were actually rebuilt from scratch; indeed, soil profiles were prepared on these new putting surfaces to replicate the other 14 greens, allowing consistent maintenance practices course wide. LGD's redesign at Westmoor also called for the removal of some 500 trees, an act that, contrary to some fears, actually increased its slope rating.
LGD principal Bob Lohmann and senior designer Todd Quitno have been working at Westmoor, side by side with superintendent Kershasky, since the early 1990s, when the club resolved to restore Langford's work and carry it throughout the course. Marengo, Ill.-based Lohmann Golf Designs - whose Langford renovation portfolio also includes West Bend and Ozaukee in Wisconsin, Happy Hollow in Nebraska, Ridgemoor in Chicago, and Minnehaha in South Dakota - managed to restore the bunkering on several of the original Langford holes, to great effect. But Lohmann's plans for the remaining holes stalled for various reasons.
Fast forward to 2007, and the decision to regrass the course. Poa annua infestations had made Westmoor's putting surfaces inconsistent, extremely difficult to maintain in the summer months and very susceptible to winter kill. The decision to go with A1 - based on success stories from clubs in nearby Chicago and recommendations by the USGA Green Section - convinced the club to finish the remaining green, tee, bunker and tree work.
In this climate, the fumigation and regrassing process requires an August 1 course closing. With that sort of scheduling mandate, LGD and the club resolved to equip the greens with enhanced drainage capability prior to August 1, and use the August 1 course-closing to renovate the remaining holes before the snow flew. The plan involved not only to resurrect Langford's "steep-'n-deep" bunkering, but to bring back his strategic angles at greenside and along fairways.
"Renovating around existing greens is an exciting challenge," said Quitno. "Of course, it would have been easier to blow up every hole and start from scratch, but that's not what the members were looking for. They like their golf course. So we worked hard to preserve Westmoor's character and still evoke the Langford spirit on those holes that were lacking. We rebuilt a couple of putting surfaces that had lost pin locations due to extreme slopes. Westmoor's greens have always run fast, and some were downright unfair. The new greens will still be fast, but the A1 will make them consistent and the Langford style we used will make them dramatic, but fair."
Quitno singled out the pond and putting-surface scheme planned for the 10th and 14th holes as examples of this creative balance. "The surface of the 10th green was re-contoured," he said, "and we raised the 14th putting surface about 3 feet and connected it with the 10th, creating a double green with a deep, Biarritz-like swale in between. We also expanded the ponds in front of each green and decorated the greenside banks with boulder walls [similar to those found elsewhere on the course]. It's a dramatic change and real interesting look."

LGD's master plan lengthens the course from 6,846 to something more than 7,050 yards from the tips. The drainage plan went even further, so to speak. This past spring, Stuart, Fla.-based XGD Drainage - a subsidiary of contractor TDI International - removed 2-inch strips of sod on each green before digging 15-inch drainage trenches spaced every 6 feet in a modified herringbone design. XGD then laid down 2-inch drainage tile and refilled the trenches with a 7:2:1 mix of sand, soil and peat - an attempt to match the greens' existing push-up soil profile. The sod was then re-laid and members played these greens up until August 1.

When the course was closed, the existing putting surfaces were killed via fumigation. Samples of the soil profiles underlying these greens were sent to a testing lab to determine their characteristics.

"This was an extremely important phase, because when this course reopens, we want all 18 greens - the four we rebuilt, and the 14 that weren't rebuilt but were regrassed - to be cared for in a reasonably identical manner," Quitno explained. "What the lab recommended was a 7:2:1 construction mix of topsoil, sand and peat, the same mix used for the XGD drainage backfill. It's a dirty mix, as they say, not a USGA mix. But it closely matched the existing profile and that's what we used on the four new greens.

"We had to go this extra mile because it made no sense to put the same grass on 18 greens that, underneath, didn't have the same soil profiles. Of course, we could have rebuilt all 18 greens, but that was a considerable expense. I think maybe the most important new information the Westmoor project will demonstrate is that clubs in this climate, and of this age, have viable alternatives to 'rebuilding' their greens."
For more information about LGD, call 815/923-3400 or visit www.lohmanncompanies.com.