What a Wanamaker - The Best of PGA Championship Venues
By: Jay Flemma
Kiawah Island's Ocean Course hosts its first professional stroke-play tournament this week, not just its first major, and only time will tell if it will become a staple of the PGA Championship's informal rotation.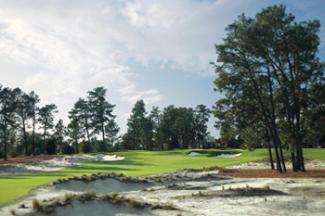 Pinehurst's New Coore & Crenshaw Look
(Photo Courtesy of Pinehurst)
Myriad factors are considered in selecting a venue to host one of the world's largest sporting events. Can the site fit everything needed to run the tournament? Is there room between holes to move spectators? Is there acreage around the course for large compounds such as TV, corporate and other necessary infrastructure? How can spectators get to the course? Are there ample hotels and a good airport? Then they look at geographic considerations, with the philosophy of wanting to move the tournament around to different parts of the country.

But, of course, the most important consideration is the quality of the course and whether it can be a fair but stern test of golf for the greatest players in the world.

"Since 1977 at Pebble Beach we have made an effort to visit the more traditional major championship venues - a few modern courses aside like Whistling Straits or Crooked Stick," explained PGA of America senior associate writer and golf historian Bob Denney. "We want to return as often as possible to old-style courses that emphasize shot-making."
"The PGA of America has done a great job of picking courses to host the tournament, especially lately," stated European Ryder Cup captain Jose Maria Olazabal. "The mix of old traditional clubs and a few modern courses makes it diverse and interesting."

Some venues have proven more successful than others. Clubs like Medinah and Atlanta Athletic Club have next to nothing to offer architecturally, but fit oodles of spectators and get the championship to the Southeast and to Chicago when it otherwise might pass them by. They seem to host majors almost by default. Other venues like Valhalla and Whistling Straits are ergonomically sound and logistically easy when it comes to staging the tournament.

But if we are talking about the quality of the golf course, some clubs stand head and shoulders above the rest. Let's examine the best PGA Championship venues and a few other interesting ones as well.
The Best of the Best

Oakmont Country Club - Unconquerable Oakmonster is one of the great ancient wonders of the American golf world. Big Bertha, the Church Pews, the Turnpike, and 109 years of unparalleled history: it's a living time capsule of golf Americana. Though it's best known for hosting six U.S. Opens, it has also seen three PGA Championships won by John Mahaffey, Sam Snead and Gene Sarazen. Nice crowd!

Oakland Hlls Country Club (South Course) - The only other American course to host nine major championships, Oakland Hills is best known as the birthplace of target golf - "double-target golf" actually, according to quintessential golf course architect Robert Trent Jones, Jr. Oakland Hills may have the best terrain of any major championship and that includes Augusta National. Granted, they should shave the rough and bring all the fairway contours back into play, but the routing and the greens are all but unequalled. Though it has hosted six U.S. Opens (and will host the 2016 U.S. Amateur, so expect another Open soon after that), it has also hosted three PGA Championships won by Gary Player, David Graham and Padraig Harrington. Again, that's stalwart company.
Winged Foot (West) - "The three best major championship venues are Winged Foot, Oakmont and Oakland Hills - hands down," said former PGA Tour star Jay Haas. "Winged Foot is my favorite, though." It's hard to argue. Besides hosting five U.S. Opens (most recently 2006), it also hosted the 1997 PGA won by Davis Love.

"It's a great design with a terrific finish," said Love. "Four tough par-4s in a row [to close], and all the greens there are fantastic designs, with humps and hollows where the ball can roll all over. It puts a premium on all facets of your game, especially the short game."

Pebble Beach Golf Links - It's a logistic nightmare to work a tournament there, but the air is like wine and the atmosphere and après golf are possibly the best of America's major venues save Augusta National. It also has a knack for great leaderboards and historic moments. Lanny Wadkins won the first sudden-death playoff in major championship history there in 1977 over Gene Littler.

Riviera Country Club - Why we haven't seen another major at Riviera is one of the great mysteries in golf. Every major championship held at Riviera has been epic. Hal Sutton held off Jack Nicklaus in a fierce battle in the 1983 PGA Championship. Between the befuddling kikuyu grass, arguably the best short par-4 in America at 10, and the L.A. glitterati, Riviera is a perfect venue for the PGA Championship. Plus the weather is far more seasonable than the humid Northeast, steamy South, or blast-furnace Midwest.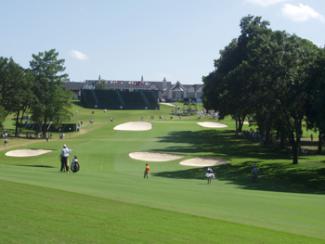 Southern Hills' 18th
Insider Picks

Bob Denney - "Siwanoy - the host of the first PGA Championship in 1916. It's a terrific old club with a wonderful rustic feel. With its tight fairways it's shot-making at its best."

Jose Maria Olazabal - "Hazeltine National. "There is great balance to the course, it's strong from start to finish and the last few holes are especially good. There are enough undulations in the greens to make them interesting and they are well protected."

Robert Trent Jones, Jr. - "Baltusrol. I grew up there, I competed in tournaments there, it has a fantastic finish with the back-to-back par-5s, and my dad did some redesign and restoration work there. It's not a second home to me, it's my first home. Also, Phil Mickelson won there. Besides, it's warm in August, but not so hot you can't play like at courses in the Midwest or Southeast. It doesn't get up to a thousand degrees in New Jersey in the summer."

Golf Channel's Tim Rosaforte - "Whistling Straits. They had two terrific, exciting tournaments. They both ended in playoffs, and it's visually spectacular."

Golf architect Bill Coore of Coore & Crenshaw Design - "Pinehurst, but I'm prejudiced because I grew up in North Carolina, and its an integral part of my education in golf course architecture. It's my favorite, but remember: I haven't seen all of the PGA Championship venues, and there are so many great ones. They cut across such a wide spectrum of classic and modern, certainly many more courses than the other majors and probably more newer courses as well. I wish I could say I've seen a lot of them. But the Ocean Course looks fantastic too."

Geoff Ogilvy - "Southern Hills. It's the best course I've played for the PGA. Despite the fact that the weather is so absurd, it's a great course. You have to move it both ways, they set it up sensibly, single digits under par won and only 10 or so guys finished under par in the whole field. Plus the best player in the world - maybe the best in history - had a chance for a 62. It was set up great that week. If I could pick one course to host a future PGA - and I know this is impossible - but if I could pick one to play, I'd choose Pasatiempo. We never play a PGA on the West Coast, yet the weather is great in summer, 72 degrees, and it could be prime time for the East Coast. A great old Mackenzie course like that: how much fun would that be?"

Sports Illustrated writer John Garrity - "I really like Oak Hill [site of next year's PGA Championship.] "It's an excellent expression of the classic major championship course. It has elevation change, it has stately old trees and great history."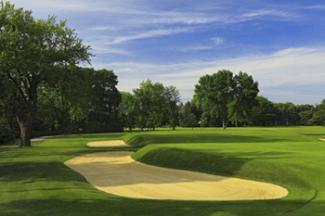 Blue Mound's Wonderful Biarritz
(Photo Courtesy of Blue Mound G&CC)
Other Interesting Host Clubs

Blue Mound - This Seth Raynor design, which held the PGA in 1933 while it was a match-play event (won by Gene Sarazen), has all the great template holes you'd find at National Golf Links of America, such as a "Biarritz" at No. 3, a "Short" at No. 7, a two-shot Redan to open the round, a "Road" hole at 14, and an Alps at No. 4. It was also the first club in Wisconsin to ever host a major championship. Tom Doak and his team are working on a restoration project for the club right now.

"It's a great match play course because it requires exacting approach shots and a great short game," observed PGA Head Professional Barry Linhart. "It's wide and forgiving off the tee, but the green complexes and bunkering require precision to score well. The adventure only begins when you get to the greens, and fortunes can swing from shot to shot on every hole."

Pinehurst No. 2 - Surprise! Pat yourself on the back if you knew Pinehurst No. 2 hosted a PGA, the 1936 PGA won by Denny Shute. "That's another of my favorite PGA Championship venues," added Denney. "It has seen a lot of changes over the years, but Bill Coore and Ben Crenshaw are restoring it so it will play much closer to Donald Ross's original design and intent."

Stately and refined, Pinehurst has now hosted two U.S. Opens - one won by Tiger, the other by Michael Campbell (currently residing in the "Where are they now?" file) - and will host another in 2014 when we will see a more rustic, scruffy bunkering style and a complete absence of rough.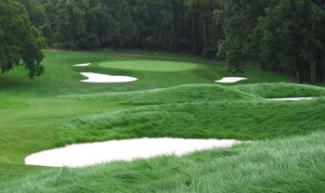 Baltimore CC's 8th
(Photo Courtesy of Chucky Cordova)
Baltimore Country Club (East Course) - "It's a Tillinghast course that gets overshadowed by his other major venues at Baltusrol, Winged Foot, and Bethpage Black, but it's charming, refined, and a great test of golf," said architecture junkie Chucky Cordova.

"I especially like the par-3s, which have great greens - with so many tiers and swales, they are almost more like Charles Blair Macdonald's greens. They look innocuous, but one mistake and you're royally screwed. Plus the "Great Hazard" par-5 at No. seven is a wonderful hole. I love aiming at the barn, and then playing through that great rolling terrain. In fact, it may have the best terrain of any Tillie course I've played."

[Author's Note: That's saying something. Chucky is quite the Tillie junkie . . .]
Did You Know?

The Ocean Course is the first venue to debut as a major championship venue since Torrey Pines for the 2008 U.S. Open. There are only two other courses this century that have hosted a major for the first time: Bethpage Black for the 2002 U.S. Open; and Whistling Straits for the 2004 PGA Championship. But we are rather early in this century . . .
Since launching his first golf writing website in 2004, http://jayflemma.thegolfspace.com, Jay Flemma 's comparative analysis of golf designs and knowledge of golf course architecture and golf travel have garnered wide industry respect. In researching his book on America's great public golf courses (and whether they're worth the money), Jay, an associate editor of Cybergolf, has played over 420 nationally ranked public golf courses in 40 different states, and covered seven U.S. Opens and six PGA Championships, along with one trip to the Masters. A four-time award-winning sportswriter, Jay was called the best sports poet alive by both Sports Illustrated and NBC Sports writers and broadcasters. Jay has played about 3 million yards of golf - or close to 2,000 miles. His pieces on travel and architecture appear in Golf Observer (www.golfobserver.com), Cybergolf, PGA.com, Golf Magazine and other print magazines. When not researching golf courses for design, value and excitement, Jay is an entertainment, copyright, Internet and trademark lawyer and an Entertainment and Internet Law professor in Manhattan. His clients have been nominated for Grammy and Emmy awards, won a Sundance Film Festival Best Director award, performed on stage and screen, and designed pop art for museums and collectors. Jay lives in Forest Hills, N.Y., and is fiercely loyal to his alma maters, Deerfield Academy in Massachusetts and Trinity College in Connecticut.