What is This Guy, Some Kind of a Nut?
By: Bob Spiwak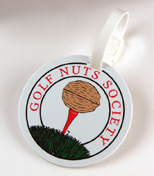 Football great Lawrence Taylor, No. 2270, played 36 holes on the day of a game. He was late for his Giants' football game because the group ahead of him was playing slow and he didn't want to quit before the round was over. 536 Points.

Barry O' Grady, No. 3020, was playing in his foursome on New Years Day. It was snowing, the temperature was 11 degrees F. and there was a foot and a half of snow on the ground. They used orange tennis balls. 518 points.

Mike Brands, No. 0774, played a round in Japan and was disappointed with the performance of his putter. He left it on the green with a note saying, "I am an orphan. I have been abandoned by my previous owner. If you promise to keep me and take care of me I will treat you right. Please do not make me go back to the U.S." 218 points.
What you have read above are a minute sample of the daily "Golf Nut of the Day" awardees that come email to me from Ron Garland of Bozeman, Mont. (after previous stops in Salt Lake City and the Pacific Northwest). When I contacted him Garland would not reveal his telephone number.
Garland is the founder of the Golf Nut Society of America, which was born in 1986. He is 58 now, a plus-1 handicap and owns a one-man sales and marketing company called Lone Wolf Marketing. "I hire myself out as a hired gun to companies needing sales assistance. Typically, I assist small technology startups ramp up sales, but I've worked with a variety of companies, technology and otherwise."
What follows is a verbatim email interview with Garland, The Head Nut.
BS: How old are you, where do you live, how many years have you golfed and what is your handicap?
RG: 58.
BS: What gave you the idea for GNSA?

RG: People kept telling me I was nuts; I needed to be reassured that I wasn't alone. Conclusion: I'm not the only one who's nuts.

BS: How did you begin it?

RG: I told good friend, Peter Moore, about my idea and asked him to create a logo of a walnut on a golf tee. He was creative director for Georgia Pacific for the time and went on to become creative director of a new, upstart company in Beaverton, Ore., called Nike; then became creative director of Adidas. I guess my logo launched his career.

BS: How long as it been in existence? How many members now?

RG: Since 1986. There are currently [May 2006] just over 4,000 members, all garnered through word of mouth. This has been a one-man operation since its inception; strictly a part-time thing that has been driven by my passion for the game. I haven't had a marketing budget to work with - word-of-mouth was the only way I could market it - so I'm actually very pleased with what has been created on a shoestring budget. As we speak, I am seeking a marketing partner; an organization with marketing skills beyond my limited capabilities and with a marketing budget. I'd kind of like to see where they might be able to take the Golf Nut Society. I would remain as Head Nut, do what I most enjoy, and they would market it.

BS: Name some celebrities, golfers and non.

RG: All of our celebrity members are golfers. Michael Jordan and the late Bob Hope are the two biggest [names.] Here is a link to all the celebrities: http://www.golfnuts.com/celebrities.asp.

BS: I understand dues are $19.95. Is this lifetime? What are the benefits to members?

RG: Yes, $19.95 lifetime . . . until and unless I find that marketing partner. At that time we will upgrade the membership benefits and begin charging annual dues. Here are the benefits: http://www.golfnuts.com/secure/join.asp  

BS: Do you have staff helpers. Who assigns points and are there awards/titles for point winners?

RG: No staff helpers, except for Mrs. Head Nut who lost her sense of humor about golf about 20 years ago. I do everything else . . . and I mean EVERYTHING! At times it has an impact on how much golf I play, but I still play to a plus-1 handicap, so it hasn't destroyed my game . . . yet.

BS: Is there much attrition aside from Death its own self?

RG: Yes, I've lost some members when they move or change their email address and forget to notify me.

BS: Why are most of the daily Nut winners in the 3,000 member numbers?

RG: Because the first 3,000 have already been presented. It's all fresh, new material.

BS: Are you number one and are there single-digit members following?

RG: I am Nut No. 0001, everyone else falls beneath that number.Peter Moore, for example is No. 0002; Don Rose, our Prez is No. 0003. His job is to doscover THE SECRET, a task that he has failed at miserably for over 20 years now, which makes him a perfect Prez.

BS: Do I get points for being interested and doing this [article?]

RG: Yes. 1,000

BS: Thanks a lot, Head Nut.

Sincerely,

No. 2310  

This story originally appeared in Cybergolf on July 23, 2006.    
Bob Spiwak took up golf in 1953 as a respite from the rigors of selling bibles door-to-door in North Dakota. Though suffering a four-year lapse, he's back to being a fanatical golfer. Spiwak has written articles for almost every golf magazine in the Western world. Bob's most treasured golf antiquity is a nod he got from Gerald Ford at the 1990 Golf Summit. Spiwak lives in Mazama, Wash., with his wife and several pets next to his fabled ultraprivate Whispering Rattlesnakes Golf & Flubbers Club.