What Just Happened Here?
By: Jeff Shelley
After being generally ignored for the last century, the Puget Sound region was suddenly thrown into golf's national spotlight thanks to three tournaments in August, two of which were major championships.
Via those events - two run by the United States Golf Association - the world experienced what the rest of us native Washingtonians have known for decades: that this naturally blessed, geographically diverse part of the planet boasts a stupendous variety of golf courses.

What the world saw in late July and early August was Sahalee Country Club east of Seattle, a layout comprised of thousands of 100-foot-high evergreens that result in 18 (actually 27) vertical corridors of play. Next up was a totally other kind of beast, 7,700-yard Chambers Bay - which has only one token tree that's not even in play, a hard, fescue-carpeted, fast track alongside Puget Sound west of Tacoma. Finally, late-night viewers on the East Coast may have gotten a glimpse of TPC Snoqualmie Ridge, situated near mountains 20 miles east of the Emerald City, which hosted the Champions Tour's Boeing Classic.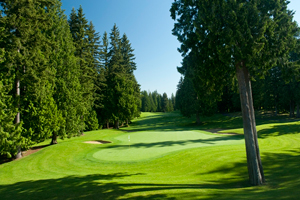 Example of Sahalee's Tight Tree-Lined Fairways
High, Heavenly Ground

The introduction to Puget Sound golf this summer came from the U.S. Senior Open at Sahalee, located east of Seattle in the bedroom community of Sammamish, not far from Microsoft's headquarters in Redmond. Characterized by perhaps the most magnificent stands of trees found on any championship-caliber layout, Sahalee epitomizes what most people might consider Western Washington courses to be.

Towering fir and cedar make Sahalee ("high, heavenly ground" in the Chinook language) a claustrophobic experience. "It's a different animal," said Fred Funk. His remark came before the over-50 circuit's stop the week prior to the U.S. Senior Open, the Senior British Open - which Bernhard Langer won, at virtually treeless Carnoustie Golf Links in Scotland.
The Senior Open champion before Langer won his second straight major in 2010, Funk was asked to compare Sahalee to Pebble Beach, site of the U.S. Open earlier in June.

"I think Pebble was a little like 'goofy golf' on certain holes, 14 and 17 . . . they could do that here if they wanted, but they don't need to," Funk said. "The golf course is difficult enough. You've got enough back-to-front slope, the old traditional-style greens here, that if you get behind the hole or to the side of the hole you have big breaks, a lot of speed, very difficult to make your birdies, very difficult to make your two-putts. I don't think there's that many birdies out there."

Funk, who set a new USGA scoring mark of 20-under 268 at Crooked Stick in winning the 2009 Senior Open by six shots, was right; only four players had red numbers on the par-70, Ted Robinson-designed Sahalee course, less than 6,900 yards for the major, proving that thoughtful design combined with impenetrable trees will stymie even the world's best golfers.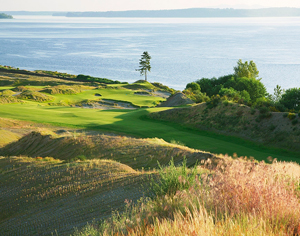 Chambers Bay (photo courtesy of Aidan Bradley)
On the Other End of the Spectrum . . .

Perhaps nowhere in the country are there - within 45 minutes of each other - two golf courses that are as different as Sahalee and Chambers Bay. While the former is shaded and wall-to-wall green, the latter sprawls across an open, tawny expanse that was once the nation's largest gravel-and-sand mining operation.

A muni track, unlike private Sahalee, Chambers Bay is the brainchild of former Pierce County Executive, John Ladenburg, who said when the USGA announced the new course as the site for not only the 2010 U.S. Amateur but the 2015 U.S. Open as well: "Chambers Bay was designed and built with a major championship in mind, but we never dreamed we'd be chosen by the USGA to host both the Amateur and the Open. Especially not so close to the opening of the course. It is a true honor."

The reason Chambers Bay was selected so early in its lifespan is because it is quite unlike most championship venues. When the county sent out request for proposals to interested golf course architects, over 50 responded. The ultimate selectee, Robert Trent Jones II's firm, convinced officials that a big-shouldered links course - with only 18 holes, not the 27 or 36 originally considered for the 900-plus-acre site - was the way to go. In hindsight, Jones, along with associates Bruce Charlton and Jay Blasi, had the perfect plan for the $20 million, walking-only track, reshaping millions of yards of sandy soils into heaving manmade "dunes" separating fairways that radiate in all directions, allowing the winds off the Sound to be a primary hole-by-hole consideration.
While television viewers were probably trying to figure out where was the 2010 U.S. Amateur, won by Peter Uihlein, the contestants were enthralled with this unusual test.

Said semifinalist Patrick Cantlay of Chambers Bay: "I had seen places like this that resemble it a little bit. But this place is completely different than any golf course I've ever seen. Just the slopes and the shots you have to hit. Just the feel you get when you're out there. So I like it. I think it definitely rewards good shots. You know, sometimes it penalizes mediocre ones. So it's a very good test of golf."

Added Mike Davis, the USGA's Senior Director of Rules and Competition who sets up the organization's championships: "It showcases a different kind of golf in America. Most of our events entail hitting a ball to a spot. It doesn't matter how you get there - high, low, draw, cut - if the ball stops. Here you have to think your way around, hit it one place and know it will end up somewhere else. So it does, indeed, matter how you hit the shot."

Chambers Bay is also being viewed widely as a new type of golf course, one that goes without irrigation - thanks to its sandy base that drains freely and allows retention of all storm water on-site, fertilizers or chemicals.

In the August 30, 2010, issue of Time magazine, Jones told reporter Tim Newcomb: "So much of perception is based off television, and that leads to courses trying to look perfect. In reality, golf started along the sea with grasses that were gray, purple, green and brown."

Added Jim Hyler, president of the USGA, in that same article: "We need to understand how brown can become the new green."

On the Monday following the Amateur and, after much experimentation on water management for such a well-draining course during championship week, Hyler told Seattle Times reporter Scott Hanson: "We really enjoyed being here and thought the golf course worked really well."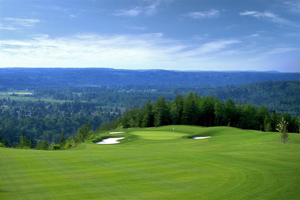 5th Hole at TPC Snoqualmie Ridge
Now for Something In Between

Then there's the TPC Snoqualmie Ridge, a 222-acre Jack Nicklaus design and the centerpiece of a burgeoning residential community off Interstate 90. Like other private facilities in the Puget Sound area, and around the nation for that matter, the club has experienced some problems retaining members. But every year, the world's best senior players make it a point to fly to Sea-Tac International Airport for the Boeing Classic, mainly because they love the Seattle area and this golf course.

A new adherent of Snoqualmie Ridge is Langer, who said after following up his win in the Senior Open at Sahalee with a three-shot victory two weeks later in the Classic, "Maybe I should move here," the German said. "Nick Price said there must be something in the air in Seattle. I like the area. It also might be the greens - both courses have very good greens."

Those would be poa annua putting surfaces, similar to Sahalee's, but far different than the massive and wildly rolling fescue swards of Chambers Bay.

Though he didn't win either event in his hometown, local hero Fred Couples enjoyed his return to Seattle for the U.S. Senior Open, where he finished second to Langer, and the Boeing Classic, placing third behind Langer and Price. "The tournament was great," Couples said of the Boeing Classic, saying he plans to play in it every year and will help recruit top players for it. "To come back and play two weeks [later] has been truly remarkable," the O'Dea High School grad added. "This week was just as much fun as Sahalee."
TPC Snoqualmie Ridge offers the famous alpine vistas that cause visitors jaws to drop whenever in Seattle, a metropolitan area with over 3.3 million inhabitants. Bordered by Puget Sound's salt water on the west - with the Olympic Mountain Range farther to the west, the Seattle-Tacoma area's eastern periphery is defined by the Cascade Mountains. With Mount Rainier - 54 miles southeast of Seattle - its highest peak at 14,411 feet elevation, the Cascades extend all the way from southern British Columbia to northern California, a 2,000-mile stretch.

Some of the most panoramic mountain overlooks are from TPC Snoqualmie Ridge, especially Cascade foothills and Mount Si, a popular hiking and climbing spot for outdoorsy types made famous by the TV show, "Twin Peaks."

The only Nicklaus signature track in the Pacific Northwest, TPC Snoqualmie Ridge is more wide open than Sahalee - but not Chambers Bay, as it contains more trees and decidedly more typical west-of-the-Cascades fairway-side rough - dense ball-eating salal, blackberries, bushes and tall grass.

It also rewards longer hitters, at least according to Langer, someone who knows by now. "Sahalee was more of a very narrow precision-type course," the German great said on the eve of the Boeing Classic. "(TPC Snoqualmie Ridge) probably suits the longer hitters more. There is definitely more room off the tee here, and it benefits those guys that can hit it an extra 30 yards."
So there you have it, a rehash of this summer's introduction to three of the 100-plus courses found in the Puget Sound region.

The locals sure turned out in droves for these tournaments. The Senior Open drew over 125,000 fans, the Amateur over 33,000, and the Boeing Classic 78,000 during its three-day run.

I, along with many of my fellow Seattleites, can't wait until the 2015 U.S. Open comes to Chambers Bay.
Jeff Shelley is the editor of Cybergolf.com and www.golfconstructionnews.com.