What's Tiger's Absence Costing His Sponsors?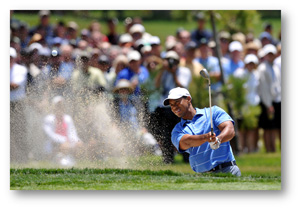 Two University of California-Davis Economics professors have determined that the financial investments of Tiger Woods' sponsors have suffered a considerable blow from the golfer's marital infidelities and "indefinite" absence from the PGA Tour.
"Our analysis makes clear that while having a celebrity of Tiger Woods' stature as an endorser has undeniable upside, the downside risk is substantial, too," Professor Victor Stango told McClatchy Newspapers.
Stango and Professor Christopher Knittel conducted an evaluation of how share prices of Woods' sponsors performed compared with the broader market in the two weeks since the golfer's car crash in late November.
"Mr. Woods' top-five sponsors (Accenture, Nike, Gillette, Electronic Arts and Gatorade) lost 2 to 3% of their aggregate market value after the accident, and his core sports-related sponsors EA, Nike and PepsiCo (Gatorade) lost over 4%." Professors Stango and Knittel wrote their summaries in a paper entitled, "Shareholder Value Destruction following the Tiger Woods Scandal." For a link to their paper, visit http://www.econ.ucdavis.edu/faculty/knittel/papers/Tiger_latest.pdf.
"The pace of losses slowed by December 11, the date on which Mr. Woods announced his leave from golf, but as late as December 17 shareholders had not recovered their losses."
Overall, the academicians say the losses ranged from $5 billion and $12 billion. The professors warn that their results are statistically "noisy" due to the study method they used and the fact that most sponsors are divisions of larger listed companies.
One observer wasn't impressed with this evaluation. Writing on the Seeking Alpha website in an article entitled "Spurious Academic Study of the Day, Tiger Woods Edition" (http://seekingalpha.com/article/180046-spurious-academic-study-of-the-day-tiger-woods-edition), Felix Salmon insists that drawing a link between Woods and a corporation's falling share price is impossible to surmise.
"This is silly stuff, of course: not only are the error bars larger than the estimated losses, but a huge proportion of those multi-billions comes from the decline of the share price of enormous companies like P&G, which had just one exposure to Tiger Woods through its Gillette subsidiary," Salmon writes.
"Drawing a causal relationship between the Tiger Woods scandal and fluctuations in P&G's share price is simply impossible."
Salmon argues that the biggest loser out of the whole affair is management consulting firm Accenture. "[I]t has to scrap its entire global marketing strategy and start from scratch . . . The company has run into a large unexpected tail event, in a way that Nike and Gatorade haven't.

"Those companies sponsor lots of athletes; one more or less has an affect at the margin, but that's about it."