Which Golf Course is a Game of Thrones Location?
By: Jay Flemma
May the Old Gods and the New protect us, winter is coming.
Around here, that means little or no golf for two to three months - longer for my poor readers who live along I-90! What a life for them! As much as six months of hitting off mats at golf domes; lots of nonsensical, silly-season, made-for-TV garbage; and rusty swings by the time the thaw hits. As my girl Britt would say, "It's a scandal, I tell ya!"

One great way to get through a golf-less winter is with a good book. Nothing keeps the howling wind, frigid temps and driving blizzard at bay like curling up in the comforter with a novel and a spiced hot cocoa.

I've never been a big fan of fantasy, but like J.K. Rowling, novelist George R. R. Martin has everybody reading his new series of books called "A Song of Ice and Fire," more colloquially known as "Game of Thrones." (Now a hit HBO series.)

Now normally, when you say the word "fantasy" the Dork Alarm starts blaring, but in this case, Martin gives us a good look at life in the Middle Ages as well. Besides, it's always a good thing when an author gets everybody reading. Yes, he's designed a bit of a Dungeons and Dragons-ish fictional world, but there are several poignant allegorical parallels to modern politics, and the intrigue and skullduggery of the characters out-Machiavellis Machiavelli, so the depth and breadth of the work take it from mindless drivel to serious literature. It's crossed over into mainstream and, thankfully, did so without the silliness of zombies or vampires.

So . . . for those of you who are fans of the series, here's your golf map of the world of Game of Thrones. For everyone else, here's some pretty pictures of cool golf courses.
The Unending Dunescape of Ballyneal
Tarth - Coeur d'Alene

"Her!" The Queen remembered the Maid of Tarth, a huge ugly shambling thing who dressed in men's mail. "Jaime would never leave me for such a creature." A Dance with Dragons

The Warrior Maid Brienne of Tarth may be wombat-ugly, but the Sapphire Isle is anything but. Earth is called the Sapphire Isle for the sparkling, crystalline blue of its waters, a perfect compliment to the verdant emerald green if its landscape. No course in America duplicates such vivid perfection as Idaho's Coeur D'Alene Resort, with its world-famous floating green that moves back and forth and side to side around the lake via an underwater system of pulleys.

"The water really is that blue, and the green is really that green," said vacationer Jim Heidt, who also called Coeur d'Alene "spectacular."

Dothraki Sea - Ballyneal

An entire country of grasslands stretching many horizons - that's the Dothraki Sea, realm of the Horselords and their roaming bands of raiders. Likewise, western Nebraska/northeast Colorado is home to a never-ending, primordial dunescape of grassy sandhills. Mighty Ballyneal is the strategically best and most natural-looking course in an area which 10,000 years ago was the bottom of the ocean. (Yes, even more so than nearby Sand Hills.) A true links in the middle of nowhere, Ballyneal has drawn ardent, devout golfers to its one-of-a-kind, edge-of-the-world, primal golf experience.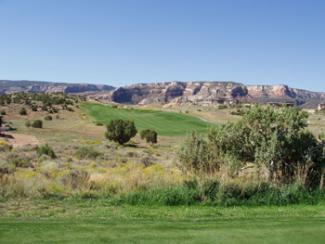 The Red Desert of Redlands Mesa
Red Waste - Redlands Mesa

The Red Waste is a massive ochre-colored desert, similar to the painted desert of western Colorado. The striated red rocks of Redlands Mesa seem a formidable badlands, stark and forbidding, as one ventures out amidst them for a round of golf. At the 17th, a par-3 playing from pinnacle to pinnacle, you'll wonder if you're really in Cappadoccia, Turkey.

Bravos - Shadow Creek

Bravos is the Las Vegas of the Game of Thrones world: You can get or do anything any time of night or day (***singing*** "Excepting Alice"). It's the city that never sleeps, where every pleasure is at your command and where no one knows your real name except for, of course, the Faceless Ones. Shadow Creek stands head and shoulders above a pretty disappointing crop of courses for an area that calls itself "America's Playground." It's pretty to look at, and was a technological marvel to build, but what else ya got?

***Cricket! Cricket! Cricket!***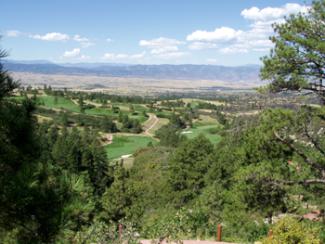 The 1st Tee at Sanctuary Looms
1,000 Feet Above the Valley Floor
Dorne - Sedona

The Arizona of the Game of Thrones world, Dorne is home to fiery peppers and fiery suns and tempers, but it also has fertile lands and verdant river valleys. No course blends a gorgeous natural high-desert setting in such a diverse ecosystem. Again, Red Rock striations and long vistas across the landscape make Sedona nothing short of exhilarating.

The Eyrie - Sanctuary

The quintessence of mountain golf, with tee boxes and greens towering 1,000 feet over the valley floor, the clubhouse seems a castle in the sky and the course clings to the mountainside like a roosting eagle. It's also perhaps a good choice for Minas Tirith Country Club when we do a Lord of the Rings version of this article.

Highgarden - Augusta National

Duh! It's built on what was formerly the country's greatest nursery.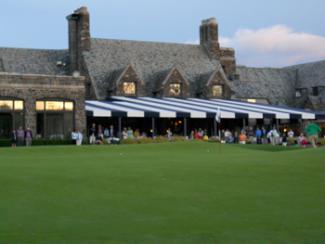 Not the Haunted Castle of Harrenhal
- It's Winged Foot, the Graveyard of Champions
Harrenhal - Winged Foot (West)

The haunted castle of Westeros, Harrenhal puts fear into the bravest hearts in all the Seven Kingdoms. Similarly, Winged Foot is the "Graveyard of Champions," where the greatest names in golf go to die. Nicklaus, Woods, Watson, Palmer, Hogan, Mickelson, Snead, Sarazen, Hagen, Nelson: none of them ever won at Winged Foot. Excepting Oakmont, no course blends history and misery like the West Course.

Volantis - Sun City, South Africa

Deep in what equates to the sub-Saharan African continent of the Game of Thrones world, and ironically run by political parties called the "elephants" and "tigers," Sun City mixes modern civilization, golf and safaris on the savannah. What is Volantis if not loud? Parties every night? Huge and sprawling? Elephants and tigers? Verdant green hills yet dry arid climate? Yes, yes, yes, yes and yes.

Casterly Rock - Any Donald Trump Course

Richest in the land, but certainly not even close to the best. Greed is not good.
The Trident - Oakmont

Westeros's three-fingered river valley recalls Pittsburgh's Three Rivers - the Monongahela, Allegheny and Ohio. Eight-time major U.S. Open host Oakmont is far and away the greatest course in the area, and arguably, the country.

Flea Bottom - Atunyote at Turning Stone Casino

"What's that awful stink?" the knight named Steelshanks asked Sir Jaime.

"Smoke, sweat and s&%t [expletive deleted] . . . If you have a good nose, you can smell the treachery too. You've never smelled a city before?" Ser Jaime Lannister replied.
Flea Bottom is the ghetto of King's Landing, the city that is the de facto capital of the Seven Kingdoms. Think New York City back in the early 1970s: lawlessness, filth and corruption.

Likewise, Blarney Stone, er, Turning Stone Casino is the reddest of golf's red-light districts. They hid the slots (on TV) when it served as a venue for some PGA Tour Fall Series events - the course was renowned as the Kids' Table of the pro tours - before getting themselves kicked to the curb with a resounding thud for making too many demands of the King . . . I mean the commissioner. (If they spoke to the Queen Cersei in King's Landing like they did to Tim Finchem in Ponte Vedra, Fla., they'd have their tongues removed for insolence.)

Over-hyped, overrated, under-designed, and underwhelming, Blarney Stone's courses and Atunyote in particular, are the lowest common denominator in golf, but with the greatest amount of huckster shuck: more gaudy a sell than a Moroccan bazaar. Like seedy Flea Bottom, famous for its ghastly "Bowls of Brown" cuisine - with all kinds of meat in them! - Blarney Stone is best left to the scrapheap of history to gnaw at the ends of their old plots, like all the rest of the rejects of King's Landing. As for me, I agree with Lady Olenna, the Queen of Thorns, when she said, "I have had quite enough of this smelly city."
Since launching his first golf writing website in 2004, http://jayflemma.thegolfspace.com, Jay Flemma 's comparative analysis of golf designs and knowledge of golf course architecture and golf travel have garnered wide industry respect. In researching his book on America's great public golf courses (and whether they're worth the money), Jay, an associate editor of Cybergolf, has played over 420 nationally ranked public golf courses in 40 different states, and covered seven U.S. Opens and six PGA Championships, along with one trip to the Masters. A four-time award-winning sportswriter, Jay was called the best sports poet alive by both Sports Illustrated and NBC Sports writers and broadcasters. Jay has played about 3 million yards of golf - or close to 2,000 miles. His pieces on travel and architecture appear in Golf Observer (www.golfobserver.com), Cybergolf, PGA.com, Golf Magazine and other print magazines. When not researching golf courses for design, value and excitement, Jay is an entertainment, copyright, Internet and trademark lawyer and an Entertainment and Internet Law professor in Manhattan. His clients have been nominated for Grammy and Emmy awards, won a Sundance Film Festival Best Director award, performed on stage and screen, and designed pop art for museums and collectors. Jay lives in Forest Hills, N.Y., and is fiercely loyal to his alma maters, Deerfield Academy in Massachusetts and Trinity College in Connecticut.