White Horse Enjoys New Look & Brighter Future
By: Jeff Shelley
When White Horse Golf Club opened in 2007 on Washington's Kitsap Peninsula, it was heralded as one of the state's most promising tracks and received recognition by Golf Digest as one of the top-10 new affordable courses to open that year.
No. 13 Greenside Bunkers - Before Remodel
Designed by Cynthia Dye McGarey - part of the famed Dye family of designers that includes Pete, his wife Alice, P.B., Perry and Cynthia's late father Roy, White Horse was her first solo project. The course was built within an ambitious residential and golf community near the small town of Indianola.

But after its debut the project quickly encountered economic difficulties; original developer Bob Screen was forced out, and the property fell into the hands of a bank. Following a couple of years of uncertainty, the Suquamish Tribe purchased the golf course as well as development rights to 159 housing lots - 400 acres in all - in March 2010.

While the course was in ownership abeyance, director of golf and general manager Bruce Christy coped as best he could. The first superintendent left after only eight months on the job, so Christy wore that hat, overseeing a skeleton crew with only a couple of workers. When Eric Linsenmayer was hired as the new super, Christy breathed a huge sigh of relief. "I couldn't wait to get rid of that job," he said during a May 7th media outing at White Horse.

The reporters gathered on that sunny spring 2012 day came to see the handiwork of Tacoma-based architect John Harbottle III, who was hired by the Suquamish and their management arm - Port Madison Enterprises - to soften the Dye McGarey course. The venue had gotten quite a bit of early play, but because it was so difficult many patrons didn't return, anathema to a new golf course.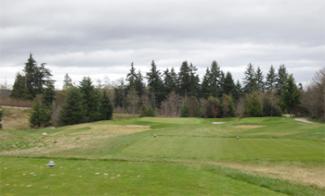 No. 13 Greenside Bunkers - After Remodel
There was also the darkening doubt about the course's future. "The hard part was the rumor on the street was we were going to go into bankruptcy and foreclose," Christy recalled. "Would you be interested in buying an annual membership or look into our Players Club? People weren't thinking long term. People didn't know what was going to happen out here. That was hard. You couldn't sell anything."

Harbottle, with the help of Gig Harbor, Wash., shaper Kip Kalbrener, started by reducing the original 138 bunkers to a more manageable 75, while removing over 200 trees that impeded air flow and sunlight around the greens and other in-play areas. (As per the tribe's nature-friendly policies, the bark from the trees was stripped for Indian baskets, and strategic snags were retained for bird-nesting areas.) The deleted traps were replaced by over 400,000 square feet of sod.

Harbottle also created a few new tees and altered some fairway grades to create leveler lies. (In 2007 Screen remarked to me, "Some guy came in and said he couldn't find a flat spot on the course. I said, 'If you find one, we'll go and fix it.' ") "We softened some of the really steep stuff," noted Harbottle.

As a result of opening up the former claustrophobic layout, White Horse saw its Slope rating actually decrease from 146 to 141. "Our goal was not to be one of the highest-rated courses around. We want players to come back," said Christy.
The revamped course is also considerably more cost-efficient to maintain. Christy estimates that over 60 man hours a week are being saved - and rededicated elsewhere - with the removal of nearly half the original bunkers. Because of financial constraints the greens were never aerified before the tribe took over; since then the putting surfaces have religiously received this crucial treatment thrice yearly.

"If you take a sand-based green and compact it year in and year out, it's going to be extremely difficult to hit a golf ball on it. You could actually hear the ball hit the green from the fairway and watch it bounce into the back bunker," Christy said of the greens, which now hold approach shots. "Now we're selling ball markers in the pro shop," he added, drawing a laugh.

In addition to the course upgrades, estimated to cost $700,000, the current owners will break ground this year on a new 21,000-square-foot clubhouse. "We hope to open it in spring 2013," said Christy. "We're on a very aggressive schedule. Our tournament business is growing and we need to accommodate weddings and other parties. We'll have a 250-seat banquet facility."

Perhaps most importantly, the tribe has instilled a sense of hope among long-time staff members. "The tribe is committed to make the course the best golf facility around," said Christy. "Within the community, they had such a great reputation for being stewards of the land and the environment. Everybody who worked here was excited to be part of that." The efforts are showing; annual rounds increased from 21,000 in 2009 to 25,000 last year. With the opening of the clubhouse, Christy believes that number will reach 30,000 in the next few years.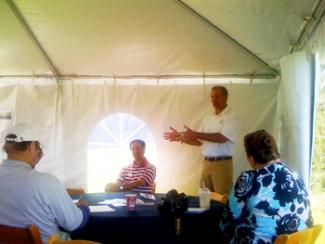 Bruce Christy (left) & John Harbottle (facing camera)
Discuss White Horse (Photo by Tom Cade)
Harbottle, who designed the acclaimed Olympic Course at Gold Mountain in nearby Bremerton, Wash., Palouse Ridge in Pullman, Wash., and other courses in the West and Midwest, admitted it was somewhat hard to alter a course crafted by a member of the Dye team, which he was a part of over a six-year stretch in the mid-1980s. "Cynthia is a good friend of mine and I think she did a great job with the golf course. White Horse was intended to be tough for the type of project.

"It hurts when somebody does work on your course," said Harbottle, who noted that the same thing happened to him at his Genoa Lakes' design in Nevada. "I didn't come in here and try to put my stamp on the golf course. I tried to make sure everything is sculpted out there like it blended with what she had to begin with. I think the work went seamlessly with the original design."

The greens are all set at angles to the fairway, the John Low theory that Dye Designs follows and which challenges the more proficient golfers. Harbottle didn't change the greens, but he sought to open the fairways for easier access into the targets. His key precepts for the remodel were to eliminate many fairway hazards - for example, 12 bunkers were removed from the third hole alone - and get rid of the bunkers on one side of the greens. "It was time to make the golf course more playable," he added. "We want people to come back to play."
"It's the average guy who pays the bills," said Christy to laughter. "No one says, 'Gosh, I shot 120 - I can't wait to go back!' "

Christy noted that Dye McGarey "had no idea the course was in that tough of situation, that the course had never been aerified before. She had nothing to say about the course being remodeled. She was just upset with the previous owner (Screen) for not following through with the original vision she had."

Harbottle said that the type of work at White Horse is happening elsewhere around the nation. "The trend is to take out maintained areas and to eliminate hazards that require a lot of maintenance costs. There used to be a trend to make golf courses very difficult, but the current trend is moving well away from that. We're now trying to make things look tougher than they really are."

The record on the original course from the way-back tees was a mere 1-under par. When the 2010 WSGA Washington State Amateur was played here, champion Jeremy Wendelken was the only player to break par at 2-under 286. On the final day, 22 of the 59 players who made the cut didn't break 80. "It was like a U.S. Open without rough," said Erik Hanson, a former Seattle Mariners pitcher and now a top Northwest amateur who finished ninth at 9-over 297.

Despite being softened, the revamped White Horse can still be set up to be quite difficult. "If we ever tipped it, tucked it, mowed the greens super-fast, grew the rough up, we could make sure nobody broke par," Christy promised. "There's still plenty of teeth to it, but we want people to enjoy coming out to White Horse and enjoy the beauty of it."

The Suquamish, which also operates the Clearwater Casino Resort - located about 10 miles from the golf course on a site overlooking Puget Sound - and offers stay-and-play packages with White Horse, are focusing only on the course renovations and new clubhouse. The 159 housing lots they own will go into a tribal trust and never be developed, ensuring that all but a few of the 18 holes here will remain secluded among the towering forests found in this rural part of the Kitsap Peninsula.
For more information, visit http://www.whitehorsegolf.com.